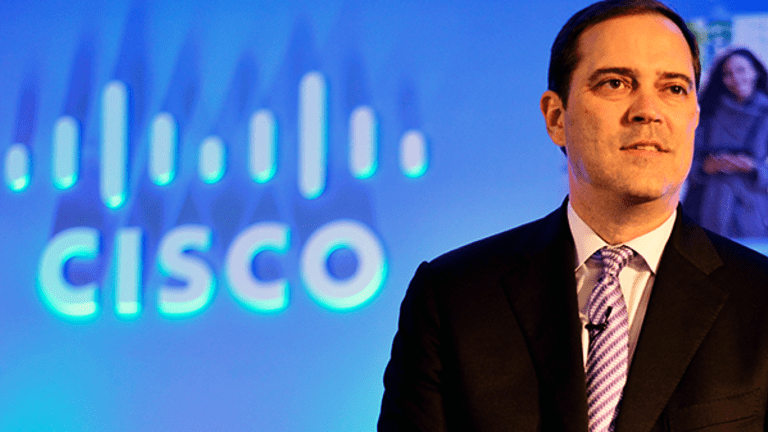 Why Cisco CEO Chuck Robbins Isn't Worried About the Company's Latest Earnings
The networking giant's chief exec talked to TheStreet about how its vast business transformation is progressing.
Wall Street may be growing impatient with Cisco Systems Inc.'s (CSCO) - Get Cisco Systems, Inc. Report progress on its business transformation, but CEO Chuck Robbins isn't letting that affect his confidence. 
The networking giant still seems to be getting dragged down by its two largest businesses, switching and routing, which have experienced steady sales declines for the past few years. Cisco has been trying to offset that weakness by investing in software-as-a-service businesses such as security, as well as in other high-growth areas like the cloud and the Internet of Things. These areas are expected to bring some stability amid shifts in its legacy hardware business, and provide more predictable recurring payments.
Robbins hopes that in doing so, he can rekindle the kinds of revenue growth Cisco was known for in the past. Since taking over Cisco in 2015, Robbins has led a vast restructuring of the business by cutting costs, steering the company through several rounds of employee layoffs and outlining a plan for the company's transformation, largely by moving toward software and away from hardware. 
To some investors' chagrin, that transition is taking some time to show up in Cisco's financial results. Cisco reported its seventh-straight quarter of year-over-year revenue declines on Wednesday and said it expects that to continue in the first quarter. Newer businesses such as security also showed slower annual growth than Wall Street was looking for. As a result, shares dipped 4% to $31.03 on Thursday, and are only up 2% the year. 
The Cisco chief defended his company's ongoing transition, however, in an interview with The Street on Thursday, saying the shift has already made an impact on areas of Cisco's business.
"When you're going through a transition, you have to look at different metrics," Robbins said. "At the same time, we executed extremely well on our business model for the year."
More of What's Trending on TheStreet:
Robbins pointed to the fact that 31% of Cisco's fourth-quarter revenue came from recurring revenue products, which is a four-percentage-point increase from the prior year. He added that software and subscriptions deferred revenue showed strong momentum, rising 50% year-over-year to $5 billion. 
At the same time, Cisco isn't abandoning its traditional hardware business. In June, Cisco unveiled new intent-based networking services, which look to solve a growing problem in which enterprise networks have become clumsier, slower and generally harder to manage, especially as more and more devices are added to the network.
Robbins has said previously that, by 2020, as many as one million new devices could be added to a network per hour. This means that networks need to be more nimble, and Cisco thinks intent-based networking could be the future by applying machine learning and automation technology that can complete processes faster and provide greater network security. For example, Robbins said the technology can be used to find malware inside encrypted web channels. 
Cisco has dubbed the product a "new era of networking" and it's one of the many technologies that the company is betting on top help accelerate the progress of its major business transformation.
"This is what I believe is the beginning of just a cycle of innovation that you're going to see come from Cisco," Robbins said. 
Editors' pick: Originally published Aug. 17.