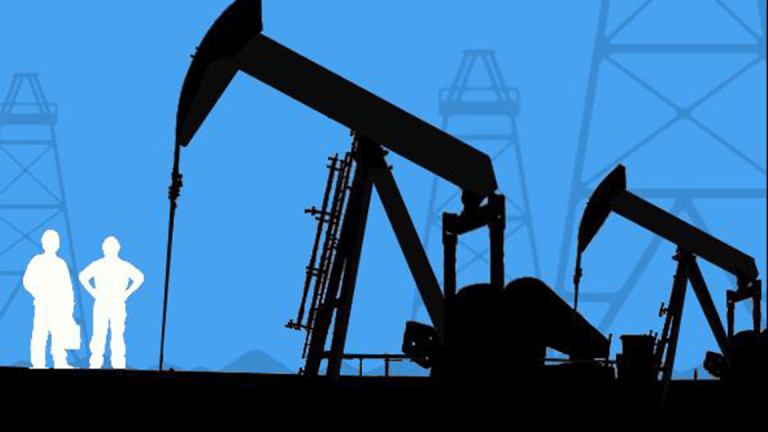 Pioneer Natural Resources Is Headed Higher
This pure play on the Permian Basin has a strong balance sheet, is set to boost output and has a favorable valuation.
The Permian Basin is getting hot fast with oil companies. 
The best way for investors to profit from the trend is by investing in shares of Pioneer Natural Resources Company (PXD) - Get Pioneer Natural Resources Company Report . 
The firm is a pure play on the oil-rich Permian rock formation in the southwest U.S., has low costs of production, and is set to expand production dramatically this year and next. All of which should lead to the stock price soaring around 40% from its recent levels, analysts say.
Meanwhile, if the oil price crashes, the company is now financially robust enough to weather a downturn. 
"There's good free cash flow, and they don't have a lot of debt on the balance sheet; if oil prices ultimately do fall they can withstand it," Stewart Glickman an Energy Equity Analyst New York-based financial research firm CFRA told TheStreet. 
In other words, the stock has much potential to rise, but investors are somewhat protected if the oil boom turns to bust because the company isn't swimming in debt.
Here are the details:
Rising Output and Earnings
Glickman sees output growth accelerating into 2020 which should help drive income far higher. He forecasts earnings per share of $9.88 next year up 38% from $7.14 this year, according to his latest research report.
Such a surge in earnings and production is far easier to achieve for a company the size of Pioneer, around $22 billion in market capitalization, versus Chevron (CVX) - Get Chevron Corporation Report or Exxon Mobil (XOM) - Get Exxon Mobil Corporation Report , which are both an order of magnitude larger in size. Chevron recently announced it was also committed to expanding its efforts in the Permian Basin. 
"It's hard for the larger caps to move the needle," says Glickman.
Pioneer has also improved its performance over the past few years, and that already got reflected in key metrics. Its return on assets has increased to 5.6% over the latest 12 months versus 5% in 2017, and negative returns as recently as 2016, according to Morningstar. Over the same period, gross profit margins have exploded to almost 30% in the latest four quarters up from 4% in 2016.
That's in large part due to the management's decision to ditch assets outside the Permian Basin, says Adam Johnson, author of the Bullseye Brief financial newsletter and a former professional oil trader.
"PXD [Pioneer] is minting money," states a recent report from Bullseye, which also notes that the average cost of production is now a mere $23 a barrel and the firm has locked in sales prices above $60 through its hedging program. Futures prices for light sweet crude were recently changing hands for around $57.70 a barrel, according to data from media firm Bloomberg.
Pioneer's keeps costs low is because all of its oil drilling assets are within a 300-mile radius, the Bullseye report states. That allows the firm to redeploy workers and equipment with speed and at relatively low cost should the need arise.
The firm is "one of the most efficient operators in the world."
Attractive Valuation
The stock is attractively valued both relative to the stock's history and some of its peers. Shares trade at 19 times projected earnings, up from 14 last year, but considerably cheaper than the 50 times in 2017, according to Morningstar.
Meanwhile, Anadarko Petroleum (APC) - Get Anadarko Petroleum Corporation Report trades at 29 times next years earnings and Apache Corporation (APA) - Get APA Corporation Report stock fetches 60 times projected earnings.
Bullseye says the stock is worth $190 while CFRA has a 12-month price target of $185. Dividends should add another 0.5% a year to returns.
Low Debt
Seasoned investors in the oil patch already understand the cyclical nature of the energy business. There are booms and there are busts. There likely always will be such gyrations.
However, not all exploration and production companies are created equal in this respect. Pioneer has an advantage over some others because it isn't up to its neck in debt.
When the company divested its non-Permian assets it used the proceeds to reduce its debt. The move had the effect of "elevating Pioneer as one of the most financially sound operators in the business," the Bullseye report states.
Put another way, whatever companies can weather a downturn in the energy patch, Pioneer should be among the survivors. That is particularly pertinent for long-term investors. 
Near Zero Political Risk
Political risk is always worth mentioning with natural resource investing. Many of the locations in which oil and gas firms operate are hazardous. Sometimes there are wars or domestic unrest, and other times national governments decide to seize the assets of the company located with a given country's borders. 
The good news for Pioneer is that it is a pure play on the Permian Basin, which is located solely within U.S. borders. America has a long history of respecting property rights of firms of all types. Or put another way, it's is highly unlikely that Pioneer's assets will get nationalized by either the Federal or State governments. That's one less thing for investors to worry about.
A Special Invitation: Do you want to learn more about planning for and living retirement from the nation's top experts, including Ed Slott and Robert Powell, the editor ofTheStreet's Retirement Daily? Want to learn how to create tax-efficient income in retirement and how to manage and mitigate all the risks you'll face in retirement? Then sign up to attend TheStreet's Retirement Strategies Symposium on April 6 in New York City. For a limited time, you can attend this extraordinary symposium for $149 -- a cost savings of $50 off the general admission price of $199.You can see the full day's agenda, learn about the guest speakers and sign up here for this special event.
Constable owns none of the securities listed in this story.