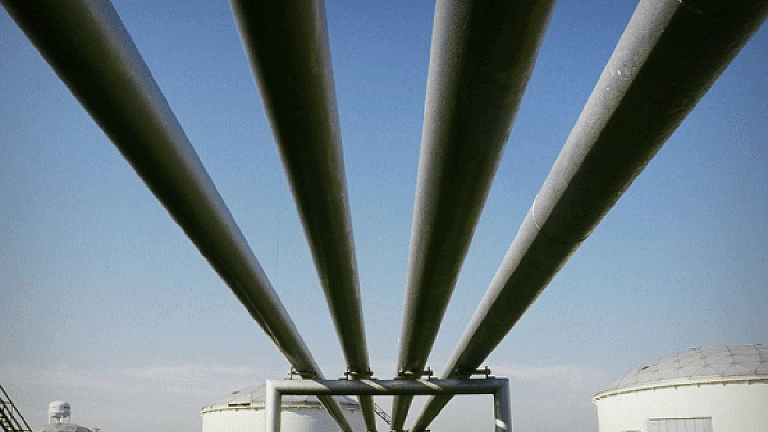 Magellan Midstream Partners Is Worth Buying Again Now
Investors in the MLP were burned in 2016, but Magellan should benefit later this year from rising demand for refined products.
Smart investors know to be brave when others are wary.
A case in point is Magellan Midstream Partners LP (MMP) - Get Report , which still hasn't recovered from the 2016 oil market rout. The company, which is a master limited partnership (MLP), makes money from charging oil drillers and others to move crude and refined products, such as gasoline, through its pipeline network. In many ways, the firm is like a toll taker.
Investors should consider buying the stock because it is inexpensive, offers a historically high dividend yield and there's a chance that the company's earnings will get a boost later this year.
"Along with its presence in export markets, MMP is well-positioned, we think, to benefit from the growth in U.S. onshore supply of liquids," states a recent report from New York-based financial research firm CFRA.
Haunted by the Past
The reason shares are cheap is that investors were stung badly during the oil market trough of 2016, and they have remained nervous ever since.
The oil market slide saw prices for crude oil slip from more than $100 a barrel in mid-2014 down to less than $30 in early 2016. That drop had a lasting effect on investors in all MLPs including Magellan.
Before the oil price plunge, the stock traded above $80, a level that it only fleetingly regained even though the oil market itself has rebounded. Futures contracts for light sweet crude oil currently trade at around $59, according to Bloomberg.
"Investors have been slow to come back to MLPs," says Art Hogan, chief market strategist, at National Securities Corporation in New York City. "People have that muscle memory of the oil patch crash."
In other words, just like someone bitten by a savage dog will tend to shy away from all canines, so investors who lost money with MLPs in the past continue shunning otherwise good stocks.
However, that's good news for those who don't mind being brave because everyone else's fear provides a remarkable opportunity. 
Earnings Boost Coming Soon
Magellan will likely get an earnings boost this year from increased demand, and the company has a favorable longer-term outlook.
The crude oil business, which has a somewhat soft outlook this year, "is still dwarfed by the refined products segment ... where we think demand is going to be stable to higher in 2019," the CFRA report states.
In other words, the outlook is good for profits in moving refined liquids around.
Magellan is also investing heavily to position itself for a sustainable and profitable future.
"2019 will be a heavy capital-spending year with $1.3 billion earmarked for growth projects and another $500 million in projects under consideration, supporting growth well beyond 2020," according to a recent report from Morningstar. 
Undervalued Stock
Magellan shares are underpriced when compared to recent history, and the dividend yield is also historically high.
CFRA says the shares are worth $81 within the next year, or around a 33% premium to the recent price of $61. Morningstar is more conservative and says the stock is worth $72.
It makes sense that Wall Street sees the stock surging because it's inexpensive. The shares trade at 14.7 times next year's earnings, versus an average forward P/E of 18.8 over the last five years, according to Morningstar. In other words, the shares are far cheaper now relative to profitability than they have been historically.
The dividend yield is currently forecast to hit 6.6% versus an average of 4.4% over the last half decade, according to Morningstar.
Those plump dividends come with a tax advantage both for investors and the company. As an MLP, the company passes on its earnings to investors in the form of dividends, thus avoiding corporation tax. This MLP structure avoids the long-standing problem of most corporations suffering from double taxation (first, the corporation pays income tax, and then the investors pay tax on dividends.) Individuals also benefit from MLPs via tax deferrals (read more here.)
In short, Magellan looks worthy of a bet.
Will I Have Enough Money to Retire?
Want to learn about retirement planning from some of the nation's top experts? Join TheStreet's Robert "Mr. Retirement" Powell live in New York on April 6 for our Retirement Strategies Symposium. For a limited time, tickets are available for $99 for this full-day event. Check out the agenda, learn about the speakers and sign up here.
Constable owns none of the securities listed in this story.