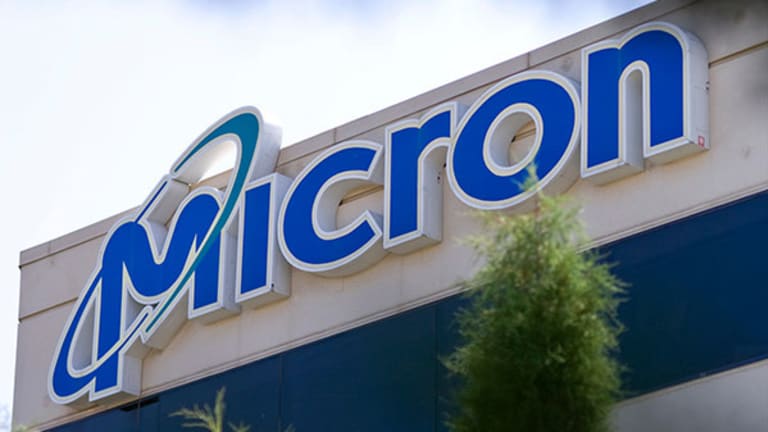 Why Business Is Booming for Micron and Its DRAM Peers
The memory giant's earnings and guidance show emphatically how the DRAM industry has gotten its act together. And flash memory industry conditions aren't bad, either.
The memory giant's earnings and guidance show emphatically how the DRAM industry has gotten its act together. And flash memory industry conditions aren't bad, either.
If 2015 proved to be a harsh reality check for a DRAM industry that had convinced many investors the industry's traditional boom-bust cycles were history, 2016 has gradually shown that these cycles at least might not be as rough nor as prolonged as before.
Micron's (MU) - Get Reportsolid earnings and very upbeat guidance suggest the industry's momentum remains strong going into 2017. Perhaps just as importantly, the company's 2017 outlook indicates DRAM makers are intent on making sure 2015 doesn't repeat itself anytime soon.
With the help of rebounding DRAM and NAND flash memory sales, Micron reported fiscal first quarter (November quarter) revenue of $3.97 billion (up 16% annually) and adjusted EPS of $0.32, above consensus analyst estimates of $3.95 billion and $0.26. Shares initially slipped following these numbers -- good results were widely expected -- but surged after Micron published its earnings presentation, which contained stellar second quarter guidance: Revenue of $4.35 billion to $4.7 billion (up 54% annually at the midpoint) and adjusted EPS of $0.58 to $0.68 versus a consensus of $4 billion and $0.40.
Moreover, in spite of the sales pickup, Micron forecast DRAM industry bit supply would only rise by 15% to 20% in 2017, less than a long-term bit demand growth forecast of 20% to 25%. The company also guided for NAND industry bit supply growth in the high 30% to low 40% range, below a long-term bit demand growth outlook of 40% to 45%. DRAM accounted for 61% of Micron's Q1 sales, and "non-volatile" products (mostly NAND) 32%.
Shares were up 13% in the early afternoon on Thursday, and have made fresh 52-week highs. Western Digital (WDC) - Get Report, which owns fellow NAND maker SanDisk, is up 1.6%, while DRAM/NAND maker SK Hynix rose 1.1% in Seoul overnight.
The capital spending cuts DRAM makers enacted in response to a big 2015/early-2016 downturn are clearly paying off. Micron's DRAM average selling price (ASP) rose 5% sequentially in Q1, and the company mentioned on its earnings call PC DRAM ASPs are up 50% to 60% from trough levels. The industry's consolidation around three big manufacturers -- Samsung (SSNLF) , Micron and SK Hynix -- is once more yielding a favorable supply/pricing environment.
A pickup in PC demand following a very rough start to the year has also lifted DRAM prices, and so has Apple's (AAPL) - Get Report iPhone 7 ramp -- Micron is a big mobile DRAM supplier to Apple. Other factors include rising server orders from cloud giants, healthy automotive demand and a pickup in console sales thanks to Microsoft's (MSFT) - Get Report Xbox One S and Sony's (SNE) - Get Report PlayStation 4 Pro launches. And higher prices are being accompanied by steady production cost declines, as Micron's 20-nanometer DRAM process continues ramping following some early struggles.
Apple is a holding in Jim Cramer's Action Alerts PLUS Charitable Trust Portfolio. Want to be alerted before Cramer buys or sells AAPL? Learn more now.
NAND prices, meanwhile, are benefiting from industry shortages that have followed the iPhone 7 ramp -- the iPhone 7 launch was accompanied by a doubling of iPhone storage capacity across all models/price tiers. Though this is offset by a mix shift towards high-density 3D and tri-level cell (TLC) NAND chips that carry lower ASPs, these chips are also cheaper to produce on a per-gigabyte basis, and thus NAND margins are tracking higher.
Growing penetration rates for solid-state drives within the PC and enterprise/cloud storage markets -- a trend that won't be letting up anytime soon -- are also a tailwind for NAND. And Micron has observed seeing strong NAND and DRAM orders from Chinese phone makers, with memory content often rising in newer phone models.
Favorable DRAM and NAND pricing/margins allowed Micron's adjusted gross margin to rise to 26% in Q1 from 18% in Q4, and top guidance of 23% to 25.5%. And GM is expected to surge to a range of 31% to 34% in Q2. Needham analyst Rajvindra Gill, who upgraded Micron to Buy on Thursday, thinks a 36% GM is possible by late 2017, and that certainly looks feasible right now. That's especially true if the iPhone 8 is as good as rumored and sparks fresh memory shortages.
One potential risk for investors to keep an eye on: NAND supply is easily growing faster than DRAM supply, as Micron, Samsung, Micron flash partner Intel (INTC) - Get Reportand SanDisk flash partner Toshiba ramp their 3D NAND production. This could lead supply to outstrip demand down the line. For now, mobile and SSD demand is preventing this from happening (and then some), but the DRAM industry's recent history shows how complacently expecting demand to keep up with heavy supply growth can backfire.
Also: A lot of good news has been priced into Micron in recent months. The company's fiscal 2017 (ends in August 2017) and fiscal 2018 consensus EPS estimates now respectively stand at $2.10 and $2.48. That's up from just $0.81 and $0.98 at the end of April.
On the other hand, the revised estimates mean Micron now only trades for 9.3 times its fiscal 2018 EPS consensus -- a reasonable multiple even after accounting for $5.7 billion in net debt. If NAND demand remains strong and DRAM makers avoid repeating the mistakes that spawned the 2015 downturn, there should be more room to run.