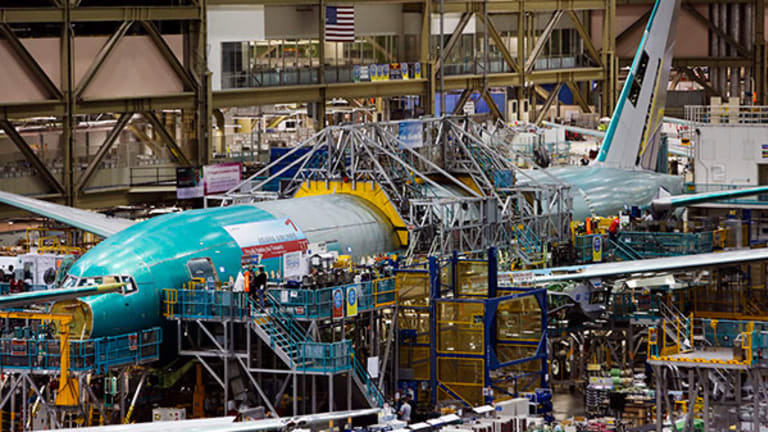 Why Boeing's Prospects in 2017 Are 'Yuge,' Despite Its Recent Woes
The aircraft manufacturer boasts a massive order backlog that should drive the stock considerably higher next year.
In determining whether to buy a stock, ignore fleeting media sensationalism and instead look at the hard numbers, particularly long-term demand for a company's products.
Exemplifying this truism is aircraft manufacturing giant Boeing (BA) - Get Report .
In an interview, Richard Aboulafia, vice president of analysis at Teal Group, an aerospace/defense consulting company in Fairfax, Va., said that Seattle-based Boeing's prospects are, to quote President-elect Donald Trump, "Yuge."
The Military Times lists Aboulafia as among one of the most influential defense analysts in the U.S. When he speaks, top corporate and Pentagon officials listen.
Boeing has taken its hard knocks in the press lately, but he said that the company boasts a robust multi-year backlog for its aircraft.
"Qatar became a new F-15 customer with 36 firm orders and possibly 36 more. The Super Hornet got 28 orders from Kuwait, while Canada decided to order 18 with another possible 47 orders," Aboulafia said.
"The Navy has the desire and budget to keep buying 10-15 Super Hornets annually, probably through FY 2020 at least," he said. "The P-8 is in great shape, too, with a U.K. order for nine, while Norway announced plans to order five."
In addition to the popularity of its fighter aircraft, Boeing also enjoys several macroeconomic tailwinds. Defense markets as a whole are increasing worldwide, particularly as old alliances such as NATO fragment, geopolitical tensions increase and fear grows about Trump's hawkish national security appointments.
Global defense spending soared in 2016, for the second straight year, and the Trump administration promises big additional increases in defense.
"The only downside is having to suffer through the occasional Trump tweet, aimed at pandering to the base and convincing them that he's not just going to throw tens of billions of dollars at defense contractors, which of course he will," Aboulafia said. "Investors will acclimatize to these tweets once they realize the upward trajectory of defense company share prices."
This month, Trump crushed Boeing's stock by sending this tweet: "Boeing is building a brand new 747 Air Force One for future presidents, but costs are out of control, more than $4 billion. Cancel order!"
Boeing's stock has since recovered, and the animosity between the company and Trump has dissipated. Meanwhile, America's allies are spending more on defense, too, as they worry about getting abandoned by the U.S. and the Vladimir Putin-loving incoming administration.
Demand also continues to grow for Boeing's commercial airliners.
This month, the company scored a major deal worth about $17 billion with Iran to supply the country's national airline carrier, Iran Air, with 80 passenger jets. Now that nuclear sanctions against the country have been lifted, Iran is eager to make up for lost time and conduct lucrative business with the West.
Boeing is expected to report fourth-quarter and full-year earnings on Jan. 25. The average analyst consensus is for quarterly earnings of $2.32 a share, compared with $1.60 a share a year earlier.
The analyst consensus for the company's earnings growth next year is 32%. For the next five years, that figure is pegged at 10.19% on an annualized basis.
Last week, Boeing raised its dividend 30% to $1.42 a share, bringing its yield to a healthy 3.68%.
The company's trailing 12-month price-earnings ratio of 23.61 is higher than the trailing P/Es of peers Lockheed Martin at 14.63 and Northrop Grumman at 19.77, but the modest premium is worth it.
Boeing's stock trades at all-time highs, with plenty of room left for double-digit capital appreciation.
Based on Boeing's massive order backlog, Argus Research last week raised its one-year price target on the shares to $185, which would represent an increase of nearly 20% from about $156.
---
Trump's shocking election as president has turned the investment world upside down. If you're looking for new (and safe) growth opportunities in these uncertain times, we've found a genius trader who turned $50,000 into $5 million by using his proprietary trading method. For a limited time, he's guaranteeing you $67,548 per year in profitable trades if you follow his simple step-by-step process. Click here now for details.
John Persinos is an editorial manager with Investing Daily.
Persinos also serves as an aerospace/defense analyst with Teal Group.
At the time of publication, he owned stock in BA.