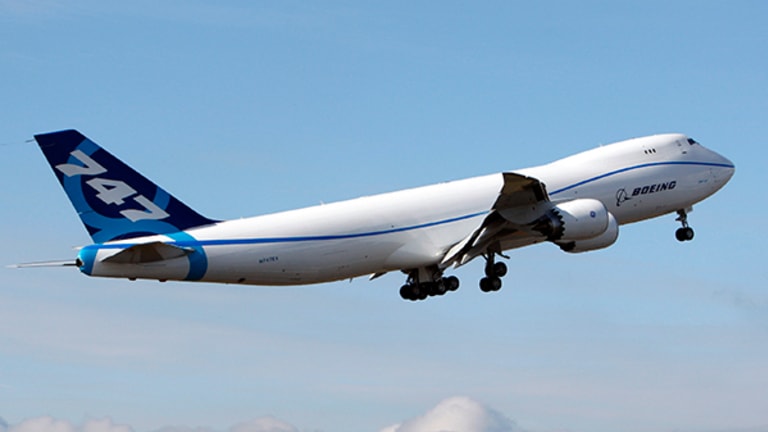 Publish date:
Why Boeing's Latest Contract Wins Make the Stock a Great Buy Now
The plane manufacturer is breaking new ground in one of aviation's fastest-growing markets.
The plane manufacturer is breaking new ground in one of aviation's fastest-growing markets.
Chalk up another win for Boeing (BA) - Get Boeing Company Report over its nemesis, Airbus of France.
On Friday, the Seattle-based airplane manufacturer said that it had signed a contract with Qatar Airways for 30 of its 787 passenger jets and 10 of its 777 aircraft, both twin-aisle planes. Qatar Airways also signed a letter of intent to purchase 60 single-aisle 737 MAX 8s from Boeing.
In all, the deal is valued at $18.6 billion, though the final amount could be closer to $9 billion when applying the industry's traditional volume discounts. In any event, it is a big win for Boeing and its shareholders.
The move also lets Boeing exploit a rift between Qatar Airways and Airbus, Boeing's main rival. Qatar Airways has a standing order for 50 of Airbus' A320neo aircraft, which directly compete with the 737 MAX.
However, issues with the A320's engines have delayed delivery and hobbled Qatar Airways' expansion plans.
"[The delay] is making a huge impact on my bottom line," the airline's Chief Executive Akbar Al Baker told The Wall Street Journal in June. "We are, quite frankly, screaming."
Qatar Airways will still buy the A320neo, but the situation undoubtedly played a role in his decision to go with Boeing for the 60 additional planes, Al Baker said.
If Qatar Airways follows through on its letter of intent to buy the 737 MAX 8, it would mark the first time that it has bought single-aisle planes from Boeing in 15 years. And Boeing probably isn't done wheeling and dealing in Qatar.
With the airliner deal in the bag, the company now looks to be on the brink of signing a contract with the country for 36 of its F-15 fighter jets. The $4 billion deal has been in the works for some time and is reportedly close to getting the green light from Washington.
It is yet another twist in an up-and-down year for Boeing, whose share price slumped last winter amid worries that a cheap fuel, higher interest rates, an oversupply of airliners and the sluggish global economy would drag down demand.
But the skies appear to be brightening for the company, and the Middle East, which notched the world's fastest passenger traffic growth in August, is a big reason why.
In addition to the Qatar deal, Boeing recently received an export license from the U.S. government to sell airliners to Iran Air. It is a big opportunity, because Iran's main carrier, hobbled for years by Western sanctions over the country's nuclear program, operates a geriatric fleet in need of a ground-up rebuild.
Boeing hasn't released any details, but the order is thought to involve about 80 planes and related maintenance contracts. In all, it is valued at about $20 billion.
To be sure, the purchase still faces risks, including next month's presidential election. Democratic nominee Hillary Clinton supports the 2015 Iran nuclear deal, which removed sanctions on the country and made Boeing's Iran Air sale possible, but Republican nominee Donald Trump called the pact "one of the worst deals ever made by any country in history" in the first presidential debate.
Either way, Boeing still looks like a strong long-term investment.
The company recently increased its forecast for jetliner demand, saying that global airlines would need 40,000 planes between 2016 and 2035, up 5% from last year's forecast.
Meantime, the stock boasts an attractive 3.3% dividend yield, and Boeing has more than doubled its quarterly payout in the past five years. The shares are also a bargain compared with other aerospace companies, with a forward price-earnings ratio of 14, compared with 18.5 for both Lockheed Martin and Northrop Grumman.
Wall Street, too, is optimistic, with analysts giving the stock a 12-month price target of $148.94, which would represent an 11% gain.
The bottom line? Boeing's fresh momentum makes it a great time to buy and lock in the stock's above-average yield before the share price gains more altitude.
---
Boeing is a solid buy for income and gains, but if you're still unsure about investing in a cyclical industrial stock, consider the proven system we've developed. It generates consistent profits no matter what the economy does. One trader used it to turn $50,000 into a $5-million fortune, and now he's guaranteeing you at least $67,548 per year in profitable trades if you follow his step-by-step process. Go right here to unlock the secret and see how easy it is to start your own $67,000 income stream today.
The author is an independent contributor who at the time of publication owned none of the stocks mentioned.