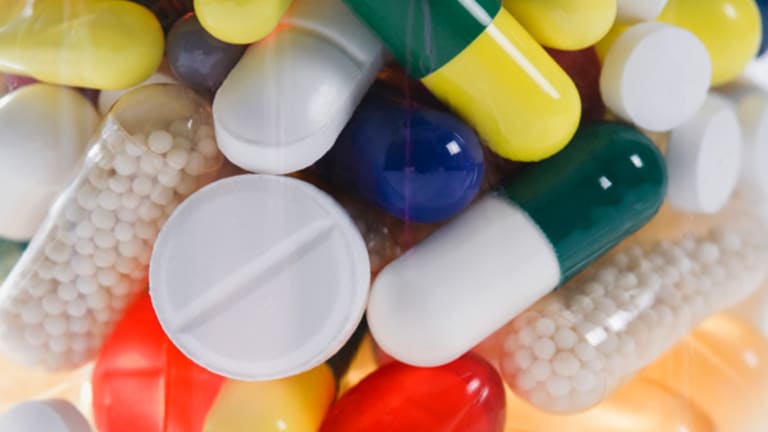 Aveo's Kidney Cancer Drug Won't Get FDA Panel OK
A close examination of survival data from Aveo's phase III study raises concerns.
CAMBRIDGE, Mass. (
) -- Next week is crucial for
Aveo Oncology.
(AVEO) - Get Free Report
On Tuesday, the FDA will post to its web site the agency's clinical review of Aveo's experimental kidney cancer drug tivozanib. Two days later, on Thursday, FDA will convene an independent advisory panel which will dissect the tivozanib data and vote on whether or not to recommend the drug's approval.
I believe the FDA briefing documents will raise significant concerns about tivozanib's efficacy in kidney cancer and the conduct of the pivotal phase III study. This will lead the panel to vote negative, meaning a recommendation against the drug's approval.
Admittedly, my conviction level for this prediction isn't all that strong. Today's FDA seems addicted to approving all drugs, so the agency may be unwilling to subject tivozanib to the scrutiny it deserves. If the FDA takes it easy on tivozanib, the advisory panel may do the same. Tivozanib demonstrated a statistically significant improvement in progression-free survival (PFS) over
Onyx Pharmaceuticals'
(ONXX)
Nexavar. This was the primary endpoint of the phase III study, so on this basis, the drug could get a positive vote.
If you want a good read on the bull case for Aveo and tivozanib, check out the
column Aafia Chaudhry published yesterday
.
I'm going to focus on the Aveo bear thesis. The problems with tivozanib -- and the reason why I'm predicting a negative panel vote next week -- lie deeper in the phase III data, specifically the lack of a survival benefit in the phase III trial. In February, Aveo presented a
poster on the overall survival data from the phase III tivozanib study
at a cancer research meeting.
Here's a chart depicting the overall survival analysis from the study, taken from that poster:
At the median, the difference in survival was just two weeks. Tivozanib-treated patients reported a median overall survival of 28.8 months compared to 29.3 months for Nexavar patients.
However, when overall survival in the study was analyzed over two years, the relative risk of death was 25% higher in the tivozanib arm relative to the Nexavar arm.
Hazard ratio = 1.245. While survival trended against tivozanib, the greater risk of death was not statistically significant. That might work in Aveo's favor, but a hazard ratio of 1.245 against tivozanib is alarming -- even if not statistically significant -- and raises serious questions about the drug or the conduct of the study.
Aveo believes overall survival of tivozanib was snake bit by a study design that allowed kidney cancer patients treated initially with Nexavar to receive effective, subsequent therapy, including tivozanib.
This chart explains Aveo's case:
Of the 257 kidney caner patients who started the study on Nexavar, 65% went on to receive additional therapy. The vast majority of these patients received tivozanib.
Of the 260 patients treated with tivozanib initially, only 26% went on to receive additional treatment, mostly other VEGF therapies like
Pfizer's
(PFE) - Get Free Report
Sutent or
GlaxoSmithKline's
(GSK) - Get Free Report
Votrient.
Tivozanib is also a VEGF therapy.
Aveo argues that survival trended against tivozanib because the control patients (those who started on Nexavar) benefited from receiving more "add-on" therapy.
Point taken, and it could be enough to persuade the FDA panel to vote in the drug's favor next week. But what if we look at a more equitable comparison of tivozanib and Nexavar survival by examining only patients who received secondary therapy.
Here's that chart:
The top "A" graph depicts an overall survival analysis of "2 vs 2" line of therapy, meaning it compares overall survival of Tivozanib patients who went on to receive another therapy (two) versus Nexavar patients who also went on to receive another therapy (Two, with the vast majority receiving tivozanib.)
Uh oh, once again, overall survival trends in favor of the Nexavar control arm and against tivozanib. Two-year survival is 50% for the tivozanib arm compared to 64% for the Nexavar arm.
If tivozanib is a truly effective kidney cancer drug, why can't it demonstrate a survival benefit, even when patients are treated with another drug following tumor progression? If anything, the data from the study suggest tivozanib, if approved, should only be used after a patient is treated with Nexavar.
Take a look at the "B" graph now. This further drills down to analyze patients who only received subsequent treatment with another VEGF drug -- the most effective kidney cancer therapies. Yet again, the patients who began the study on Nexavar outlive the patients starting on tivozanib. (Two-year survival 63% vs. 55%.)
I understand tivozanib met the study's primary endpoint by demonstrating a statistically significant progression-free survival (PFS) benefit. And I also know FDA has approved other kidney cancer drugs based on PFS. But overall survival is the gold standard measurement of efficacy for cancer drug trials and tivozanib has significant issues based on these data. It's not like kidney cancer patients are lacking effective treatments today -- Sutent, Votrient, Avastin and Nexavar are all approved and in wide use.
A few more controversies in the tivozanib data to point out:
Here's another overall survival chart, this one breaking out only the patients from North America and Western Europe:
Tivozanib performs best here, demonstrating a 50% reduction in the risk of death compared to Nexavar and a strong two-year survival trend -- not statistically significant. Still, I expect Aveo likes this survival chart the best, particularly since it's seeking approval in the U.S. and Europe.
But take a look at the number of patients in this analysis. Yes, there were only 40 patients out of 517 enrolled in North America and Western Europe.
Aveo has not disclosed how many of the 40 patients were from the U.S. These 40 Western Europe/North American patients are driving a lot of the tivozanib benefit, but will FDA be concerned that this group makes up just 8% of the total enrollment?
Let's return to the next-line therapies chart for a related point and question. As I said above, only 26% of the tivozanib patients went on to receive additional therapy compared to 65% of Nexavar patients. Why?
Take a look at that chart again:
Aveo obviously enrolled most of its patients from Russia and Eastern Europe where access to modern kidney cancer drugs is limited. The company was also willing to supply tivozanib gratis to patients in the study, which explains why the drug was used so heavily as the "cross over" drug in the control arm. But depriving tivozanib patients of other follow-on therapies shouldn't sit right with anyone and raises questions about the conduct of the study.
I've focused entirely on survival but let me make one niggling point about the PFS data in the study and where FDA may have a problem.
Recall, median PFS was 11.9 months in the tivozanib arm compared to 9.1 months in the Nexavar arm -- a statistically significant benefit. Likewise, in the 70% of kidney cancer patients who were treatment naive prior to enrollment, median PFS was 12.7 months versus 9.1 months, again benefiting tivozanib over Nexavar.
Great news for Aveo, right? Perhaps, but what the 30% of kidney cancer patients receiving one prior systemic therapy before entering the study? It's not possible to be precise but it sure looks like these "previously treated" patients performed worse on tivozanib. Did they even underperform Nexavar? It's not clear from the data we have available but perhaps the answer will come Tuesday when the FDA releases its briefing documents.
Big week for Aveo coming up. Stay tuned.
-- Reported by Adam Feuerstein in Boston.
Adam Feuerstein writes regularly for TheStreet. In keeping with company editorial policy, he doesn't own or short individual stocks, although he owns stock in TheStreet. He also doesn't invest in hedge funds or other private investment partnerships. Feuerstein appreciates your feedback;
to send him an email.