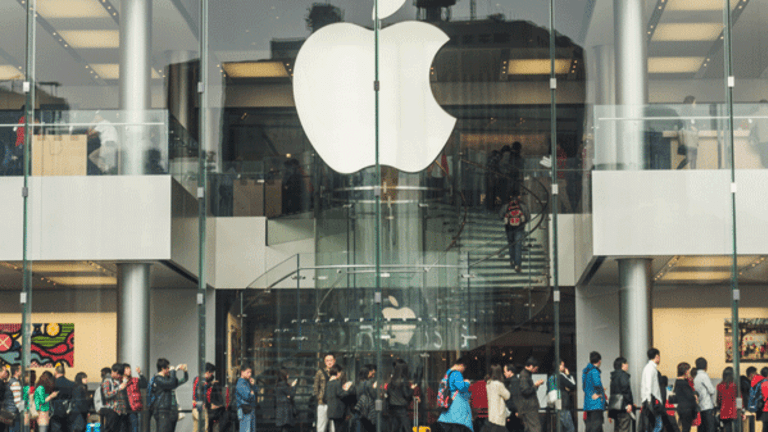 Why Augmented Reality Glasses May Be Apple's Best Shot at Developing a New Breakthrough Product
If the tech giant moves quickly and executes well, Apple could very well deliver its first new mass-market device since the iPad.
More than two years have now passed since the original Apple Watch was unveiled, and the first reports emerged of an Apple (AAPL) - Get Apple Inc. Reportcar project. And it's safe to say that hopes for both efforts aren't as high as they once were.
The Watch now looks more like an outsized iPhone accessory business than a revolutionary wearables product that consumers consider a must-have. Though estimating that Watch shipments rose 13% annually in the fourth quarter thanks to the September launch of the Apple Watch Series 2, research firm IDC also thinks shipments fell 7.9% over the whole of 2016 to 10.7 million, or less than 5% of Apple's 215.4 million reported iPhone shipments.
The car project, meanwhile, has reportedly narrowed its ambitions following setbacks: It no longer aims to build a fully-fledged electric vehicle, but rather an autonomous driving system that can be offered to existing automakers. And even here, Apple has to deal with stiff competition from Alphabet/Google (GOOGL) - Get Alphabet Inc. Report and Tesla Motors (TSLA) - Get Tesla Inc. Report, each of whom have big head-starts, as well as the autonomous driving projects launched by several auto giants.
Compared with these efforts, a project to develop powerful, reasonably-priced, augmented reality (AR) glasses that can overlay content on a user's real-world view and be worn both indoors and outdoors has both the potential to address a mass market and -- if Apple moves quickly and executes well -- steal a march on the competition. It now looks as if the company is taking the opportunity seriously.
On Monday morning, The Financial Times reported Apple is "stepping up its efforts" to develop AR glasses, after having first created a team to explore the concept over a year ago. However, it adds any product launch is still "at least a year away," and possibly longer. Facebook (FB) - Get Meta Platforms Inc. Reportis also said to be researching the technology; the company was recently reported to be working on a camera with AR features.
Jim Cramer and the AAP team hold positions in Apple, Alphabet and Facebook for their Action Alerts PLUS Charitable Trust Portfolio. Want to be alerted before Cramer buys or sells AAPL, GOOGL or FB? Learn more now.
The FT report comes a week after one from Bloomberg stating Apple is working on "digital spectacles that could connect wirelessly to an iPhone and beam content -- movies, maps and more -- to the wearer," along with iPhone AR features that could arrive sooner. The news service adds that Apple has created an AR engineering team headed by former Dolby (DLB) - Get Dolby Laboratories Reportexec Mike Rockwell; it features engineers who previously worked on Facebook's Oculus Rift virtual reality (VR) headset and Microsoft's (MSFT) - Get Microsoft Corporation ReportHoloLens AR headset, as well as "digital-effects wizards from Hollywood." Bloomberg originally reported on Apple's AR hardware efforts last November.
All of this fits well with Tim Cook's enthusiastic remarks about AR. In a February interview, Cook declared AR to be "a big idea like the smartphone," and suggested he considers AR's potential to be greater than VR's since it enhances a user's real-world experiences rather than block them out.
Moreover, Apple has made several acquisitions that could help it bring AR glasses to market. These include Metaio, a creator of software tools for building AR experiences, and Flyby Media, developer of an app that let users scan real-world objects, identify them and save them to a library. And in 2014, Apple bought PrimeSense, a developer of 3D sensor hardware and software that once underpinned Microsoft's Xbox Kinect motion sensor.
Apple was recently reported to be using PrimeSense algorithms to help power infrared 3D sensing technology that will be built into the iPhone 8's front camera. The solution is expected to rely on lasers from Lumentum (LITE) - Get Lumentum Holdings Inc. Reportand Finisar  (FNSR) - Get Finisar Corporation Report and allow the front camera to record depth and location info. Potential uses include face-recognition and the creation of 3D avatars that could be added to photos, games and other content.
A dual-lens rear camera array such as the ones found on the iPhone 7-Plus and certain Android phones, and which presumably will also be found on the iPhone 8, has AR potential as well. With the right software, it could be used to remove a background from an image, as well as isolate, identify and save images of specific objects picked up by the camera.
But regardless of what AR features are found in future iPhones or Android phones, there could still be a large market for smartphone-paired AR glasses. By constantly providing users with access to information, overlaid content and a photo/video camera, rather than just when a device is taken out of a pocket, and by doing so while (with the help of voice commands) keeping both of a user's hands free, AR glasses can deliver a level of convenience and accessibility for many applications that smartphones can't.
Smartwatches, of course, promised something similar but have failed to date to create a mass market. However, their tiny screen sizes serve as an impediment that doesn't exist for AR glasses, which can project the equivalent of a 20-inch plus display before a user's eyes. Smartwatches also lack the ability to place relevant digital content on top of a user's real-world view, and are hardly the most practical devices to place a camera on.
Moreover, AR glasses can be quite useful when doing activities where it's difficult or impossible to use a phone, such as driving or -- assuming the glasses are waterproof -- swimming. They could also aid professionals doing jobs that require both of their hands to often remain free -- for example, retail, medical and security workers.
Along with its acquisitions, Apple's superb hardware and chip engineering skills could help it bring a quality AR headset with long battery life to market. In addition, its giant iOS developer base would guarantee that a large ecosystem of apps and services emerges for such a headset. The company's ability to integrate Siri and Apple Maps also wouldn't hurt, though it would also be a good idea to allow consumers to use Google's rival services if they want.
And a 2018 launch might still not be too late for Apple to quickly establish a market-leading position, given the state of the competition. HoloLens is only sold for now through a $3,000 developer kit and can only be used indoors, and a February report indicated the next version of Microsoft's AR headset isn't expected until 2019. The once-hyped Google Glass is missing in action -- an "Enterprise Edition" appeared to be on the way last year, but still hasn't launched -- and details are scant about exactly what kind of AR hardware Facebook is currently working on, never mind when it will launch.
Much-heralded startup Magic Leap, which has taken in $1.4 billion in funding, may be Apple's biggest near-term rival. The company has claimed its headset, rumored to be due later this year, can deliver unmatched 3D imagery thanks to a proprietary "photonic lightfield chip." But past reports have indicated Magic Leap's R&D work is behind schedule, and the FT just said its first headset will likely cost over $1,000 and need to be "tethered to a small pack that provides battery and processing power." On top of all that, Magic Leap is found to face an uphill battle creating a developer ecosystem that can rival Apple or Microsoft's.
With all this said, there are still some big challenges an Apple AR headset will need to address to become a hit. Delivering the processing power needed to provide high-quality AR experiences while maintaining decent battery life will take work. Apple's glasses will also need to sidestep the privacy worries that plagued Google Glass and its built-in camera, and it will need to keep users from feeling overloaded with information and content constantly beamed in front of their eyes.
It would also be a good idea for Apple to take a page from the iPod's hardware strategy rather than the Apple Watch's, and make sure its AR headset works well with third-party devices (read: Android phones). With over a billion active Android users in the planet, not supporting Android phone pairing would both limit the addressable market for an Apple headset and make life much easier for rivals.
If Apple can address these issues, however, the company could very well deliver its first device to create a new consumer mass-market since the iPad launched in 2010. For the moment at least, it looks as well-positioned as anyone to make such a mass-market a reality.