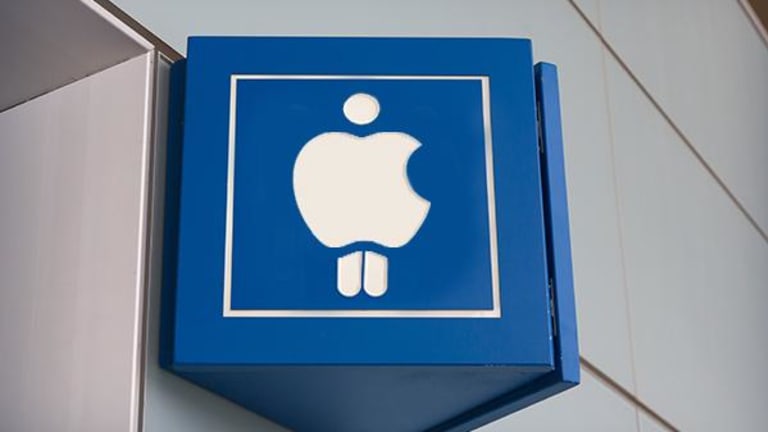 Why Apple Won't Be Hurt by Denouncing Trump's Transgender Policy Rollback
Apple's continued denouncement of Trump's policy agenda doesn't stand a chance of hurting the tech giant's bottom line.
Updated from Feb. 23 with additional information.
Apple (AAPL) - Get Apple Inc. Report is leading the charge of Silicon Valley firms who have spoken out against President Donald Trump's decision to roll back federal protections for transgender students in public schools. 
The tech giant denounced the change in a statement late Wednesday and was later joined by Alphabet (GOOGL) - Get Alphabet Inc. Class A Report , Facebook (FB) - Get Meta Platforms Inc. Class A Report , Microsoft (MSFT) - Get Microsoft Corporation Report and Uber, who all issued statements on Thursday in support of the LGBT community. Alphabet noted that it was "deeply concerned" to see transgender students' rights be rescinded, Bloomberg noted. 
"We support efforts toward greater acceptance, not less, and we strongly believe that transgender students should be treated as equals," Apple said in a statement, according to Politico. "We disagree with any effort to limit or rescind their rights and protections."
Salesforce (CRM) - Get salesforce.com, inc. Report CEO Marc Benioff also spoke out against Trump's decision on transgender rights in a tweet on Thursday, saying schools should be "safe spaces for all." 
Additionally, IBM  (IBM) - Get International Business Machines Corporation Report , Dell (DVMT) and Yahoo! (YHOO)  all released statements condemning the roll back late Thursday, with IBM noting that it has an explicit non-discrimination policy on gender identity or expression. Yahoo, meanwhile, expressed particular grievances with the Trump administration.
"The action taken by the administration is troubling and goes against all that we believe in," the internet company said in a statement, Bloomberg reports. 
It's no surprise that Apple was quick to rally against Trump's decision. The Cupertino, Calif.-based company was a vocal opponent of Trump's controversial travel ban, as well as the North Carolina law passed last year that prevented cities from protecting LGBT residents from discrimination, including their right to use bathrooms that don't match their assigned gender.
Apple also advocated for Congress to support the Employment Nondiscrimination Act in 2013, in addition to the LGBT Equality Act passed in 2015.
Apple, Facebook and Alphabet are holdings in Jim Cramer'sAction Alerts PLUS Charitable Trust Portfolio. Want to be alerted before Cramer buys or sells AAPL, FB or GOOGL? Learn more now.
Apple and other leading technology companies headquartered in California have increasingly taken on the role of advocates for social justice issues, often because the federal or state actions threaten many of their employees' livelihoods. 
Netflix (NFLX) - Get Netflix, Inc. Report CEO Reed Hastings spoke directly to that sentiment in saying that Trump's travel ban "hurts" Netflix employees around the world and called it un-American. The ban also prompted Alphabet co-founder Sergey Brin to join a protest denouncing the ban at the San Francisco International Airport shortly after Trump announced the executive order.
Among its Silicon Valley peers, Apple continues to be a dominant voice for social justice issues.
"I think that this is part of Apple's DNA and certainly predates Tim Cook," said digital marketing analyst Rebecca Lieb. "As Tim Cook said, these companies are founded on immigration and have strong LGBT employee ratios."
And for Apple's CEO, the issue of LGBT rights perhaps strikes an even more personal chord.
Cook came out as gay in a 2014 editorial for Bloomberg, noting that he's felt more and more compelled to take on the stance of an activist at the helm of one of the nation's most powerful companies because he's "benefited from the sacrifice of others."
"We'll continue to fight for our values, and I believe that any CEO of this incredible company, regardless of race, gender or sexual orientation, would do the same," Cook wrote. "And I will personally continue to advocate for equality for all people until my toes point up."
Apple's former chief executive, Steve Jobs, was decidedly less vocal than Cook on political issues, but he was a staunch supporter of the value of equal access to education. Jobs in 1995 remarked that the U.S. "falls far short" of providing equal, quality education to all children in the U.S. 
Inclusiveness has long been a core principle of Apple's mission and message and plays a part in the company's management style, as well as its overall thinking, said Tim Bajarin, president of technology research firm Creative Strategies.
But like Facebook, whose CEO Mark Zuckerberg last week wrote a 6,000-word manifesto on the company's role in preventing fake news, terrorism and isolationism, these statements are an insignificant threat to their multi-billion dollar bottom lines. This is partly because Silicon Valley juggernauts have much less to lose -- their consumers would be hard-pressed to find an alternative to (or in the case of Apple's brand loyalty, may simply not want to turn away from) their services. 
"It has no impact," Bajarin said. "We've studied this whole issue on whether people buy based on decisions made by management as opposed to products. It doesn't mean there won't be people who dislike what CEOs are saying, but they don't buy Apple based on its position."
"They buy because of the product, and whether it does what it needs to do for them," he added. 
It's also become increasingly clear that Trump may need to court many of the very Silicon Valley executives who once opposed him because the bulk of their companies have emerged as an indispensable force that shapes the economy.
In particular, if Trump seriously wants to create more jobs in the U.S., tech companies are at the heart of that discussion, Bajarin said. Economists and politicians are all "coming to grips" with the fact that companies like Apple, Google and Amazon (AMZN) - Get Amazon.com, Inc. Report are all economic engines that can't be stopped, he added.
"Trump needs Silicon Valley," Bajarin explained. "They know they're not going to achieve their goal if they disenfranchise these kinds of companies."
And tech executives like Cook have also begun acknowledging, albeit slowly, their growing role as ambassadors for certain social, political and economic policies. 
"(Tesla CEO) Elon Musk said the worst thing Silicon Valley can do is not stay engaged," Bajarin noted. "Silicon Valley companies have to show Trump that tech is not going away and that he needs them to achieve his goals."