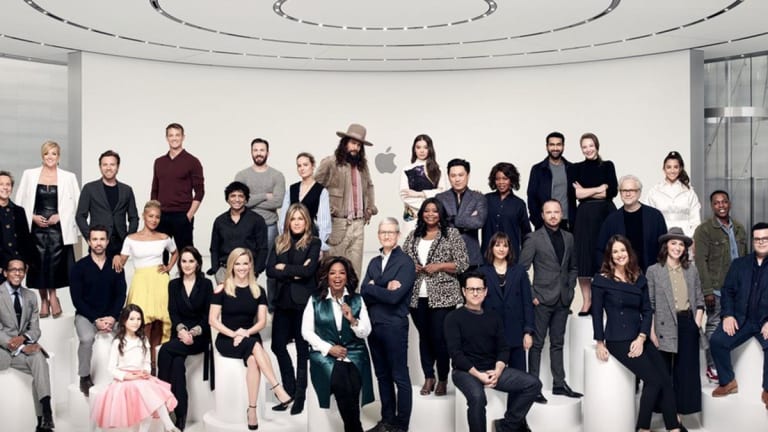 Here's Why Apple's TV+ Could Be a Winner -- It's Playing the Long Game
Apple's aggressive $4.99 price point and one-year free trial mean that TV+ is virtually guaranteed to be in the streaming rotation for many cord-cutters in the short-term, and buys it time to iterate in the long term.
Apple's aggressive $4.99 price point and one-year free trial mean that TV+ is virtually guaranteed to be in the streaming rotation for many cord-cutters in the short-term, and buys it time to iterate in the long term.
Come November, the streaming world will have two new major players: Apple (AAPL) - Get Report and Disney (DIS) - Get Report .
With Apple's TV+ and Disney+, both of which launch in the first half of November, consumers will have two new places to stream original shows. TV+ and Disney+ are also two of the cheapest offerings, at least among the most widely-used services: At $6.99 per month, Disney+ is roughly half the cost of a standard Netflix subscription, and Apple's TV+ is just $4.99 per month plus a one-year free trial for customers who buy any iPhone, iPad, Apple TV, iPod Touch or Mac.
In particular, Apple threw people for a loop when it announced pricing for the TV+ last week -- analysts had expected it to cost in the ballpark of $10 per month. Apple shares are up 2.8% since its Sept. 10 event, while Disney shares have gained 17% since its April reveal of Disney+.
In a way, the pricing of TV+ and Disney+ is a reversal of the narrative that the cost of streaming is creeping up towards the cost of a cable package.
According to Leichtman Research Group, the average cost of a pay TV subscription is about $107 per month today. By contrast, even if you subscribed to several streaming services such as Netflix, Alphabet's (GOOGL) - Get Report YouTube TV, ESPN+, Hulu, and Amazon (AMZN) - Get Report Prime Video, you'd still be paying less, excluding the cost of Internet service.
"Everyone is looking for value -- it doesn't matter where you are as far as your income," said Bruce Leichtman, president of Leichtman Research Group.
While many households are perfectly happy to spend $100 or more per month for entertainment, there are signs of a price ceiling for Netflix, the biggest incumbent in streaming TV. In its July earnings report, Netflix posted its first-ever net loss in U.S. subscribers, just a few months after it raised prices to $13 from $11 for its most popular standard plan.
With more choice and variety than ever in streaming services, analysts anticipate that the typical household will subscribe to between 2 and 4 services as a base, and swap some of them in and out based on the makeup of their household (parents might be particularly drawn to kid-friendly Disney+, for example), and what content is most compelling at the time.
In the near future, however, Apple TV+ will likely be in the streaming rotation for a decent chunk of Apple customers thanks to the low price point and Apple's aggressive marketing of the service.
While the content slate is far more limited than its competitors -- Apple has announced just a few dozen original shows for the service, to be rolled out over the coming months -- it's offering an entire year for free to anyone who buys select Apple devices. 
That virtually guarantees at least few million people will give it a shot: In a recent note, Cowen analyst Krish Sankar estimated that TV+ could attract nine million subscribers by the end of this year, and 18 million by the end of 2020.
The year-long trial also buys Apple time to measure what's working and what isn't, and iterate on the service.
"In a year from now, the service is going to look very different, and we're going to know a lot more about the quality of the content," said Dan Rayburn, a principal analyst with Frost & Sullivan.
What's more, according to Rayburn, the monthly cost is low enough that even if subscribers are only interested in a couple of shows, many won't blink at staying on after the trial expires. Combined with Apple's sticky ecosystem and potential bundling options, Apple may be in a strong position long-term in the streaming realm. 
"At $5 per month, I don't think it's that big of a deal -- does $5 really change your budget? That's a beer," Rayburn added. "Apple is doing something different."
Apple, Disney, Amazon and Alphabet are holdings in Jim Cramer'sAction Alerts PLUS Charitable Trust Portfolio. Want to be alerted before Cramer buys or sells these stocks? Learn more now.