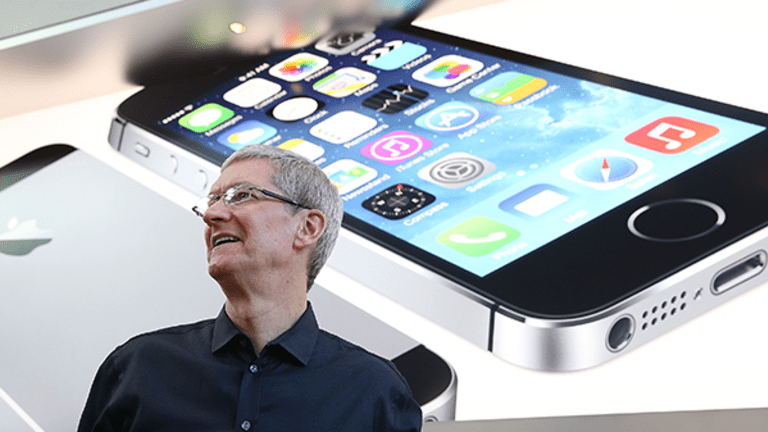 Why Apple's Next Big iPhone Market Could Be India
Amid slowing sales in China, Apple is reportedly in talks with government officials to begin manufacturing goods in India and has tapped Taiwanese manufacturer Wistron to build a facility.
Updated from Dec. 20 with additional news.
As Apple (AAPL) - Get Report looks to rev up iPhone sales in other large markets now that its growth in China is starting to slow, no country would seem to fit the bill better than India. 
According to the Wall Street Journal, the Cupertino, CA-based technology giant penned a letter to Indian officials in November detailing plans to explore manufacturing locally and seeking financial incentives to do so. The company may also be opening its own retail stories in India.  
Foxconn (FXCOF) , a major Apple supplier, seemed like a natural fit to spearhead iPhone manufacturing in the country, since it already has plants in India. But the Times of India reported this week that a different Apple supplier, Taiwanese manufacturer Wistron Corp., is looking at building a new facility in Peenya, the industrial hub of Bengaluru, to manufacture iPhones to sell in India. Wistron had previously made the iPhone 5C, the now-defunct, cheaper model of its flagship handset line.
Production could begin at Winstron's facility by April 2017, sources told the Times.
Apple must purchase at least 30% of its raw materials from Indian vendors as part of new foreign direct investment regulations set in June by the Indian government. If Apple began manufacturing products in India, it would fulfill that requirement, allowing them to set up shops there (currently, Indian consumers largely purchase iPhones from third-party vendors).

In May, Apple CEO Tim Cook denied that the company would build a factory in India, but the Indian government said he discussed the idea with Prime Minister Narendra Modi when they met in New Delhi that month, the Journal reports. Modi recently launched Make in India, an effort aimed at encouraging multi-national and national companies to manufacture their products in the country. 
Analysts have long predicted that Apple would eventually build out its presence in India, where it currently controls less than 5% of the smartphone market and struggles to beat out both domestic and Chinese vendors.  
Apple shares were trading down 0.2% to $116.36 on Friday morning, and are up 10.5% for the year.
India's smartphone market is expected to eclipse the U.S. by next year, coming in second to China, according to market research firm IDC. Smartphone adoption in the country has recently surged to about 1 billion wireless subscribers and that's likely to continue as India's telecom service providers shift from 3G to 4G LTE mobile services. 
Apple is a holding in Jim Cramer'sAction Alerts PLUS Charitable Trust Portfolio. Want to be alerted before Cramer buys or sells AAPL? Learn more now.
Reliance Jio Infocomm, an India-based LTE mobile network operator, announced late last month that it's rolling out 4G coverage in about 18,000 cities and 200,000 villages, Drexel Hamilton said in a recent note. The network operator also offers a free year of service for every customer who purchases an iPhone. 
4G service affords users a faster mobile browsing, downloading and video-on-demand experience compared to 3G. 
One reason for the potential move is that Apple may be looking to diminish its reliance on China, where the company once had steady sales but has since seen those numbers drop off. In Apple's most recent quarter, revenues in China dropped 30% year-over-year. By comparison, sales in India grew by 50% year-over-year during 2016, although from a much smaller base. 
It could also, in part, reduce Apple's exposure to any uncertainty surrounding U.S.-China trade relations. President-elect Donald Trump has talked of imposing a 45% tariff on Chinese imports, which China's state-backed newspaper Global Timeswarned could result in Apple sales "suffering a setback."
Drexel Hamilton analyst Brian White believes that India's growth story, despite being in its "very early stages," is reminiscent of the potential that China presented to Apple in 2010.

"Why did China take off? They built up 4G networks," White said by phone. "The only difference is that India's per capita GDP is lower. But it's expected to be one of the fastest-growing countries in the world."
India also has a much younger population overall than China, and a growing middle class. These characteristics are "all the things [companies] want" when they're selling a consumer product, White added. 
Establishing a local presence in India would not only increase Apple's visibility in a country where customers largely aren't upgrading from the iPhone 5S, it would also help the company compete with smartphone rivals such as Samsung (SSNLF) and China's Xiaomi, both of which already have some manufacturing facilities in India.
Labor costs are also cheaper in India than in China: As of 2014, the average manufacturing labor cost per hour in India was 92 cents vs. China's $3.52.
Apple would also avoid India's hefty import tariffs if it decides to assemble goods locally. Further, Foxconn has said it hopes to set-up "Chinese-style" manufacturing facilities in India as it faces rising wage costs and labor disputes in China. It is building a manufacturing facility in southern India as part of its pledge to invest $5 billion in the country over the next five years.
However, visions of Apple Stores popping up on every corner in India are unlikely, as the process "will not happen in a year," White explained. But the next five to ten years pack a wealth of growth opportunities, he added.
"It's one of the few big markets that's totally unpenetrated," White said.