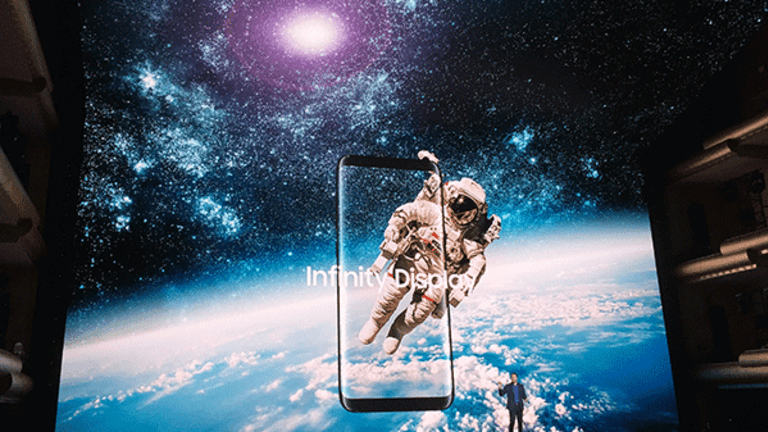 Publish date:
Why Apple's iPhone 8 May Have a Hard Time Living Up to Samsung's S8 'Infinity' Screen
Samsung may have differentiated its latest phones with their new edge-to-edge, bezel-less screens.
Samsung may have differentiated its latest phones with their new edge-to-edge, bezel-less screens.
Samsung's (SSNLF)  much buzzed-about edge-to-edge screen on its latest smartphone may prove hard for even Apple (AAPL) - Get Report to match when it comes out with the latest version of its own flagship phone later this year.  
Samsung's updated S series features curved corners (like the Note 7) and edges that spill over the sides with a virtual home button, forming what the company is referring to as its OLED "infinity" screen. The new design results in a phone that's comfortable to hold and maximizes screen size. This will be hard for Apple to compete with, according to one analyst. 
"While Apple's new OLED form factor looks similar, current indications are for less use of curved OLED which may result in a slightly less 'infinity' screen form factor," JPMorgan analyst Rod Hall wrote in a note on Thursday morning.  
His predictions come five months before the expected release date of the 10th-anniversary edition of the iPhone, which rumors suggest could be called also be called the iPhone X or the iPhone Pro. Despite some expected similarities, the standard iPhone 8 is expected to measure five inches, a good bit smaller than the standard S8's 5.8 inches, and the larger iPhone 8 plus is expected to be 5.8 inches, also smaller than the larger S8 Plus's 6.2 inches. 
The switch by both companies to organic light-emitting diode (OLED) displays from the traditional liquid crystal (LCD) displays gives them the ability to curve the screens and create the sharper and larger images seen on the S8. In addition, OLED gives customers better battery life. Ironically, Samsung will actually be providing the OLED, curved screens to Apple for its new iPhone, sources told the Wall Street Journal last month. 
Apple shares fell 0.1% to 143.93 on Thursday, but are up almost 24% so far this year.
Editor's Pick: This story was originally published on May 30 at 1:05 p.m.
Apple is a holding in Jim Cramer'sAction Alerts PLUS Charitable Trust Portfolio. Want to be alerted before Cramer buys or sells AAPL? Learn more now.
JPMorgan also noted that Samsung seems to have given particular attention to upping its security features in response to what it thinks Apple might release on the upcoming iPhone. The S8 includes a number of new high-tech ways to get into the phone, including an iris scanner, fingerprint reader and facial recognition. With the last option, a user simply has to lift the phone's screen up to their face in order to unlock the phone. 
These features all seem similar to the rumors surrounding Apple's updated security features, which also include facial recognition and retinal scanning. However, Apple is also rumored to be working on technology that would allow for finger scanning on the front of the phone without a physical button -- something Samsung was not able to do for the S8. Instead, Samsung simply moved the fingerprint scanner to the back of the phone near the camera to free up space on the front of the phone, a decision that has some worried about fingerprints smudging the camera lens. 
While the phone's designs may be similar, it's worth noting that Apple's fans seem more loyal than Samsung's, according to a survey of 1,500 Americans by marketing platform Fluent. In Fluent's survey, 89% of iPhone owners said they were likely buy another iPhone next, vs. 58% of Samsung owners who said they would purchase another Samsung for their next phone. In addition, 30% of iPhone owners said they get "very excited" when Apple announces a new phone, vs. 18% of Samsung owners who said they feel similarly about a new Samsung phone announcement. 
Recon Analytics founder Roger Entner said the S8 was a "very good phone," but he doesn't think it scared Apple at all. "Apple wins not only on the device side, but also on the more integrated features seen on the iOS and a better user interface," he explained.
On the other hand, however, Entner said he does think the S8 gives a better picture of what the new iPhone might look like as Apple could look to adopt similar design features. Apple and Samsung have gone back and forth in copying key features of each other's phones in the past. Most recently, Samsungwas ordered to pay nearly $400 million in damages to Apple in 2012 for stealing patented designs until the decision was reversed this past December. Apple had accused Samsung of copying a number of its iPhone designs, including its home screen with colorful apps as well as its rounded corners and rectangular shape. 
The rivalry between the two tech giant rivals is reportedly what contributed to the Note 7 disaster, with Samsung skipping some tests on the devices in order to get them to market in August before the iPhone's planned launch in September. After just two months, the Note 7 was recalled due to problems with the batteries that made the phones prone to overheating and sometimes exploding. Samsung has since released a detailed report on what went wrong with the batteries, as well as an updated eight-step safety check for its batteries. 
That rivalry was touched upon in an interview with Samsung's vice president of global product planning for mobile Gaeyoun (Robert) Kim that appeared in Mashable this week in which Kim said that the Galaxy S8's internal code name of "Dream" referred in part to Samsung's dream of surpassing Apple. However, Samsung downplayed Kim's comment later, claiming that was just his personal interpretation of the code name.