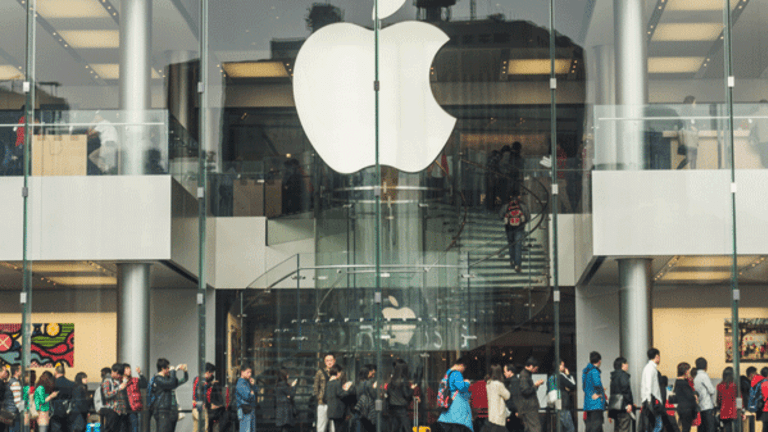 Why Apple's $92B Debt Load Isn't Entirely Harmless
Apple has perfectly good reasons for borrowing so much money and is in no danger of defaulting, but Silicon Valley's use of debt to fund dividends could have limits.
Apple's (AAPL) - Get Apple Inc. Report $800-billion-plus market cap and its quarter-of-a-trillion dollar cash balance have generated plenty of attention recently. But the tech giant's debt load, which now includes nearly $92 billion in long-term debt and more than $100 billion when including operating leases and corporate paper, according to Moody's, deserves a look as well.
The tech giant just closed on the sale of $7 billion worth of notes across various maturity dates on Thursday, according to an SEC filing. Apple has used debt to pay dividends, buybacks and other priorities, while its cash piled up overseas. The financial logic is clear. Covering low-interest debt is much cheaper than facing a 35% corporate tax rate on offshore cash. Using the debt market to return cash to shareholders has become common for tech's elite, including Microsoft (MSFT) - Get Microsoft Corporation Report , Alphabet (GOOGL) - Get Alphabet Inc. Report , Cisco (CSCO) - Get Cisco Systems Inc. Report , Oracle (ORCL) - Get Oracle Corporation Report and Intel (INTC) - Get Intel Corporation Report . 
As Silicon Valley's debt load rises, there's no concern that tech's elite companies will default on payments or be unable to raise debt. The pristine credit ratings that these companies enjoy could be at risk, however. And if credit ratings fall, debt becomes more expensive, meaning that tech's reliance on cheap debt to pay equity holders could become a more costly proposition.
Moody's put negative outlooks on the ratings for Microsoft and Oracle last year because of concerns about their reliance on debt to return cash to shareholders or acquire businesses. The agency specifically cited Microsoft's $26.2 billion purchase of LinkedIn.
Apple's debt load continues to grow in lockstep with its stock price. Apple closed up 1.4% to $156.10 per share Friday, May 12.
"It's catching up with AT&T (T) - Get AT&T Inc. Report and Verizon (VZ) - Get Verizon Communications Inc. Report ," telecom companies that that have borrowed heavily for acquisitions and network construction, said Moody's analyst Gerry Granovsky of Apple's debt levels. Apple currently has an Aa1 debt rating, the second-highest mark issued by Moody's, several notches higher than the Baa1 held by AT&T and Verizon. Moody's doesn't have adjusted AT&T and VZ gross debt numbers for the March quarter, but at year's end, AT&T's total Moody's adjusted debt was about $167 billion, while Verizon's was $138.5 billion.
Apple's $100 billion or so in gross debt, including corporate paper and operating leases, is still well below that of the telecoms, but it is getting closer. Keep in mind, however, that Apple's annual sales of roughly $214 billion are well above AT&T's $164 billion and Verizon's $126 billion, according to Factset, so its relative debt levels are lower. And Apple's net margins of 21.3% for last year, according to FactSet, are also double those of Verizon's and nearly triple those of AT&T's.
Apple, Alphabet and Cisco are holdings in Jim Cramer's Action Alerts PLUS Charitable Trust Portfolio. Want to be alerted before Cramer buys or sells AAPL, GOOGL or CSCO? Learn more now.
This story has been updated from May 10 with additional information, including Apple's closing stock price May 12.
Read More Trending Articles:
Analyst Says New Ford CEO Is 'Clueless' and Company 'Toast' Trying to Catch Tesla
Cisco Could Be Looking to Acquisitions to Help Solve Its Biggest Challenge
We Quickly Learned Why Ford's New Truck Named After a Killer Dinosaur Is a Beast
Still, it is significant that the tech company is approaching the ball park of the big carriers, which have taken on debt for major acquisitions and have network capital expenditures. While Apple's cash piled up overseas, the company issued $11 billion in debt during the second fiscal quarter.
Even though some of Apple's most recent earnings report disappointed, Cramer and the AAP team found some examples of strength. Find out more with a free trial subscription to Action Alerts PLUS.
Apple has plenty of debt cushion. The company's cash and equivalents exceeds its gross debt by $158 billion -- and its long term debt by an even greater amount. "We know they have the cash and if there is a perceived problem we are counting on the company's words and the policies they have espoused to the market that they wouldn't endanger their financial position," Granovsky said. "They should be able to bring some cash back and address the maturities."
A tax holiday on repatriated funds, which the Trump administration has made a priority, could ease Apple and its technology giant peers' reliance on debt.
The question is whether President Trump and the Republican Congress could push through a tax bill. "People were a little more optimistic about tax reform happening soon than [they were] maybe a couple of months ago," Granovsky said.
The passage of a health care bill in the House could be a sign that the Trump administration and Congress are developing methods of working together -- or it could presage a bloody war if the Senate rejects the plan. 
If Congress does not pass a tax holiday that frees up overseas cash, another move in Washington could make it easier for Silicon Valley to keep funding its dividends through the credit markets.
The Fed announced last week it's keeping interest rates steady. So debt shouldn't get more expensive for the time being -- as long as the tech giants can maintain their credit ratings.
Read More Trending Articles:
Analyst Says New Ford CEO Is 'Clueless' and Company 'Toast' Trying to Catch Tesla
Cisco Could Be Looking to Acquisitions to Help Solve Its Biggest Challenge
We Quickly Learned Why Ford's New Truck Named After a Killer Dinosaur Is a Beast