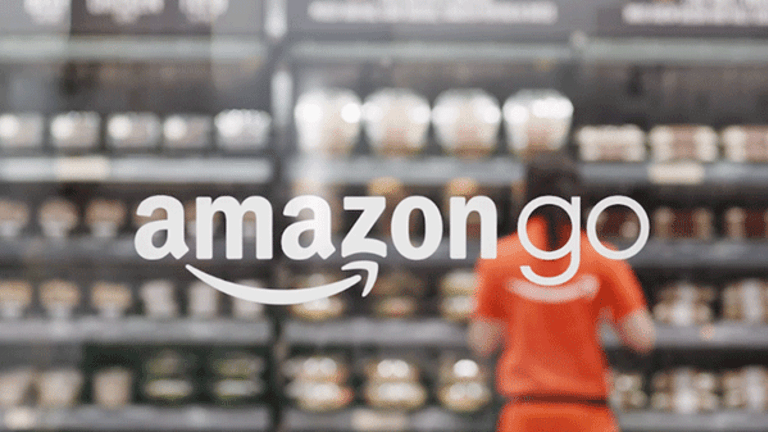 Why Amazon Shares Could Rocket Over the $1,000 Mark Within Weeks
Amazon shares have started the year on a positive note. Here's why the stock is set to rally even more.
At last week's Consumer Electronics Show in Las Vegas, Amazon (AMZN) was the clear winner, and the company didn't even need to rent a booth.
The e-commerce giant's Alexa digital personal assistant overshadowed competition from rivals such as Apple, Microsoft and Alphabet. And the company showcased Alexa's integration with everything from ADT home security systems to LG speakers, to Ford cars.
Amazon shares rose slightly Thursday to $801.61.
Apple and Alphabet are holdings inJim Cramer's Action Alerts PLUS Charitable Trust Portfolio. See how Cramerrates the stock here. Want to be alerted before Cramer buys or sellsAAPL and GOOGL?Learn more now.
Alexa is poised to dominate not only personal assistant technology, but also the entire internet of things -- digitally connected appliances, personal electronics and even self-driving vehicles.
But Alexa isn't the only reason that Amazon investors will stand to profit. After all, the company is first and foremost a retail outlet.
Amazon has transformed the way consumers shop for just about everything. What started out as an online bookseller is now on pace to overtake Macy's as the world's largest apparel retailer, a startling development when you remember that e-commerce was once considered an impossible way to sell clothing.
Amazon is now also offering grocery delivery, which places the company in an even more advantageous position when stacked against bricks-and-mortar rivals such as Walmart and Costco. 
Costco is a holding inJim Cramer's Action Alerts PLUS Charitable Trust Portfolio. See how Cramerrates the stock here. Want to be alerted before Cramer buys or sellsCOST?Learn more now.
Amazon challenged Costco in another way Wednesday, when the company unveiled its new credit card. The new Amazon Prime Rewards Visa Signature Card, released through JPMorgan Chase, offers Prime members 5% on their Amazon purchases, as well as 2% back at restaurants, drugstores and gas stations, and 1% back everywhere else.
This rewards program outshines Costco's Visa Anywhere card, which offers only 2% back on purchases via the company's club warehouses or website. The Costco card was released to much fanfare in 2016 after Costco split with its longtime credit card partner, American Express.
Amazon's credit card makes it all the more convenient and attractive for Costco members to switch to Prime.
But besides credit cards and personal assistants, Amazon has reportedly recorded record holiday season sales at the same time that traditional department stores, including Macy's, Sears, and Kohl's, have reported declines.
Amazon's stock is currently about $50 a share lower than last October's highs. There's still the potential for upside for investors here, but the stock could go even further, perhaps passing the $1,000 mark later this month when the company releases its holiday-quarter earnings.
Indeed, in light of the bang with which Amazon has already begun 2017, investors should brace themselves for some more big profit opportunities from this mega-retailer and technology company.
---
Amazon still makes a great play for investors.. But what if I told you I know a way you can see a $67,548 per year - or more - in profitable trades just by following this simple step-by-step process? The trader who is sharing this secret has been right more than 8 out of 10 times, turning $5,000 into more than $5 million for himself. Click here to see how easy it is to follow his lead and collect thousands of dollars in "Free Money" every month.
This article is commentary by an independent contributor. At the time of publication, the author held no positions in the stocks mentioned.