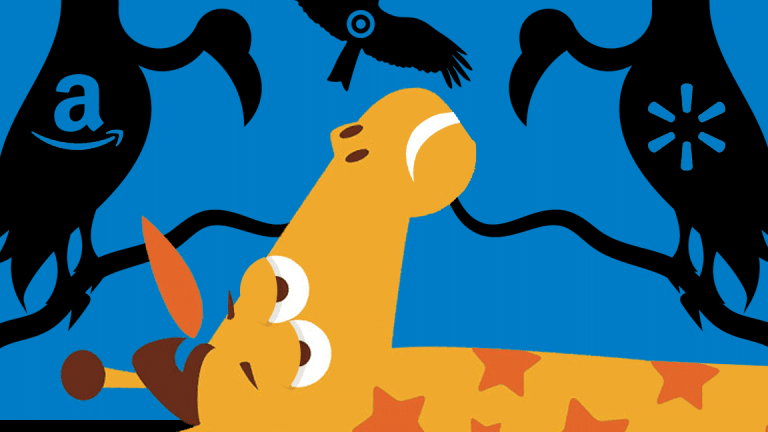 Why Amazon, Target and Walmart Will Feast on Toys 'R' Us' Carcass
Failing Toys 'R' Us has around 18% U.S. market share, and Amazon stands to get the biggest piece of it.
"To the victor belong the spoils" -- that's true in not only war, but in business as well. And nowhere is that more apparent than in the demise Thursday of Toys "R" Us, whose "spoils" (sales) seem likely to go to Amazon.com Inc. (AMZN) - Get Free Report  , Walmart Inc. (WMT) - Get Free Report  and to some extent Target Corp. (TGT) - Get Free Report .
"I think Amazon will be one of the clear winners from Toys 'R' Us [closure]," R.J. Hottovy, a Morningstar analyst who covers Amazon, told TheStreet. 
Toys "R" Us, a 70-year-old retailer whose mascot has long been the cheery Geoffrey the Giraffe, announced plans Thursday to close or sell all 740 of its U.S. stores. The chain had already filed for bankruptcy in September, saying then that it had $4 billion in liabilities.
Meanwhile, the chain's British arm collapsed into insolvency just months after creditors had backed a restructuring plan. Some 100 U.K. stores will close in the next six weeks. About 200 Canadian stores are also on the block, as is the chain's online operations.
Greg Melich of MoffettNathanson estimated in January that Toys "R" Us has 18% of the $26 billion U.S. toy market. That works out to about $4.7 billion.
Morningstar's Hottovy expects Amazon could rake in some $2 billion to $3 billion extra in sales this year out of that. He expects the rest to go to Walmart (WMT) - Get Free Report , Target (TGT) - Get Free Report , dollar stores and to direct sales from toy manufacturers.
However, the expert doesn't see even $2 billion to $3 billion as representing much of a needle-mover for giant AMZN. "Even if Amazon picks up a few $2-$3 billion in incremental annual sales, it won't be enough to materially change our longer-term assumptions or fair value estimates," Hottovy said.
Still, the failure of one company typically leads to a boon for its competitors. For example, when Circuit City— once the country's top electronics retailer — filed for bankruptcy in 2008, sales went to Best Buy Co. Inc. (BBY) - Get Free Report . Similarly, Sports Authority's 2016 bankruptcy benefited Dick's Sporting Goods Inc. (DKS) - Get Free Report .
Walmart did not respond immediately to a request for comment from TheStreet regarding the Toys "R" Us closures' likely impact on WMT's toy sales. An Amazon spokesman said the company doesn't break out toy-and-game sales figures, while a Target spokesman would only say that toys are part of the TGT"s "hardlines" sector, which made up 17% of total company sales in 2016. 
Meanwhile, analysts are attributing Toys "R" Us' collapse to everything from internet competition to poor leadership.
"The liquidation of Toys 'R' Us is the unfortunate but inevitable conclusion of a retailer that lost its way and forgot core retail competencies," Neil Saunders, managing director of GlobalData Retail, told TheStreet. "Toys R Us may well blame suppliers and competitors for its demise, but the primary responsibility lies with poor management decisions. As the competitive dynamics of the toy market intensified, management failed to respond and evolve. As such, the brand lost relevance, customers and ultimately sales."

Amazon.com Inc. is a holding in Jim Cramer's Action Alerts PLUS Charitable Trust Portfolio. Want to be alerted before Cramer buys or sells AMZN? Learn more now.