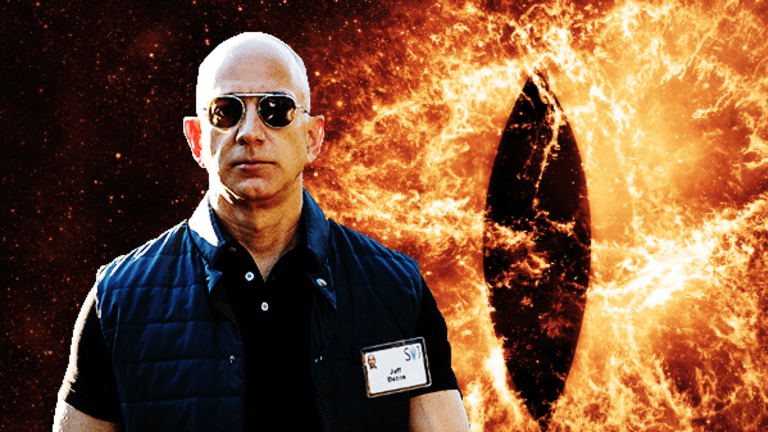 Why Amazon and Microsoft Are Joining Forces on Voice Assistants
Amazon and Microsoft's assistants lack the mobile reach claimed by Apple and Google's assistants. And Microsoft has much to gain from supporting Amazon's Alexa ecosystem.
When it comes to product placement, arguably nothing is more valuable in the consumer tech world than having an app or service built into iOS or Android.
It's why Alphabet Inc./Google's (GOOGL) - Get Alphabet Inc. Class A Report 2005 purchase of Android, which paved the way for billions of phones to come with Google Search and a slew of other Google apps and services baked in, might even top the company's 2006 purchase of YouTube as its most valuable acquisition. And why Apple Inc.  (AAPL) - Get Apple Inc. (AAPL) Report is now producing well over $10 billion in annual revenue from home-grown services built into iOS devices, as well as collecting billions from Google in exchanging for making Google the default search engine for its Safari browser.
In the realm of voice assistants, there's also incredible value in having a service built into iOS or Android, enough so that those able to do so have the inside track on offering the world's most widely-used assistant services. Amazon.com Inc. (AMZN) - Get Amazon.com, Inc. Report and Microsoft Corp.  (MSFT) - Get Microsoft Corporation (MSFT) Report were undoubtedly aware of this when they made the surprising decision to integrate their assistants.
Jim Cramer and the AAP team hold positions in Apple and Alphabet for their Action Alerts PLUS Charitable Trust Portfolio. Want to be alerted before Cramer buys or sells AAPL or GOOGL? Learn more now.
By saying "Alexa, open Cortana," someone using an Amazon Echo speaker or some other device supporting Amazon's Alexa assistant will soon be able to access Cortana's services. Likewise, by saying "Cortana, open Alexa," many of the 500 million-plus devices now running Windows 10 -- and thus supporting Microsoft's Cortana assistant, provided they have microphones -- will soon have access to the Alexa services created by Amazon and thousands of third-party developers.
For Amazon, the deal greatly extends an all-out push over the last 12 months to make Alexa available on as many devices as possible. In addition to the Echo line, Alexa is now available on Amazon's Fire TV devices, third-party TVs running Amazon's Fire OS and Huawei's Mate 9 phone (Alexa-supporting Motorola phones are on the way). Moreover, Alexa is now accessible on iOS and Android through Amazon's popular core shopping app.
For Microsoft, the deal is valuable less for making Cortana available on Echo devices -- it remains to be seen just how many Echo users will access Cortana, especially since doing so requires an extra command -- than for giving Cortana access to Alexa's unrivaled ecosystem. Whereas Cortana currently supports only a few dozen third-party services, the 20,000-plus "Skills" supported by Alexa can be used to control numerous smart home devices and access a variety of Internet services, among other things. And of course, Alexa can also be used to shop on Amazon and access the digital content services available to Prime members.
But in terms of reach, both Amazon and Microsoft's assistant platforms still easily trail Apple and Google's. Apple, unlikely to partner with a rival assistant developer for philosophical reasons if nothing else, reported having over 1 billion active devices in use as of early 2016. And its Siri assistant -- built into both iOS and macOS -- is now found on nearly all Apple devices in use.
More of What's Trending on TheStreet:
Costco's Dramatic Crash Might End Up Yielding a Huge Payoff
Under Armour's Move Into Sneaker Business Has Been a Disaster, Jim Cramer Says
Buying a Tesla Could Soon Become Ridiculously More Expensive
Stocks Hold Onto Gains as Trump Talks Tax Reform
Google reported there are over 2 billion Android active devices in May. Only a fraction of these devices support the Google Assistant service launched last year -- Google's services remain blocked in China, and for now, Assistant is only available in U.S. English and on devices running Android 6.0 (Marshmallow) or higher. But an international rollout should happen in the coming months, and many Android devices outside of China run the older Google Now assistant service.
Microsoft might argue that having an assistant on hundreds of millions of PCs is a big deal as well. It is, but on the whole, it's not as valuable as iOS or Android integration. Not just because of the scale of Apple and Google's operating systems, but also because legions of consumers now spend far more time daily on smartphones than PCs. And also because voice commands can be much more helpful on a device with a 5-inch touchscreen than one with a larger screen, mouse and full-sized physical keyboard.
Both Amazon and Microsoft would be quick to point out Alexa and Cortana can each be accessed via iOS and Android apps, and that the app supporting Alexa is a widely-used one in the U.S. and certain other markets. But in terms of convenience, there a giant difference between requiring a user to load an app and perhaps then press a button to access an assistant, and -- as is respectively the case for Siri and Google Assistant on iOS and Android -- loading it simply by either pressing and holding a phone's home button or saying a wake-up command such as "Hey, Siri" or "OK, Google."
That's why Siri, though frequently found lacking relative to rivals in reviews and tests, is widely used simply by virtue of being good enough to be useful to iPhone and iPad users. Google Assistant, meanwhile, can offer similar convenience on Android phones while also (judging by tests) claiming an edge on rivals for fielding many types of queries. Both Google's AI investments and Assistant's integration with Google Search and other popular Google services help out here.
The company is also trying hard to grow Google Assistant's home device reach. In addition to Google's own Home speaker, Assistant has been baked into Nvidia Corp.'s (NVDA) - Get NVIDIA Corporation Report  Shield TV gaming console and related Spot speakers. And just as Microsoft and Amazon announced their deal, Google announced Assistant will be available on speakers from Panasonic, Anker and Mobvoi, as well as LG home appliances.
Nvidia is a holding in Jim Cramer's Action Alerts PLUS Charitable Trust Portfolio. Want to be alerted before Cramer buys or sells NVDA? Learn more now.
Apple, for its part, will soon begin shipping its $349 HomePod speaker. But HomePod is priced at a major premium to rival speakers and Apple is selling would-be buyers on audio quality and Apple Music integration far more than Siri.
Alexa's ecosystem edge is still nothing to scoff at. Though Google and to a lesser extent Apple have opened up their assistants to developers, Alexa for now remains in a league of its own in terms of how many smart home devices and third-party web services it supports. And though Cortana at times feels like an afterthought in the assistant wars, its integration with Microsoft apps and services such as Outlook, Skype for Business and LinkedIn, together with its built-in calendar and reminder services, make it useful for many office workers.
But in a world where "mobile-first" is far more than just a marketing slogan, Google Assistant and Siri still have pretty enviable positions. Ones that should yield stronger ecosystems in time, and lower their need to partner with a rival the way that Amazon and Microsoft just did.