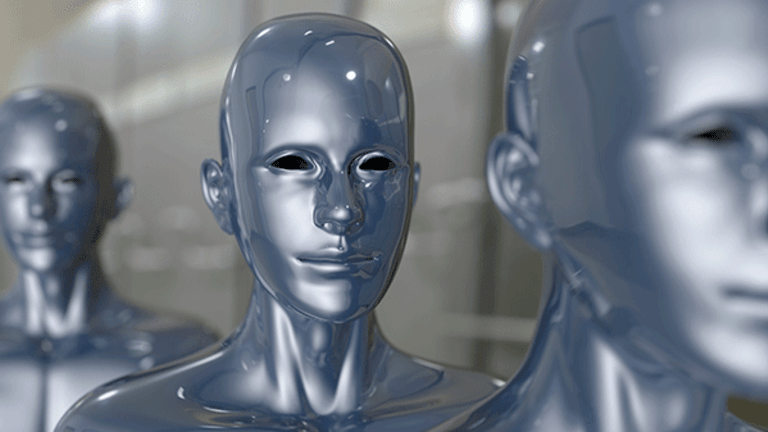 Why AI Start-Ups Are Seen as Popular Acquisition Targets for 2017
Artificial Intelligence companies drew immense attention this year, with 155 deals closing across 22 countries, a trend that will most likely continue.
With the advent of drones, robots and self-driving vehicles a recent report released by the White House contended that artificial intelligence could transform the economy.
The report lists strategies that will increase the benefits and diminish the costs of AI, helping to create opportunities in cyberdefense and fraud detection.
Although the report clearly states that the precise economic impact is difficult to estimate, it highlights five possible effects of an economy driven by AI, including an increased demand for higher technical skills and uneven distribution of the impact across sectors, wage levels, etc. 
A depiction of AI has often been seen on television shows.
In 1962, I sing the Body Electric,an episode of The Twilight Zone, significantly captured the unique concept of AI by presenting a robotic grandmother adjusting smoothly in a human family. Years later, AI continues to capture the imagination with popular TV shows such as Black Mirror and Westworld.
In reality, however, AI is a branch of computer science that displays intellect in computers. AI can recognize patterns in large amounts of data that may be too complex for a human brain.
But while the underlying concept of AI remains abstract to most, it remains most familiar to corporate leaders who are investing millions of dollars in AI start-ups.
Since 2011, a total of 1,098 deals attracted $6 billion in global AI equity funding, and as many as 40 AI acquisitions took place this year.
Mergers and acquisition activity has increased 7 times since 2011, with most start-ups getting acquired in the first four years of their first financing, according to CB Insights.
This year, AI start-ups drew significant attention with $1.05 billion pouring in during the third quarter from corporate giants such as Alphabet's Google,Apple, the Data Collective venture capital fund, IBM, Intel and Yahoo!
Alphabet and Apple are holdings in Jim Cramer's Action Alerts PLUS Charitable Trust Portfolio. See how Cramer rates the stocks here. Want to be alerted before Cramer buys or sells GOOGL and AAPL?Learn more now.
One of the most active tech investors in AI start-ups since 2011 has been Google. The company's Google Search is backed by deep learning technology, RankBrain, which allows Google to understand better, search better and respond more efficiently.
Also this year, Google launched Google Home in competition with Amazon's virtual assistant, Alexa. Google is already working on its new project, Waymo, that focuses on self-driving cars.
In 2014, the company acquired London-based DeepMind for $533 million, which recently presented WaveNet. WaveNet generates a raw audio form, impersonating any human voice and sounding more natural than the best existing text-to-speech systems.
In March, a program by Google's DeepMind, AlphaGo, defeated 18-time world champion player, Lee Sedol at Go, an ancient Chinese board game.
DeepMind is on a hiring spree for working on its Google products in the U.S. A team of AI researchers is training computers to read people's lips, with accuracy that rivals some of the world's best human lip-readers.
Even companies such as Apple and Intel are racing to acquire AI start-ups.
This year, Apple acquired Turi for $200 million and big data start-up, Tuplejump, its first acquisition in India.
Intel acquired three AI start-ups this year, including Nervana for $400 million on Aug. 9. 
Not surprisingly, other corporate giants aren't far behind and are competing to grab opportunities that are closely tied to machine intelligence and smart data. For instance, Salesforcehas added machine learning capabilities to its platform to compete in markets.
Meanwhile, Amazon has already created buzz with Alexa, which uses voice recognition and can virtually assist in answering questions, reading audio books and weather forecasts and even ordering Amazon products. Amazon Go recently replaced cashiers with AI and allowed customers to shop hassle-free using their phones.
And social-media giant Facebook aims to build the "best AI Lab in the world." With its AI-backed assistant M, Facebook already uses DeepFace, face recognition technology to tag friends in photos.
Facebook is a holding in Jim Cramer's Action Alerts PLUS Charitable Trust Portfolio. See how Cramer rates the stock here. Want to be alerted before Cramer buys or sells FB? Learn more now.
Last year, Facebook's AI researcher team shared a video that focused on enhancing people's lives through human-level intelligence. This year in an attempt to create AI experts, Facebook also introduced an outreach program that simplifies the complexities of AI.
This week, Microsoft entered into a collaboration with L.V. Prasad Eye Institute in India to launch the Microsoft Intelligent Network for Eyecare to help eliminate avoidable blindness and scale delivery of eye care services worldwide.
Through a predictive model, Microsoft has engaged with the institute to assist in predicting regression rates for eye operations, which will allow doctors to identify procedures that will prevent and treat visual impairments.
For now, an AI economy may seem a distant dream to some. But the trend for acquiring AI start-ups may continue to draw the automobile industry, chip manufacturers and software firms next year as they strive to compete by offering more enhanced features to existing products.
This article is commentary by an independent contributor. At the time of publication, the author held no positions in the stocks mentioned.