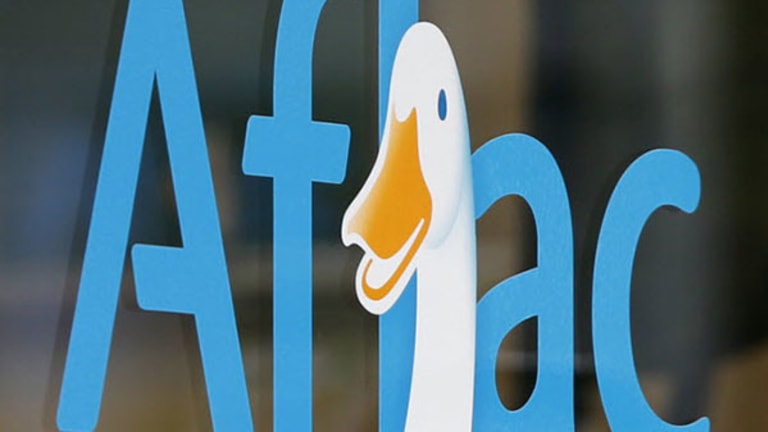 Publish date:
Why Aflac Stock Is Long-Term Insurance for Your Portfolio
This insurance company has a solid track record of providing growth and income.
This insurance company has a solid track record of providing growth and income.
The U.S. economy did better than expected in the third quarter of 2016, expanding at a 2.9% annual rate from July through September. That's a noticeable increase from the 1% growth rate posted in the first six months of the year.
But even in a healthy economy, disaster can strike at any time. It's not enough to have some investments that you think will hold up over the long haul. You need a detailed plan that will allow you to guarantee your profits.
Speaking of disaster striking, Aflac (AFL) - Get Report is America's top provider of supplemental health and life insurance, reaching customers through independent brokers, agencies and salespeople. Its advertisements, featuring a duck shouting the company's name, are ubiquitous on U.S. television. Insurance companies are supposed to be run on conservative principles. Aflac is, but it also provides the potential for considerable growth.
The company just issued yet another very strong earnings report. Operating earnings per share came in at $1.82; the consensus among analysts had been around $1.75, so the company significantly exceeded expectations. Operating EPS was also up more than 15% year over year. Total revenue grew 13.4% year over year to $5.7 billion.
Aflac serves its customers by protecting them against catastrophic loss due to accident, serious injury or illness. Individuals who suffer these misfortunes are compensated for the cost of critical care not covered by other insurance, as well as lost income.
Part of the increase is attributable to a stronger yen-dollar exchange rate. In addition to its large market share in the U.S., Aflac has done extremely well marketing its services in Japan. While it no longer has the enormous growth rate of the 1980s, Japan is the world's third-biggest economy, and its citizens are avid purchasers of insurance. In the most recent quarter, total revenue from Aflac Japan grew 18.7% year over year to $4.3 billion.
The life insurance and disability insurance industries are quite competitive, and Aflac finds itself competing with large firms like Cigna, Hartford Financial Services and Unum. But the Ohio-based company has managed to chart a steady course despite all the ups and downs in the financial sector over the past 10 years.
In addition to growth, the stock offers investors a reliable source of income. The current yield is 2.3%. Its 20-year compound annual dividend growth rate is more than 16%, one of the highest figures around. In the last five years, that pace has slowed to a less-torrid but still-impressive 5.6% rate.
As of Sept. 30, total investment and cash increased 23% year over year to $128.9 billion. Shareholders' equity was up 32% year over year to $22.9 billion.
The majority of Aflac's new customers in the U.S. come through the small business market. As noted above, the U.S. economy has managed to keep chugging along despite wild swings in oil prices, concerns about political instability and lots of other issues. As employment in this area rises, so does the potential market for Aflac's products. The company's total customer base worldwide just exceeded 50 million people.
You may have seen the news stories about problems with the Affordable Care Act, often called Obamacare, as premiums have continued to rise. Any fix to the public health insurance will have to await the results of the November elections. But it's a timely reminder that existing programs do not cover every eventuality, particularly when a serious injury or illness leads to lost income.
The insurance sector has been overhauled as much as any business segment during the last five years, but Aflac's track record, with respect to both growth and income, should see it through any changes that arrive in the next several years.
--- 
So you've got insurance on your life, your health, your home, and more. How do you get insurance for your financial future, for your retirement? We have a system that has been tested in good times and bad, one that consistently allows you to win on more than 80% of your trades. To find out what it's all about, all you have to do is click here!
This article is commentary by an independent contributor. At the time of publication, the author held no positions in the stocks mentioned.