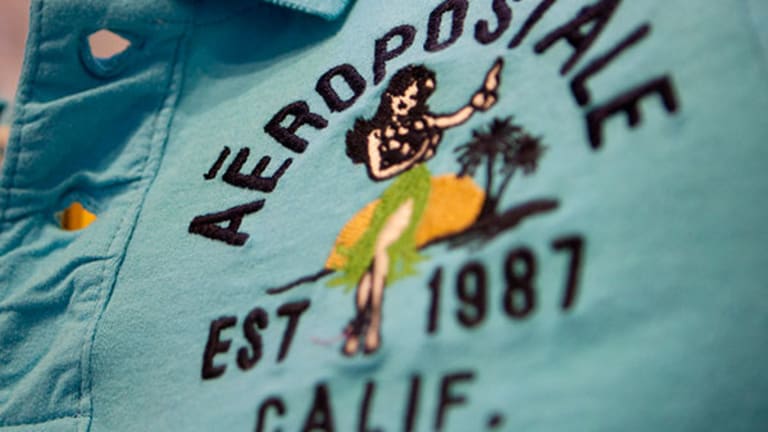 Why Aeropostale Is Surging
Aeropostale shares were surging 8.6% to $3.52 in post-markets trading after the struggling teen retailer said it was replacing its CEO.
NEW YORK (TheStreet) - Aeropostaleundefined shares were surging 8.6% to $3.52 in post-markets trading after the struggling teen retailer said CEO Thomas P. Johnson would step down from his position. The company's board of directors and Johnson, who has been its CEO since December 2010, "mutually agreed" he would step down, according to a press release.
The New York-based company said that its former chairman and chief executive, Julian R. Geiger, has rejoined the company as CEO, effective immediately. Geiger, 68, was the chairman and CEO of Aeropostale from 1998 through 2010. He was CEO from 1996-1998. In 2010, he became just chairman until 2012.
Geiger was the president and CEO of Crumbs Bake Shop (CRMB) from November 2011 to December 2013, according to Bloomberg. Crumbs announced last month that it would be closing its stores.
Johnson was appointed as Aeropostale's co-CEO in September 2009 and then to sole CEO in December 2010. He has agreed to "remain available for the company to ensure a smooth transition," the release said.
Aeropostale also warned investors that net sales for its fiscal second quarter declined 13% to $396.2 million compared to last year's quarter. Analysts were expecting sales of $395 million. Aeropostale's comparable sales declined 13% compared to the 10.8% decline expected by analysts.
The company now expects its quarterly operating loss in the range of approximately $61 million to $64 million, or 80 cents to 83 cents a share.
The loss includes net charges totaling $29 million to $31 million, or 37 cents to 39 cents a share, that includes "asset impairment charges, a charge against net deferred tax assets, consulting fees for operational initiatives, consulting fees associated with our cost reduction plan, investment banking fees, and interest and fee expense related to the company's transaction with Sycamore Partners," it said.
Excluding the charges Aeropostale expects a second quarter operating loss between $36 to $38 million, or 42 cents to 45 cents a share.
Aeropostale's original guidance called for a net loss between 55 cents and 61 cents a share. Aeropostale will report full earnings on August 21.
--Written by Laurie Kulikowski in New York.
Disclosure: TheStreet's editorial policy prohibits staff editors, reporters and analysts from holding positions in any individual stocks.