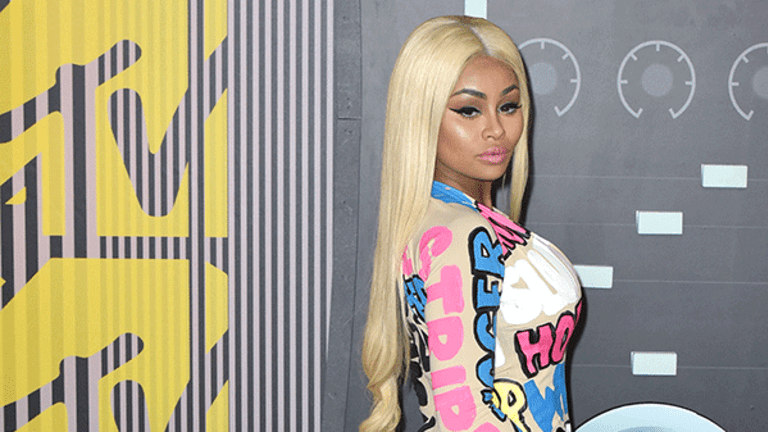 Why Adidas Doesn't Need Video Vixen Blac Chyna to Represent Its Brand
Adidas is crushing it financially.
Adidas (ADDYY) is right to laugh in the face of Blac Chyna -- the brand is on fire without paying her to rock some hip-hugging joggers and high-tops.
The athleticwear brand denied that it offered the controversial model and music video staple, who is engaged to Robert Kardashian, Jr., $250,000 to develop a shoe line. Earlier in the week, Chyna's lawyer reportedly said the star turned down a two-shoe deal from Adidas for $250,000. 
Can you blame Adidas for not wanting to take a trip to Chyna?
Adidas has undergone an impressive turnaround over the past year, fueled by strong interest in Kanye West's trendy Yeezy sneaker line (West is married to Kim Kardashian) and vastly improved fashion offerings. Adidas' third-quarter sales surged 14% from the prior year to 5.4 billion euros. Sales of the Adidas brand spiked 20% excluding the impact of currency, fueled by double-digit increases in its Sport Performance, Originals and Neo segments. Even Reebok unit clocked in with a solid 7% sales increase driven across all geographic regions.  
For the first time in seemingly a decade, Adidas is cool again and it shows. "Shifting fashion trends continues to favor Adidas," said Canaccord Genuity analyst Camilo Lyon. Said sneaker industry expert Clyde Edwards, "Both Adidas and Under Armour (UA) - Get Report are all the buzz lately." 
Adidas' stock has climbed about 55% this year to $75.61. Shares of Nike (NKE) - Get Report and Under Armour have fallen 16% and 37%, respectively, on the year. 
Adidas also has been making waves beyond just its quarterly results. 
Adidas recently opened the doors to a new, New York City flagship store on the corner of Fifth Avenue and 46th Street. The colossal, 45,000-square-foot, four-story store -- the largest store ever for the company -- offers a host of unique features from the get-go as it looks to suck in shopper dollars and drive social media buzz.
Through MiAdidas, an online footwear customization tool, people can personalize the popular Ultra Boost sneakers from Adidas. Other over-the-top aspects of the store include a tunnel entrance inspired by sports stadiums, stands for live-game viewing, locker rooms instead of dressing rooms, a juice bar, personal fitness consultations and service that will ship orders from the store to your nearby hotel the same day.
The company also just dropped its first-ever 3D printed sneakers called the 3D Runner. Pairs, which at $333 are the most expensive 3D-printed sneakers released so far from the major footwear makers, can be picked up at Adidas' new New York flagship store. A limited number of the shoes were also made available at stores in London and Tokyo.
The limited-edition shoes are now selling for upward of $4,000 on eBay.
Come to think about it, given the momentum behind the Adidas brand Blac Chyna should consider representing the company for the promise of some free clothes each month. At the very least, she would open the door up to a round of new Instagram photos designed to get everyone talking.