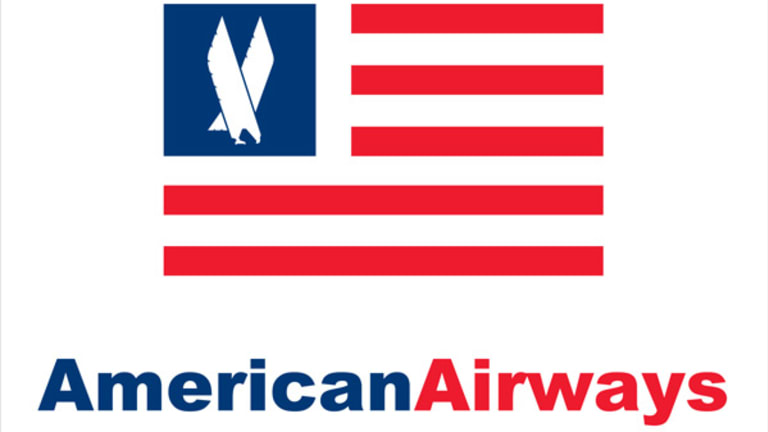 Why a US Airways Pilot Kept American Pilots From His Jumpseat
American pilots were recently kept from the jumpseat in a US Airways cockpit, a reflection of the strong emotions surrounding continuing pilot seniority disputes at US Airways.
CHARLOTTE (TheStreet) -- No pilot group has paid a higher price, since the Sept. 11 attacks triggered a round of airline industry restructuring, than the one at US Airways.
But that doesn't excuse what happened recently when a Charlotte-based US Airways pilot wouldn't let three American (AAL) - Get Free Report pilots sit in the jumpseat of his aircraft. American and US Airways merged on Dec. 9.
In a letter sent to members Thursday night, leaders of US Airways' Charlotte domicile informed members of the incident. They added that the pilot in question twice hung up the phone when contacted by union leaders. "This captain's immature actions have put our jumpseat privileges with American Airlines in jeopardy," they wrote. Later, they referred to him as a "rogue pilot.
"We knew going into this merger that there would be disagreements regarding seniority," the letter continued. "There is a process to handle this and it will work out in the end. There are three places that we should never let politics interfere: safety, training and the jumpseat."
Read: Instagram Is Finally Paying Off for Facebook
Jumpseat privileges, widely observed in the airline industry, allow off-duty pilots to ride in the cockpit of an airplane, theirs or another's, typically to get to work or return home from work. It is especially important in an industry where many pilots live in one place but work from a base that is somewhere else.
The letter concluded on a conciliatory note: "If you see an American pilot please take the time to introduce yourself and apologize on behalf of the US Airways pilots for this senseless selfish display of power and let them know they are welcome on our flight decks."
The Charlotte leaders wrote the letter even though their union, the U.S. Airline Pilots Association, filed a lawsuit Feb. 27 against the Allied Pilots Association, which represents American pilots, as well as US Airways and American. The lawsuit contended that under the McCaskill-Bond legislation, USAPA should represent US Airways pilots during the seniority integration following the American/US Airways merger. The dispute is largely over the timetable for when USAPA will cease to exist -- an event that everybody agrees will happen.

US Airways pilots are sensitive about seniority integration. In 2005, US Airways merged with America West. A 2007 seniority ruling by arbitrator George Nicolau led to a rift between the two pilot groups, commonly referred to as "the east" and "the west."
The underlying problem is that the ruling is unfair to nearly 1,000 east pilots. At its most contentious point, it places a 56-year-old pilot with 17 years at US Airways, never laid off, behind a 35-year-old America West pilot with a few months on the job. In many other cases, US Airways pilots with 15 or more years at the carrier went behind America West pilots with just a few years.
Read: SunEdison Unveils $50M Solar Parternship for California
The situation reflected the efforts of Nicolau, a widely respected arbitrator, to slot pilots according to their relative seniority at their pre-merger airlines. West pilots consistently make the point that it resulted from a binding arbitration agreement by both sides. It is a compelling argument.
Unfortunately, east pilots were victimized by hardline leaders who refused to back down from their insistence on unadulterated date-of-hire seniority, even though Nicolau asked them to negotiate, and Jack Stephen, who was president of the US Airways chapter of the Air Line Pilots Association, wanted to. Over the years, multiple non-pilot sources have told me that Nicolau was frustrated by the conduct of these supposed leaders. His ruling seems to reflect that.
While a seniority ruling should make 49% of those affected unhappy, Nicolau made two-thirds unhappy. The other third worked at America West. The majority voted to leave ALPA after 53 years and to form USAPA. The America West pilots were dragged along against their will.
Read: Warren Buffett's 10 Favorite Stocks
Besides the unfortunate ruling that divides them, US Airways pilots, east and west, worked for some of the lowest wages in the airline industry until the American/US Airways merger, the result of bankruptcy contracts at both airlines. Also, east pilots saw their defined benefit pension plan terminated in a 2004 bankruptcy. In some other cases, including American, the pension plans were frozen rather than terminated. (West pilots never had a defined benefit pension plan.)
The point is that US Airways pilots have carried much of the burden that enabled US Airways to become a successful airline that was able to convince American bankruptcy creditors that a merger would benefit both airlines.
Some US Airways pilots remain sensitive about all this. At least one is over-sensitive, to the point that he took it out on American pilots who had nothing to do with it.
Written by Ted Reed in Charlotte, N.C.
To contact this writer, click here.