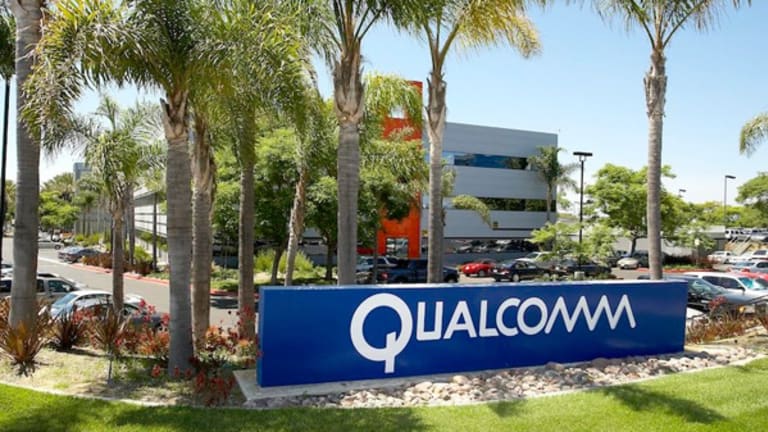 Why a Qualcomm Deal for NXP Makes So Much Sense
Buying the Dutch chipmaker would deliver product and cost synergies, as well as lower Qualcomm's mobile dependence and let the company efficiently deploy its offshore cash.
After years of taking a low-key approach to M&A even as the chip industry rapidly consolidated, Qualcomm (QCOM) appears to be on the verge of striking the industry's second-biggest transaction ever. And the benefits for doing so go well beyond the cost and product-line synergies often cited for other deals.
The Wall Street Journal reported on Thursday that Qualcomm is in talks to buy Dutch chip giant NXP Semi (NXPI) in a deal that would likely sport a $30 billion-plus valuation and could be announced in the next two to three months. On Thursday, NXP was up about 17% to $96.12, leaving the company with a $32.6 billion market cap. Qualcomm was up 6.3%, leaving with with a $99.4 billion market cap.
Jim Cramer's charitable trust Action Alerts PLUS counts NXP among its holdings. In an alert to AAP subscribers following the Journal's report, Cramer and AAP co-manager Jack Mohr wrote: "Although we await incremental information before drawing a conclusion, we would expect the company to fetch at least $100-$115 a share in case of any takeover."
But Cramer and Mohr added that with NXP up sharply, "we will use the opportunity to take profits on one-third of the position, just in case the rumors aren't true and the stock comes right back down, where we will buy it back." (To see all of AAP's holdings and get special alerts from Cramer and Mohr, sign up for a free trial to AAP here.)
With NXP still trading at just 13 times a 2017 consensus EPS estimate of $7.37, Qualcomm's acquisition price stands to be fairly reasonable. NXP also has $8.9 billion in debt that needs to be accounted for, but this is partly offset by $1.3 billion in cash and the $2.75 billion in proceeds the company will soon get from the sale of its Standard Products (analog/power management) chip unit to China's JAC Capital.
As for Qualcomm, technical analyst Bruce Kamich of Real Money (our premium site for active traders) wrote Friday that charts indicate the stock could rally to around $75 from QCOM's current $69 or so. Click here to check out Kamich's full analysis.
Speculation that Qualcomm could bid for NXP has been around for a while. It intensified after Qualcomm CEO Steve Mollenkopf suggested earlier this year his company, whose biggest deal in recent years was its $2.4 billion purchase of British audio chipmaker CSR, could make a larger purchase.
A slew of chipmakers that have been seen as buyout targets, such as video processor supplier Ambarella (AMBA) , microcontroller and memory supplier Cypress Semi (CY) and analog/mixed-signal chipmakers Silicon Labs (SLAB) and ON Semi (ON) , are also up. The Philadelphia Semiconductor Index (SOXX) is up 1.3% on a day the Nasdaq is down 0.8%.
As with many other industry transactions, a Qualcomm-NXP deal could yield cost synergies by eliminating duplicate sales, administrative and R&D functions, and also give the combined company more pricing leverage with suppliers and customers.
In addition, product synergies exist between NXP's very diversified product line and Qualcomm's large but still relatively mobile-centric product line. NXP's NFC radio chips complement Qualcomm's bread-and-butter mobile chip offerings; Qualcomm's automotive and embedded connectivity chips complement NXP's many automotive and embedded solutions; and NXP's base station power amplifiers, obtained through its $11.8 billion Freescale acquisition, complement Qualcomm's base station processors.
The automotive and embedded synergies, along with NXP's leading position in the smart card microcontroller market, are the parts of the deal that make it a play on the proverbial Internet of Things -- the many web-connected embedded devices whose ranks are growing rapidly. Here, there is some overlap between Qualcomm and NXP's embedded processor lines, but it amounts to a small percentage of each company's total sales.
But either way, viewing a Qualcomm-NXP deal through the lens of typical synergies would overlook two major strategic objectives Qualcomm would achieve from the acquisition: Lowering its dependence on its pressured mobile chip and licensing/royalty businesses, and finding a good use for its massive offshore cash balance.
Stiff direct and indirect competition has pressured Qualcomm's mobile processor and modem sales. Apple (AAPL) remains committed to using its A-series processors within iOS devices, and opted to partly use Intel (INTC) modems within the iPhone 7 after years of solely using Qualcomm modems.
In addition, Samsung (SSNLF) complements its use of Qualcomm's Snapdragon processors and modems within its high-end phones with the use of its home-grown Exynos processors and modems. And LG and Huawei are dabbling with home-grown processors, while Taiwanese chipmaker MediaTek has made strong inroads with Chinese phone vendors.
Moreover, Qualcomm's royalty business, which still accounts for over half its operating profit, could face long-term pressure from the fact that the 3.25% royalty rate Qualcomm receives on sales on 4G-only devices is lower than the rates it often gets on sales of devices requiring 3G modems. This isn't a big issue for now, since most phones shipped today still need to support 3G networks, but might be down the line as 4G coverage improves.
Slowing smartphone growth overall and an ongoing mix shift in sales towards cheaper smartphones as they penetrate emerging markets also stand to act as royalty headwinds.
As for the offshore cash, Qualcomm had $28.6 billion of it at the end of June, and (like other U.S. multinationals) would face a 35% tax if it tried to repatriate any of it. NXP gives Qualcomm an opportunity to buy a valuable asset without badly diluting shareholders or significantly adding to its $11.8 billion debt load.
No wonder deal speculation has been rampant for so long. While the big gains that NXP shares have posted over the last few years may give Qualcomm pause, it looks as if the company concluded that the logic behind a deal remains quite strong.