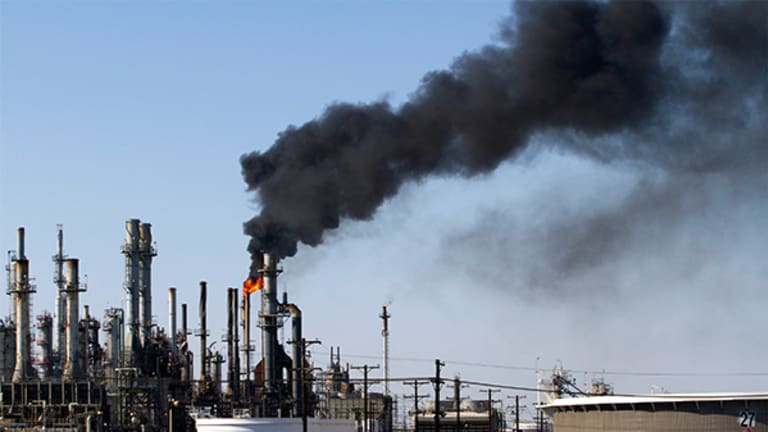 Carbon Tax Could Boost Economy as it Aids Global Warming Fight
A recent report by Brookings Institution and American Enterprise Institute economists suggests that the trick behind an effective carbon tax lies in directing the revenue.
A recent report by Brookings Institution and American Enterprise Institute economists suggests that the trick behind an effective carbon tax lies in directing the revenue.
Updated from Friday, 1:43 p.m. ET, with comments from the one of the report's authors in the penultimate paragraph and light editing.
NEW YORK (TheStreet) -- A carbon tax not only would encourage a reduction in industrial greenhouse gas emissions but also, done correctly, prove a net benefit to the economy and to consumers, a recent report claimed.
Two economists prepared the report for the Center for Climate and Energy Solutions, and it was published last week on the center's Web site. The authors, Adele Morris of the Brookings Institution and Aparna Mathur of the American Enterprise Institute, found that a national tax on carbon emissions beginning at $16 a ton and increasing incrementally could provide $1.1 trillion in federal revenue over 10 years and more than double that figure in 20 years. That revenue, if targeted carefully, could boost sections of the nation's economy.
TheStreet spoke with Morris in a brief video interview published Friday.
The idea for a carbon tax has been gaining popularity in recent months since several oil companies, notably Exxon Mobil (XOM) - Get Report, announced their support. Such a tax could have a huge potential impact on the cost of doing business and could result in rising energy and fuel costs for consumers as those increases are passed along. However ,the report authors pointed to specific applications for the carbon tax revenue that could turn that problem on its head.
The most efficient form of revenue recycling would offset the most distortionary taxes . . . . With a federal corporate tax rate of 35 percent and an average state rate of 6.3 percent, the combined U.S. corporate income rate is roughly 39.1 percent, the highest statutory corporate tax rate in the developed world. . . . [M]any argue that the tax system is likely harming U.S. economic competitiveness and driving multinational corporations to shift taxable profits abroad.
Read: Walmart Country, Last Bastion of Cheap Banking?
A reduction in the corporate tax rate funded by a tax on carbon could help to stimulate larger investment in the economy, the report said. Given that the wealthy would benefit disproportionately from such a move, the report also noted revenue should be used to reinforce social safety net programs or cut payroll and personal income taxes. These consumer benefits could help offset any impact from a rise in energy and fuel costs, while still significantly reducing greenhouse gas emissions.
Policymakers can adopt a number of approaches that could hold poor households harmless, including reserving a share of the carbon tax proceeds for targeted spending or rebates to qualifying households. Policies that return revenues to households in ways that blunt their incentives to reduce energy consumption, such as via rebates on energy bills, would be substantially less efficient in lowering emissions than policies that compensate households in other ways.
A carbon tax could be implemented on the sale of carbon-producing products or on the supplier end -- the miners, drillers and refiners who produce the fuel. While either would be possible, the authors noted that the latter "upstream" approach "could price 80 percent of U.S. greenhouse gas emissions by taxing fewer than 3,000 entities, thus minimizing administrative costs while offering broad coverage."
While that would seem to put upstream companies like Exxon Mobil at a disadvantage, Exxon itself said in December the company would prefer a carbon tax as an approach to reducing carbon emissions over other forms of negative cost incentive. On its Web site, Exxon said:
If policymakers do move to impose a cost on carbon, we believe that a carbon tax would be a more effective policy option to reduce greenhouse-gas emissions than alternatives such as cap-and-trade. And to ensure revenues raised from such a tax are indeed directed to investment, and to assist those on lower incomes who spend a higher proportion of their income on energy, a carbon tax should be offset by tax reductions in other areas to become revenue neutral for government. It is rare that a business lends its support to new taxes. But in this case, given the risk-management challenges we face and the policy alternatives under consideration, it is our judgment that a carbon tax is a preferred course of public policy action versus cap and trade approaches.
Exxon has a large interest in natural gas, which produces lower carbon emissions than coal or oil, through its 2010 purchase of XTO Energy. On the other hand, coal companies stand to be impacted the most from a carbon tax and are predictably opposed to the idea. Peabody Energy (BTU) - Get Report, Arch Coal (ACI) - Get Report, Alpha Natural Resources (ANR) and Cloud Peak Energy (CLD) - Get Report are the four largest U.S. coal interests, together accounting for 52% of the nation's coal production, according to the U.S. Energy Information Web site.
Read: Ex-Microsoft CEO Steve Ballmer's 10 Greatest Moves (Includes Grabbing the LA Clippers)
In a campaign against current and future Environmental Protection Agency emissions requirements, Peabody cited Australia's contentious carbon tax, expected to be repealed in July, as one example of the effect of costs imposed on carbon emissions.
"Taxing energy is an experiment that has been tried and failed," the company said in a document on its Web site. "In Australia, a carbon tax drove up energy costs to double that of other nations. . . . . These are lessons, not models for energy policy."
In her interview with TheStreet, report author Morris of the Brookings Institution, agreed that Australia does offer a lesson in "how not to do a carbon tax." Morris outlined several flaws in Australia's approach and said she was convinced the U.S. Could learn from those mistakes.
The Morris-Mathur report also suggested taxing select imports "from countries with less ambitious climate policy goals" and added that the revenue and reduced emissions from a properly implemented carbon tax could have the additional benefit of reducing the need for other government measures on climate change.
-- Written by Carlton Wilkinson in New York

>>Read More:
We Can Cut Carbon Emissions With No Net Cost to the Economy
Wildfires and Climate Change: It's Enough to Make You Sick
Antarctic Ice Melt Will Raise Sea Levels, Swamp Cities