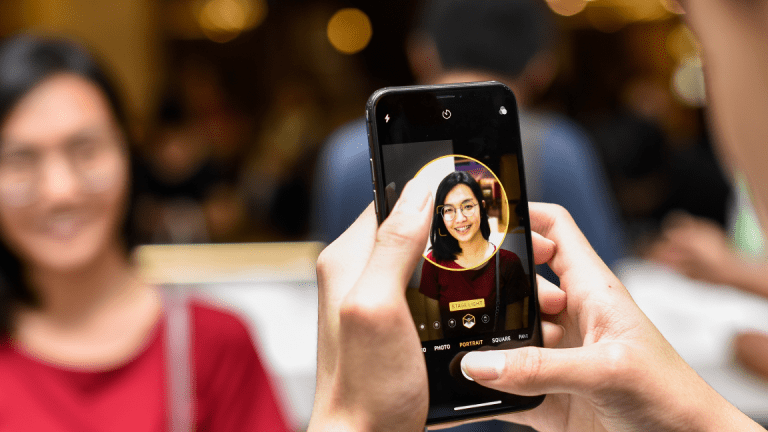 Why Apple Might Want to Take a Page From the Original iPhone to Boost the X
Apple's flagship phone has a starting price of over $1,200 in many overseas markets, which may be hurting demand. Is a price cut in order?
When it unveiled the iPhone X (pronounced 'ten') in September, Apple (AAPL) - Get Apple Inc. Report was eager to draw parallels between its latest flagship phone and the original iPhone.
The X's name, after all, is a reference to the 10-year anniversary of the original iPhone's launch. And just as the 2007 model, with its multi-touch display, HTML web browser and (eventually) app store, revolutionized smartphones and paved the way for consumer adoption to soar, Tim Cook asserted that the X, with its edge-to-edge OLED display, depth-sensing front camera system and lack of a physical or virtual home button, would "set the path of [smartphone] technology for the next decade."
As reports of iPhone X order cuts and subdued early-2018 demand grow in number, it's worth wondering if the X could end up having something else in common with the original iPhone: A price cut that -- unlike the iPhone price cuts we've come to expect -- happens less than a year after the device's launch.
In September 2007, less than three months after the original iPhone began shipping, Apple cut the price of the 8GB model by $200 to $399, and discontinued the 4GB model, which had been selling for $499. Back then, most phone sales were heavily subsidized by carriers in exchange for service contracts. Apple, however, agreed to a U.S. exclusivity deal with AT&T (T) - Get AT&T Inc. Report under which the iPhone would be sold unsubsidized (or close to it) in exchange for a cut of the service revenue produced by iPhone users.
But it wasn't long before Apple realized that this strategy was crimping the iPhone's addressable market, and started making amends. First by revising its deal with AT&T to enable the September price cut, and then by opting for a traditional subsidy model for the iPhone 3G, which carried a $199 subsidized starting price when it launched in 2008.
Clearly nothing so drastic is needed for the iPhone X, which received strong reviews and appears to have seen healthy fourth-quarter demand from smartphone enthusiasts and more affluent iPhone owners following its Nov. 3 launch. Research firm Canalys recently estimated that 29 million iPhone X units were shipped in Q4; for comparison, analysts polled by FactSet estimate on average that Apple sold 79 million iPhones in total last quarter.
But following many reports in November and early December that pointed to strong iPhone X demand, the story has gotten more complicated. In recent weeks:
KGI Securities' Ming-Chi Kuo, responsible for plenty of accurate Apple scoops over the years, has cut his 2018 iPhone X sales estimates, while blaming softer-than-expected Chinese demand. He now forecasts 18 million March quarter sales (a little below the estimates of many peers), and 13 million sales for the seasonally weaker June quarter. (Jan. 19)
Rosenblatt Securities' Jun Zhang, who had defended Apple in December, reported (citing supply chain sources) Apple "may be planning to cut iPhone X production for the June quarter by as much as 10 million units," to a level of 15 million. Zhang also joined Kuo in stating Apple could stop iPhone X production in mid-2017, ahead of the launch of its successors. (Jan. 19)
Taiwan Semiconductor (TSM) - Get Taiwan Semiconductor Manufacturing Co. Ltd. Report , which manufactures Apple's A-series processors and also produces chips for Apple suppliers such as Cirrus Logic (CRUS) - Get Cirrus Logic, Inc. Report , Broadcom (AVGO) - Get Broadcom Inc. Report and Qualcomm (QCOM) - Get Qualcomm Inc Report , forecast high-end smartphone sales will decline in 2018, and that sales of "mid-to-low-end smartphones will increase by several percentage points." TSMC also predicted its "overall [chip] wafer revenue for mobile phones will be flat compared with 2017." (Jan. 18)
JPMorgan's Narci Chang cut his March quarter iPhone X sales estimates by 33%, and forecast iPhone X production will be down 50% sequentially this quarter. He also cut estimates for a slew of Asian Apple suppliers. "[H]igh-end smartphones are clearly hitting a plateau this year," Chang wrote. (Jan. 23)
Apple has received downgrades to neutral ratings from Longbow Research's Shawn Harrison (Jan. 17) and Atlantic Equities' James Cordwell (Jan. 22). Harrison now forecasts mid-to-high single-digit iPhone unit growth for fiscal 2018 (ends in September), below an 11% consensus. Cordwell thinks Apple is likely to beat December quarter estimates when it reports on Feb. 1, but also thinks there's a risk March quarter guidance will disappoint.
Given all of these reports, it's fair to wonder how much high iPhone X prices are weighing on demand -- particularly overseas, where taxes and/or tariffs can result in prices well above U.S. levels.
Whereas the 64GB iPhone X costs $999 in the U.S., and around $60 to $80 more in many locales after factoring sales taxes, it costs more than $1,250 in China, where Kuo reported seeing light demand. And it goes for over $1,300 in India and many large European markets. Price are, of course, higher still for the 256GB model, which starts at $1,149 in the U.S.
If Apple was to cut prices for the 64GB and 256GB iPhone X by $100 apiece, it could be enough to convince many would-be buyers who love the X's looks and features but have gotten cold feet due to the phone's pricing to get off the fence. And since the X would still carry a premium relative to the iPhone 8-Plus, which has a $799 U.S. starting price, such a cut wouldn't require price changes for any other iPhone models.
Taiwan's Digitimes, it should be noted, reported in December that Apple has been rumored to be planning early-2018 iPhone price changes. However, the site's track record for such reports is very much hit-or-miss.
Regardless, with Apple having been reported by Kuo to both be prepping two iPhone X successors -- a 5.8-inch model and a 6.5-inch model -- and planning to discontinue the current X once the new models launch, a $100 iPhone X price cut could also mesh well with the company's fall iPhone plans. Should Apple cut the X's starting price to $899, it could then launch the new 5.8-inch X at $899 in September, while starting the 6.5-inch model at $999.
For now, there's certainly nothing resembling hard evidence indicating that Apple plans to cut iPhone X prices. And the company could very well be hesitant to carry out a price cut for branding or PR reasons.
But assuming at least some of the recent reports about softer-than-expected 2018 demand are true, Apple has good reason to at least consider a price cut. Especially if it's planning to launch two successor phones this fall.
Over on Real Money, Cramer says if only Apple had bought Netflix (NFLX) - Get Netflix, Inc. Report when it had the chance. Get more of his insights with a free trial subscription to Real Money.
Cramer and the AAP team say they think Broadcom will walk away a winner, regardless of the outcome of its deal for Qualcomm. Find out what they're telling their investment club members and get in on the conversation with a free trial subscription to Action Alerts PLUS.
Watch all of Jim Cramer's full NYSE live shows right here:
More of What's Trending on TheStreet: