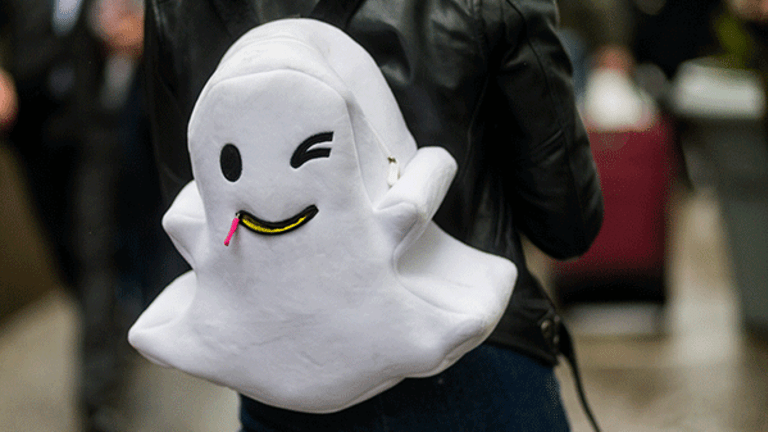 Snapchat's Founders Are Hoping to Snap Their Fingers and Disappear With Other Peoples' Money
Investors need to stop being lemmings and demand accountability and voting rights, starting by saying no to the Snapchat parent's IPO.
Investors need to stop being lemmings and demand accountability and voting rights, starting by saying no to the Snapchat parent's IPO.
"I love money. I love money more than the things it can buy ... There's only one thing I like better. Other people's money."
These are the opening lines of the 1991 film, Other People's Money, starring Danny DeVito as Larry the Liquidator, a true barbarian at the gate of private-equity investors.
Larry was speaking about making the most of investors' money, not by pilfering but by maximizing shareholder value locked up by self-interested management.
That drive to compel public company managers to maximize shareholder value rather than just their own wealth is increasingly at stake, including in the pending initial public offering of Snapchat parent Snap Inc.
That highlights the transparency and disclosure of risks and more importantly, the ability of shareholders to have the same voting rights as shares held by managers.
Such is the battle cry of Investor Stewardship Group. ISG is made up of members that manage a reported $17 trillion of mutual, pension and other investment funds.
These include BlackRock (BLK) - Get Report , the California Public Employees' Retirement System, State Street (STT) - Get Report and privately held Vanguard.
ISG wants companies to increase disclosure, but more importantly, it wants to change two major anti-shareholder policies to help everyday investors build their nest eggs.
First, ISG wants to end staggered board member elections and make all board members stand for re-election annually.
Although 90% of the 500 stocks in the S&P 500 adhere, just 60% of the broader Russell 3000 do so. That hinders shareholder action when necessary to change company affairs.
Second, ISG wants a system of one share equals one vote. ISG wants to end dual-class shares where insiders get more votes than common shareholders or worse at Snap where insiders are slated to get all the votes and the suckers that buy the IPO get zilch.
Some companies have already gotten the message such as Yelp (YELP) - Get Report ,which merged A and B shares to equalize voting rights.
Snapchat co-founder Evan Spiegel 
Read the fine-print in Snap Inc.'s IPO filing
But plenty of others, including some big ones, continue to refuse to do this including Google parent Alphabet (GOOGL) - Get Report , Berkshire Hathaway (BRK.A) - Get Report , New York Times (NYT) - Get Reportand Tyson Foods (TSN) - Get Report .
Other companies fearful of shareholders demanding more continue to fight for dual class shares including Fitbit (FIT) - Get Report and Groupon (GRPN) - Get Report .
Then there is the truly sucker class of stock that Dell Technologies brought to market with its cloud business and software unit, VMware. 
This tracking stock is supposed to reflect the underlying value of that division's business. But it doesn't serve investors well, as it's accused of undervaluing the business by a large margin due to not having a direct ownership stake of voting rights.
Snap is planning not just two classes of shares in the IPO, but three. The idea is that the founders of the messaging application and funky-glasses-with-cameras company -- Bobby Murphy and Evan Spiegel -- want as much control as they can get while still grabbing as much of other people's money as they can.
Each of their holdings come with 10 votes per share.
But employees and investors with original non-traded shares will get new stock with just one vote per share.
And finally, the common folks buying the IPO shares will get no votes.
Why would anybody go along with such a deal? Although we understand the power of what a technology company might become over time, Snap doesn't seem to fit the bill.
Snap's prime product is the photo and video app Snapchat, which users can use to edit images and share them with other users. This isn't a unique product, and mega-competitors include Facebook's (FB) - Get Report  Instagram and a host of others.
Alphabet and Facebook are holdings in Jim Cramer's Action Alerts PLUS Charitable Trust Portfolio. See how Cramer rates the stocks here. Want to be alerted before Cramer buys or sells GOOGL and FB? Learn more now.
The company's other product is a set of glasses that has a camera system to record videos to load to the Snapchat app. Remember the creepy Google Glass with its camera?
In addition, the more Snap makes, the more it loses.
In 2015, Snap had $58 million in revenue, and that rose to $459 million last year. Yet, the company lost $292 million in 2015 and $459 million last year.
Negative margins never work out well for long-term investors who are building retirement wealth.
Some challenges for Snap include that the cost to host and process images and videos tends to be data-rich. So it is no surprise that Snap is disclosing that out of the $3 billion it hopes to grab in the IPO, $2 billion will go right to Google for cloud hosting fees under a five-year contract.
The company's name perhaps says it all as Murphy and Spiegel are hoping to snap their fingers and disappear with other peoples' money, thanks to tech IPO fever. Steer clear.
---
Warren Buffett made $4.9 billion by making this one small change to his investment strategy. It's the closest you'll ever get to NEVER losing money while investing. I made $185 every day over 1,586 days doing this. Is it time for a change that will lead to more money in your pocket? Get the full details here.
This article is commentary by an independent contributor. At the time of publication, the author held no positions in the stocks mentioned.