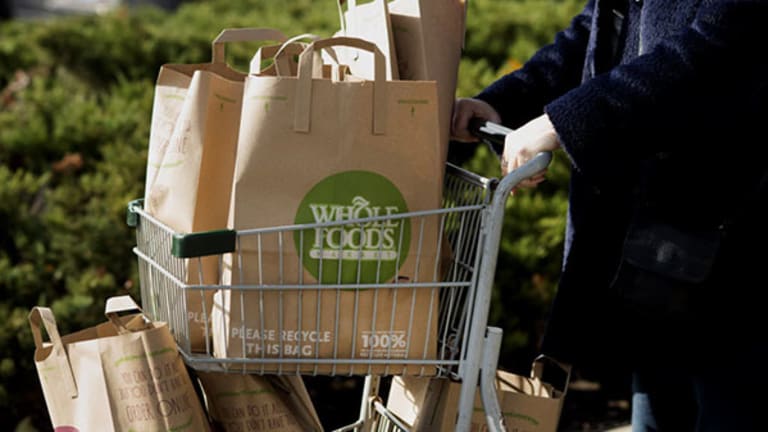 Whole Foods Shutters Regional Kitchens as Turnaround Continues
Comparable sales at the organic grocery chain have fallen over the past five consecutive quarters.
Whole Foods Market (WFM) is closing its three remaining regional kitchens, the latest setback as the grocer struggles to turn the company around after five consecutive quarters of negative comparable sales.
Austin, TX-based Whole Foods will close the kitchens, in Georgia, Maryland and Massachusetts, where ready-to-eat products were prepared for some stores. The Massachusetts facility was previously singled out by the FDA, which alleged that Whole Foods' food safety procedures at the facility were inadequate and potentially conducive to contamination.
A Whole Foods spokesman did not respond to TheStreet's questions about the closures. Shares are flat at $30.89 in mid-morning trading.
Oppenheimer analyst Rupesh Parikh wrote in a note last week that although he believes Whole Foods' turnaround is not sufficiently appreciated by the market, the company is still struggling to compete against a range of competitors, from grocery giants like Kroger (KR) - Get Free Report , Costco (COST) - Get Free Report and Walmart (WMT) - Get Free Report to online alternatives including Amazon.com (AMZN) - Get Free Report and startups such as Blue Apron.
"The availability of natural and organic food at conventional grocery stores has increased in recent years," William Blair's Ryan Domyancic wrote Jan. 19. "Further, grocery market share leaders such as Walmart, Kroger, and Costco can price their organic offering more competitively, in part because they adhere to less stringent standards than Whole Foods...The increased availability of competitively priced natural and organic products, combined with Whole Foods' growing footprint, has caused comparable sales to turn negative the past five quarters."
Like many grocers, Whole Foods is also struggling with 12 months of consecutive food deflation, as measured by the CPI. Domyancic expects food prices to begin rising in the middle of this year.
Still, Parikh also argued that "the market is meaningfully undervaluing" the possibility that "suitors from a strategic or even private equity perspective" would consider acquiring Whole Foods, especially if its stock dips even further.
"The most attractive parts of the WFM story include the company's low market share, industry-leading expertise in prepared foods, strong store footprint, a powerful brand, and proven ability to compete in both urban and suburban markets," he wrote.
Whole Foods currently trades at about 7.3 times its enterprise value/Ebitda, according to FactSet. In contrast, Kroger and Natural Grocers by Vitamin Cottage (NGVC) - Get Free Report both trade at about 7.6 times EV/Ebitda, and Sprouts Farmers Market (SFM) - Get Free Report trades at 9.8 times EV/Ebitda.
Parikh added that Kroger's deal, announced in late 2015, to purchase supermarket chain Roundy's for $800 million "further confirms our view of the value of the Whole Foods Market concept." Roundy's, he added, fetched about 7 times Ebitda, as did Fresh Market when Apollo Global Management (APO) - Get Free Report acquired the chain last April for $1.36 billion.
Investor sentiment toward Whole Foods is "quite downbeat," Parikh wrote, with high short interest of about 10% of its float despite Wall Street's expectations for the company becoming more realistic.
Parikh reiterated his Outperform rating and $35 price target on the stock.
Elsewhere in the grocery space, Albertsons, controlled by Cerberus Capital Management, has reportedly abandoned its $1 billion bid to acquire Schenectady-based chain Price Chopper, opting instead to focus on its long-awaited IPO, according to Food Trade News.