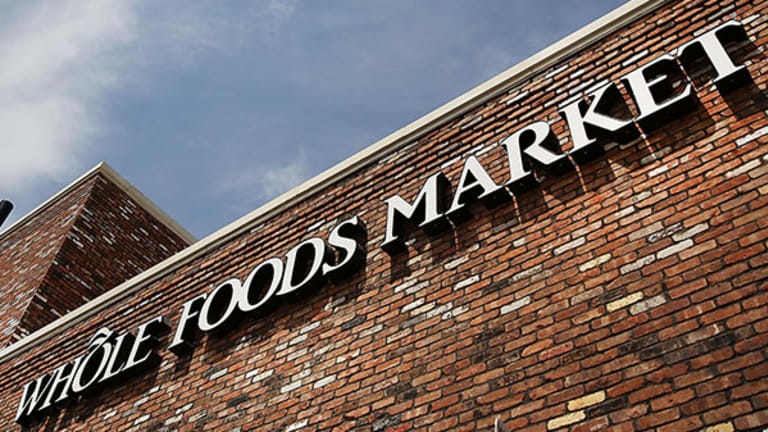 Publish date:
Whole Foods, Once a Wall Street Darling, Is in Need of an Activist's Touch
Shares of Whole Foods have plunged about 15% so far this year, lagging the S&P 500's 3.5% gain.
Shares of Whole Foods have plunged about 15% so far this year, lagging the S&P 500's 3.5% gain.
Calling all activist investors: It's time to start pulling together a scathing 150-page slide-deck on organic grocer Whole Foods Markets Inc. (WFM) and planning media opportunities to embarrass management before the end of the year. Because make no mistake, the one-time Wall Street darling is in bad need of shareholder first ideas and a shakeup at the board level.
Shares of Whole Foods have plunged about 15% so far this year, lagging the S&P 500's 3.5% gain. Since hitting an all-time high of roughly $65 in the fall of 2013, Whole Foods stock has lost an astounding 57% as the likes of Walmart Stores Inc. (WMT) - Get Walmart Inc. Report , Target Corp. (TGT) - Get Target Corporation Report  and Kroger Co. (KR) - Get Kroger Co. (KR) Report  have entered the organic space and put the heat on Whole Foods to slash prices.
By all outward indications, Whole Foods continues to fail at re-establishing itself as the number one destination for any organic item that a consumer wants to stock at home. Whole Foods same-store sales declined 2.6% for the fiscal third-quarter ended July 3 despite stepped up promotions in produce, meat and dairy to be more competitive with its new rivals. Even as it continued to lower prices on consumer staples, Whole Foods saw the number of transactions decline 2.7% in the third quarter, In the second quarter, transactions declined 2.1. Whole Foods same-store sales have now fallen in four straight quarters, according to Bloomberg data. For the first few weeks of the fourth fiscal quarter Whole Foods didn't fare much better, as it said same-store sales were down 2.4%.
Meanwhile, several unsavory trends have started to form in Whole Foods once impenetrable business, calling into question the effectiveness of co-CEOs Walter Robb and John Mackey, who is the founder. Sales and earnings before interest and taxes per square foot have fallen for two straight years, per Bloomberg data. At the very least, the trends raise a red flag on why Whole Foods has added a whopping 100 stores or so over the past three years, many of which are larger locations.
The apparent stumbles of the two CEOs leads to another burning question: is Whole Foods' 11 member board providing the proper checks and balances, especially given two years of dreadful performance? The debate is out on that seeing as many of Whole Foods board members have served since the early to mid-2000s. Two of the directors, Ralph Z. Sorenson and John B. Elstrott, who is chairman, have been on Whole Foods board since the early 1990s. Further, both Robb and Mackey hold board seats.
Under the watch of this well-entrenched group of directors, last fall Whole Foods announced a $300 million annual cost savings goal by September 2017, partly by eliminating more than 2,000 jobs. But given the headwinds on profit margins caused by greater competition and the shift toward digital shopping, Whole Foods likely needs more drastic cost-cutting actions, a more measured approach to new store openings, and a re-think on the size of its stores and number of goods it carries (it's dead-set on having 1,200 stores over time).
An activist investor could certainly kick badly needed operational change at Whole Foods into high gear, while at the same time pushing for board seats and a new singular CEO from outside the company.
Editor's note: This article was originally published by The Deal, a sister publication of TheStreet that offers sophisticated insight and analysis on all types of deals, from inception to integration. Click here for a free trial.