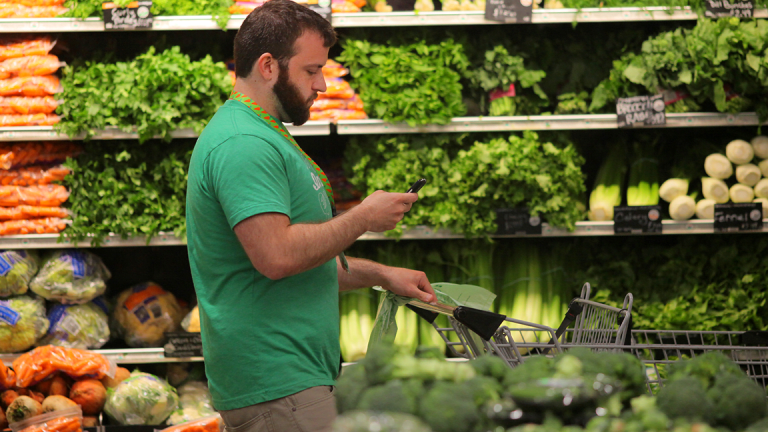 Whole Foods was target one for Amazon.com Inc. (AMZN) - Get Amazon.com, Inc. Report .
Since the online retailer acquired the upscale grocer this summer, Whole Foods has evolved. According to Barclays analysts, "it is critical to closely monitor the evolution of Whole Foods under Amazon's ownership given the widespread concern that food retail will be 'Amazon'ed' (i.e., Amazon takes meaningful share and pressures industry margins.)"
To keep tabs on the ways Whole Foods is changing under Amazon, Barclays analysts visited various stores throughout the country, plus Whole Foods' new 365 location in California. Here's what they found, according to a note from Tuesday, Nov. 7:
There's an increase in sale tags on national brands. Barclays said the increase in promotions ticked higher sequentially, but that could be because of the "normal cadence this time of year." Increased promotions were evident in apples, canned soups, cheeses, crackers, spices, noodle mixes and wines. Few of Whole Foods' in-house 365 brand items were marked down.
There are more "local" products being advertised as such. "While it could be that many products in the store were always sourced locally, we have continued to see an increase in 'local' tags throughout the produce section," Barclays wrote.
The layout is still being tinkered with. "At one store we noticed some refrigerated cheese and pasta items were moved into the produce section," researchers found. "This follows our observation last week at a different store where we noticed some dairy staples such as milk, eggs and yogurt had been moved to a completely different area of the store."
Health and beauty could be on the outs. The square footage of the area hasn't been reduced yet, but products remain heavily promotional. That could be a sign, Barclays said, that Whole Foods is looking to sell through the category and ultimately shrink it.
365 by Whole Foods had no Amazon signage in the store, while Amazon's presence is heavy in traditional Whole Foods locations. Barclays said that could prompt some to wonder how committed Amazon is to Whole Foods' lower-priced sibling.
Amazon stock was up 0.08% to $1,124.03 early Wednesday.
More of What's Trending on TheStreet: