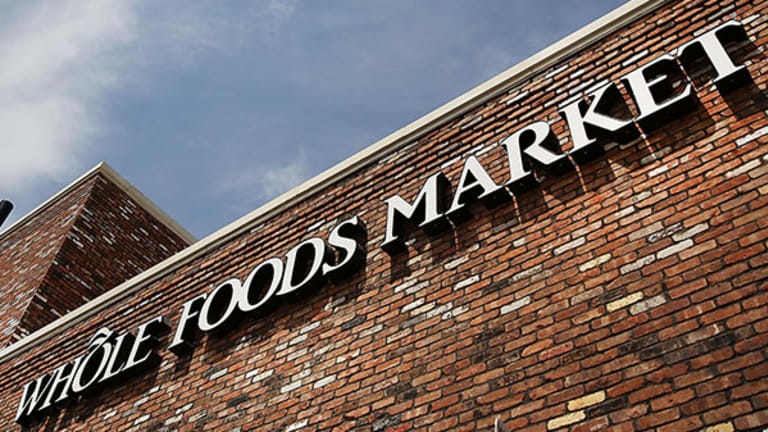 Whole Foods Has Lost a Staggering Amount of Shoppers and That's a Major Problem for Its Future
Whole Foods is no longer the dominant force in organics.
How rotten is Whole Foods' (WFM) business at the moment? About as black as a 30 day old banana, suggests one analyst. 
Whole Foods has lost between nine to 14 million customers over the last six quarters, Barclay's analyst Karen Short estimated in a recent note. Short believes Kroger (KR) - Get Kroger Co. Report has been one of the prime beneficiaries of the traffic exodus from Whole Foods as the traditional supermarket has ramped up its number of organic food offerings and discounts. 
The "staggering" traffic declines, says Short, casts a dark cloud over Whole Foods' future. 
"As most retailers know, once traffic has been lost those patterns rarely reverse. As a result, in our view Whole Foods might face significant challenges to reverse behavioral changes even if execution improves because execution at competing retailers remains very strong."
Whole Foods has been facing competition from every direction, both online and in-store from major grocers such as its biggest rival, the grocery story chains, led by Kroger (KR) - Get Kroger Co. Report, as well as Trader Joe's, Costco (COST) - Get Costco Wholesale Corporation Report, Sprouts Farmers Markets (SFM) - Get Sprouts Farmers Markets, Inc. Report and Natural Grocers (NGVC) - Get Natural Grocers by Vitamin Cottage, Inc. Report . Shares of Whole Foods have crashed about 42% to $30.31 over the last two years.
Others on Wall Street share Short's cautious views on Whole Foods. 
"An increasingly difficult industry backdrop has exacerbated continued poor underlying momentum, and visibility on near-term improvement [for Whole Foods] at the company is low," wrote Credit Suisse analyst Edward Kelly in a note on Wednesday. 
Judging by the latest quarterly results, the company continues to fail at re-establishing itself as the number one destination for organic food. The retailer's same-store sales declined 2.4% for the fiscal first quarter, despite stepped-up promotions in produce, meat and dairy to be more competitive with its new rivals. Earnings badly missed estimates by $0.09 a share and executives chopped their full-year outlook.
Even as it continued to lower prices on consumer staples -- which are supposed to be traffic drivers -- Whole Foods saw the number of transactions decline a stunning 3.9%. Its same-store sales have now fallen in six straight quarters, according to Bloomberg data.
Through the first five weeks of the second quarter, things actually got worse for Whole Foods, as same-store sales were down 3.2%. The company blamed the weather for the awful start to the second quarter. For good measure, Whole Foods shocked everyone by saying it recently closed nine stores (once unthinkable), calling into question the past five years of aggressive store openings (100 or so in past three years, many of which are larger locations) and the brand's longer-term potential.
Editors' pick: Originally published April 5.
Read more latest news on TheStreet:
Tesla's Stock Could Still Crash Because It's Relying Too Much on One Crucial Thing Happening