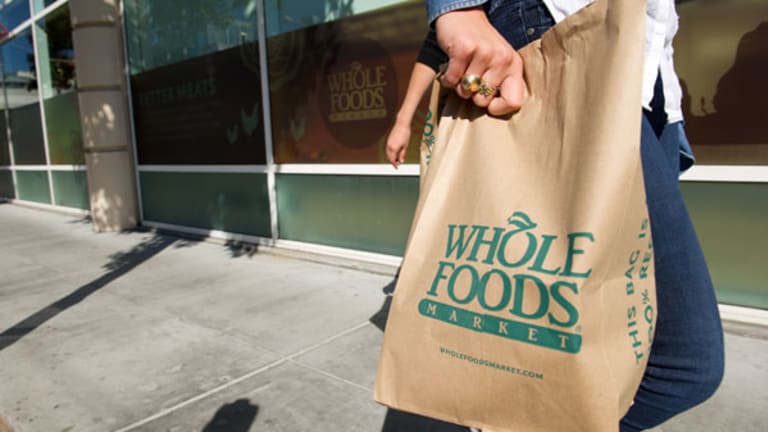 Whole Foods Earnings: What Wall Street Is Saying
Whole Foods shares slumped more than 5% after the specialty grocer again lowered its sales outlook as it faces intense competition. Here's what Wall Street is saying.
NEW YORK (TheStreet) -- Whole Foods (WFM) shares fell 5.4% to $36.99 in the first hour of trading Thursday after the Austin, Texas-based grocer reported quarterly earnings above Wall Street's expectations, while at the same time disappointing on quarterly same-store sales numbers and, once again, lowering the sales outlook as it faces intense competition in the natural and organic food industry.
The company reported Wednesday after the bell fiscal-third quarter earnings per share of 41 cents, beating consensus estimates of 39 cents a share and above the 38 cents a share it reported in the year-earlier period. Whole Foods' top line sales of $3.38 billion for the quarter were just slightly below consensus estimates. Comparable store sales -- which measures sales growth by stores open more than a year -- rose just 3.9% in the quarter, well below the 7.5% in last year's period and short of the 4.6% expected by analysts.
Whole Foods lowered its guidance for sales growth for fiscal 2014. For the full year, the company now expects comparable store sales to rise between 4.1% and 4.4%, down from 5% to 5.5%, previously. For its fiscal fourth-quarter Whole Foods expects sales comps to rise between 2.5% to 3.5%. Whole Foods narrowed its guidance for full-year EPS to $1.52-$1.54 a share.
Here's what Wall Street is saying about Whole Foods this morning.
Ken Goldman, JPMorgan Chase (downgrading to Neutral from Overweight; $38 PT)
For the fourth straight quarter, management lowered guidance. While we appreciate that competitive dynamics are changing in this industry, we think it is fair when examining current guidance to ask how accurate recent company forecasts have been. Perhaps more importantly, management chose not to support the near-term portion of its "strategic vision" (soft guidance that was only introduced a quarter ago), saying merely that its long-term (FY18?) goals remain intact. We would not be surprised if official FY15 guidance, likely issued with the 4Q14 results in a few months' time, is well below the $1.74 pointed to last quarter. We also note that unlike other companies we cover, management and IR generally are not available for follow-up calls with sell side analysts post earnings, which from our seat makes it difficult to gain clarity on outstanding questions regarding strategy, et al.
Charles Grom, Sterne Agee (Neutral; $40 PT)
While WFM continues to follow the KR/COST playbook in protecting the franchise LT, getting to "the other side" continues to be challenging with price investments having yet to show meaningful benefits. To this end, IDs [identical store sales] continue to slow and the resulting lack of visibility into the timing of improvement is concerning. Favorably, we see some promising traffic-driving initiatives in the pipeline but with little margin upside over a multiple year period we prefer to stay uninvolved.
Edward Kelly, Credit Suisse (Neutral; $40 PT)
[Whole Foods'] 2014 guidance was taken down again, but somewhat more surprising was the lack of 2015 guidance as WFM typically guides for the coming year with Q3 results. The key issue delaying guidance appears to be management's lack of comfort in projecting comps for next year, and potentially longer term, possibly putting the 5-year outlook released last quarter at risk. That being said, expense control was solid in Q3 and FIFO gross margin (-33 bps) was better than our estimate. In the end, EPS of $0.41 modestly beat our $0.40 estimate. On the call, management introduced several new initiatives that they believe will bolster growth longer term (remodels, national marketing campaign, loyalty program), but details were somewhat scarce. We continue to rate WFM Neutral despite the pull back in valuation. The company's plan for mean reversion in the gross margin to 34-35% may not be enough longer term given competitive pressures and its store growth plans. Sustaining returns could prove to be difficult, especially given WFM's plan to accelerate store growth to an all-time high against this backdrop.
--Written by Laurie Kulikowski in New York.
Disclosure: TheStreet's editorial policy prohibits staff editors, reporters and analysts from holding positions in any individual stocks.