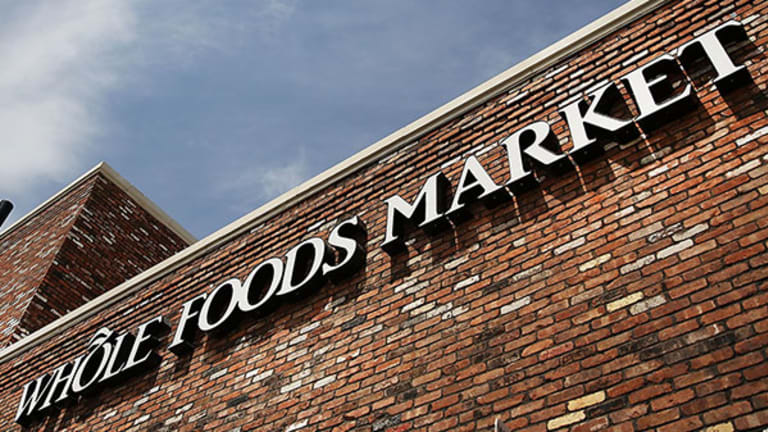 Whole Foods Earnings Preview: What's Wall Street Saying?
Whole Foods Markets reports fiscal third-quarter after the markets close on Wednesday. Here's what Wall Street is saying.
NEW YORK (TheStreet) - Whole Foods Market (WFM) shares rose roughly 3.1% to $37.68 on Tuesday ahead of Wednesday's earnings report, but it's unclear what caused the stock to pop.
The stock has been beaten down 23.5% since its second-quarter earnings report, when the company slashed its guidance. Whole Foods forecast that its annual per share earnings would range between $1.52 a share and $1.56 a share. The company also lowered its guidance for same-store sales growth for the year to 5-5.5% from 5.5-6.2%. 
Fiscal third-quarter earnings for Whole Foods are expected to rise 2% to 39 cents a share on revenue growth of 11% to $3.39 billion, according to a consensus of analyst estimates compiled by Thomson Reuters. Quarterly same-store sales are forecast to rise 4.6%, according to Thomson Reuters. Whole Foods reports after the markets close on Wednesday.
The Austin, Texas-based company is up against some heavy competition from specialty grocers like Fairway (FWM) , Sprouts Farmers Market (SFM) - Get Free Report, TheFresh Market (TFM) and privately-held Trader Joes. Even traditional grocers are expanding their assortment of natural products as consumers crave healthy food. Whole Foods, which has 380 stores, has lowered prices to compete more aggressively.
Here's what Wall Street is saying leading up to Whole Foods' earnings.
Rupesh Parikh, Oppenheimer (Outperform; $45 12-18 month PT)
As we look toward the upcoming quarterly report, we expect an in-line quarter at best. We now believe, however, that sentiment as reflected by a much more accommodative valuation is sufficiently negative. We believe modestly weaker results are less likely to represent a significant negative catalyst as in prior quarters. We also do not expect WFM shares to move meaningfully higher until Street estimates are reset lower and the chain can deliver sales/EPS upside. We therefore believe WFM shares are likely to remain range-bound for at least a bit longer in the $35-40 range. For longer-term investors, we believe indications of a potential bottom forming in the shares are beginning to emerge and could, in our view, create an attractive entry point in coming months.
Joseph Agnese, S&P Capital IQ (Hold; $43 PT)
We think near term there's still challenges, but long term, they're well positioned in the natural, organic industry, which has grown much faster than traditional supermarket [industry]. This will be the last quarter of difficult comps. They started to be more aggressive with pricing. In retail it usually takes six to nine months to change consumer [behavior] to drive traffic into stores. We look over time for traffic to begin to improve.
Meredith Adler, Barclays (Equal Weight; $40 PT)
While WFM is accelerating square footage growth to 9%-11% in each of the next two years, and this should drive improved comps over the long term, the company's ongoing price investments are likely to dampen top-line growth. We also believe that it will take time for consumers to recognize that WFM has improved its pricing and the value of its offering, while competition from conventional and specialty retailers continues to rise. The gross margin is expected to decline further over the same time period, which will require WFM to be extremely diligent in managing its cost structure in order to meet its goal of expanding the operating margin over the next few years. All that said, even with the stock having dropped considerably in recent months, putting its current P/E multiple at 20.2x our calendarized FY15 EPS of $1.82, we believe the shares are appropriately valued.
Karen Short, Deutsche Bank (Hold; $40 PT)
Our recent checks show WFM has made little progress on price investments and we wonder if WFM's decentralized approach and gain-sharing labor model are perhaps making implementation more challenging than expected. Specifically, if employees miss top line goals, pay is impacted, so it is possible employees are reluctant to reduce prices out of concerns it will lead to lower pay unless an adjustment to payouts has been made this year.
--Written by Laurie Kulikowski in New York.
Disclosure: TheStreet's editorial policy prohibits staff editors, reporters and analysts from holding positions in any individual stocks.