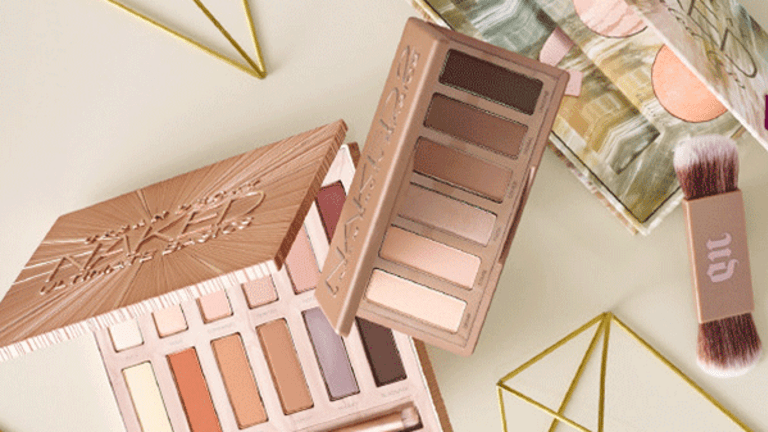 Who's Winning in Online Beauty Right Now
One in every five beauty purchases online was made through Amazon in 2016.
Online beauty became a $1.2 billion industry in 2016, and cosmetics companies such as Estee Lauder (EL) - Get Free Report have been expanding their e-commerce efforts while Amazon (AMZN) - Get Free Report  gains market share.
Digital beauty sales rose 14% year over year in 2016: one in every five beauty purchases online was made through Amazon Marketplace, according to new research released this week from data analytics firm 1010data. 
Nevertheless, the online cosmetics market is highly populated and no brand has more than a 6% share, with only eight brands having more than 2% share.
Estee Lauder's MAC Cosmetics brand stands out as the leader in the overall market with a 5.1% share, and lip products at 13%. Overall, the No. 2 is Clinique, which is also owned by Estee Lauder. Clinique is No. 1 for face makeup.
People prefer to buy cosmetics online, according to Courtney Buechert, the CEO of Eleven, a creative agency that works with privately held beauty brand Julep. When customers have a regime of beauty brands they've tried and used, they shouldn't have to go to a physical store to get them, he said. "You know what you want. You want the ability to order it," Buechert said. An online channel allows recurring customers to buy in a more seamless way, he added.
Brands with high-conversion rates are successfully promoting and pricing their products, 1010data said. "Estee Lauder and Clinique have fewer product views than their competitors; they could boost sales even further by investing in advertising and awareness strategies," the report noted.
In contrast, Clorox's (CLX) - Get Free Report Burt's Bees high-conversion rate of 5.6% indicates that consumers who view Burt's Bees products online are most likely to make a purchase.
The fastest growing brand is privately held Anastasia Beverly Hills, largely due to its successful social media strategy. Meanwhile, L Brands' (LB) - Get Free Report Victoria's Secret, which is newer to the cosmetics industry, is leveraging its strong online presence to promote its beauty products.
Despite the popularity of pure-play beauty retailers like Ulta Beauty (ULTA) - Get Free Report and Sephora, Amazon Marketplace is the No. 1 retailer for beauty products online with 21% share. Retail giants like Amazon and Walmart (WMT) - Get Free Report make up nearly 40% of all online beauty sales, according to the report.
"Even though brand websites such as MAC and Clinique are still popular, there's no denying the power of a marketplace that often has lower price points for your favorite products. This is another example of an industry where giant e-commerce players are threatening specialty retailers' share," 1010data said.
Last year, Estee Lauder acquired makeup brand Too Faced to increase its exposure to millennials and faster-growing channels, such as online.
"Estee Lauder's digital and e-commerce focus have increased over the year resulting in it becoming the fastest growth channel for the company," Trefis analysts said in a recent report, noting that the company's e-commerce and mobile commerce sales exceeded $1 billion in fiscal 2016. 
This month, beauty company Coty (COTY) - Get Free Report  bought a 60% stake in Younique, an online peer-to-peer social selling platform in beauty. The $600 million deal comes as Coty looks to expand its e-commerce efforts. In its earnings report last week, Coty said it is accelerating its end-to-end digital transformation, including e-commerce.
Cosmetics retailer Sally Beauty (SBH) - Get Free Report is also focused on growing online sales.
"We have upgraded our e-commerce platforms over the past year to transform these platforms from largely transactional-based sites to more content-rich sites to drive traffic to these sites and improve sales from these sites," the company said in its 2016 annual report.
Sally believes e-commerce will help drive improved operating earnings over the long term, as it generally lacks incremental operating expenses, such as rent and payroll, associated with brick-and-mortar stores.