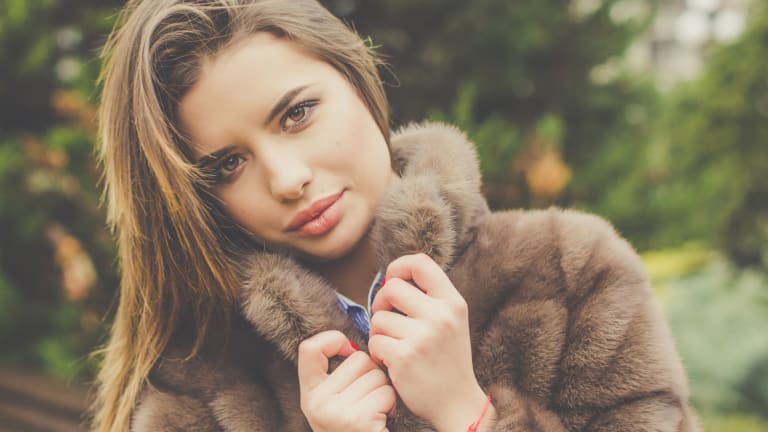 Who Is the Latest Activist to Challenge Coach? Hint: They Don't Love Fur
The Humane Society is waging a proxy campaign against Coach's use of fur products.
Handbags for dogs? Not quite.
But the Human Society does have a prerogative for its $2,000 worth of shares for Coach, Inc. (COH) —to get the purse maker to stop using products with fur. And come next month, holders of Coach's 294 million shares will be able to vote on whether the company should disclose the risks of selling products made from real animal fur.
Coach's continued use of fur in its products poses financial and operational risks to the company, the Humane Society argues, considering the recent wrath of bad PR surrounding animal welfare issues. The non-binding proposal will be put to shareholders for a vote next month.
"In the two years following the release of a film alleging the mistreatment of captive animals at SeaWorld Entertainment Inc's (SEAS) - Get SeaWorld Entertainment, Inc. Report theme parks, the company's share price plummeted nearly 60%," the nonprofit cited in its stockholder proposal.
Ringling Bros. Circus also succumbed to the proliferation of animal rights issues, the proposal added, and major brands such as Gucci, Armani, Ralph Lauren Corporation (RL) - Get Ralph Lauren Corporation Class A Report , and Tommy Hilfiger Corp. have all announced policies to eliminate the use of fur.
"We're not even sure if Coach itself has analyzed the potential risks to selling fur," said Matthew Prescott, the senior director of corporate policy at the Humane Society of the United States.
"Having fur points to a shrinking customer base and shrinking market opportunities," he told TheStreet, referring to retailers like online boutique Net-a-Porter that no longer carry fur.
But Coach claims that its fur products are few and far in between, and that "materials of animal origin used in company products are primarily byproducts of the meat industry," the board of directors wrote in a statement in opposition to the Humane Society's proposal.
Coach "has extensive disclosures regarding the materials used in its products, its policies, and practices regarding animal welfare and risks," the company's board said. "Devoting resources towards preparing additional disclosure is unnecessary and would be an inefficient use of Company resources."
What Coach's CEO has been up to. 
Coach declined to comment beyond its rebuttal statement, which will appear on the proxy statement alongside the Humane Society's proposal.
With about 284 million shares currently at $40 a pop, $2,000 worth of shares in Coach squares out to be a less than 0.0000002% stake in the company. But under SEC rules, any shareholder who owns $2,000 or more worth of stock in a publicly traded company is entitled to submit a proxy claim at the annual shareholders meeting.
Coach is hardly the first corporation in which the Humane Society has used activist investment as a springboard for social change. In 2013, the organization waged a proxy campaign at Tyson Foods, Inc. (TSN) - Get Tyson Foods, Inc. Class A Report to rail against its use of gestation crates in pig farming, or tight metal enclosures for pregnant pigs that keep them immobile. The proposal gained the backing of major proxy advisory firms Institutional Shareholder Services and Glass Lewis & Co., and before the proposal came to a vote in January of 2014, Tyson agreed to prompt its pig farmers to give more space for pregnant sows.
According to Prescott, this tactic has been around for more than a decade. Earlier this year, PETA took a cue from the Humane Society's playbook when it became one of the first investors in Canada Goose's IPO, purchasing 230 shares, or about $4,000 worth, it announced.
In addition to the nonprofit's most recent proposal for Coach, on which shareholders will vote at the annual meeting on November 9, the Humane Society has been sidling up to major investors in the retailer, Prescott told TheStreet. "We're seeing that financial firms and asset managers understand that it's a risk for a company to be engaged in cruel tactics," he said.
The Humane Society has shares in more than a dozen apparel retail companies, including Dillard's, Inc. (DDS) - Get Dillard's, Inc. Class A Report ; Ross Stores, Inc. (ROST) - Get Ross Stores, Inc. Report ; Sears Holdings Corp. (SHLD) ; Nordstrom, Inc. (JWN) - Get Nordstrom, Inc. Report ; and TJX Companies, Inc. (TJX) - Get TJX Companies Inc Report , which owns TJ Maxx and Marshalls. And as for excess shares? It could mean a little bit of extra cash for the critter-loving organization.
"If a holding grows beyond what we need for the purposes of shareholder advocacy, we sell off the excess shares," Prescott said.
More of What's Trending on TheStreet: