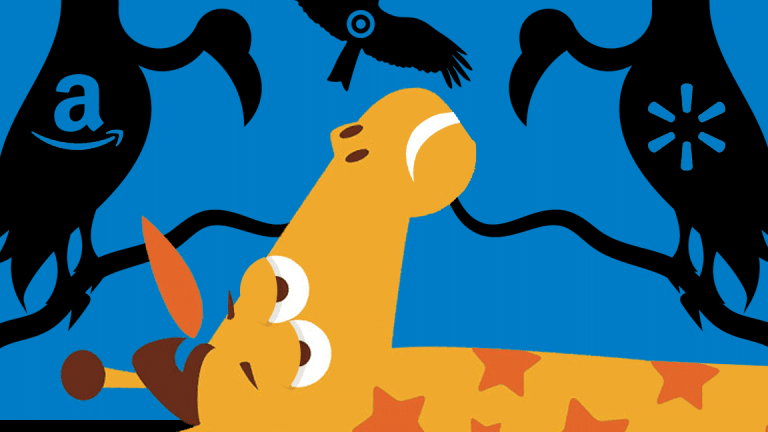 Who Could Win Big Now That Toys 'R' Us Is a Relic of the Past?
Credit Suisse has eyes on Target, Walmart, Amazon and more.
It was the end of an era.
When Geoffrey the Giraffe gave up the ghost in late June as his Toys 'R' Us home closed up the last of its stores, the internet lamented the mascot and what he stood for. For many, Toys 'R' Us, which closed its remaining stores this summer to cap off years of depressing financials, was a symbol of childhood throughout the decades. Who could possibly replace Geoffrey the Giraffe?
Well, it looks like Amazon.com Inc. (AMZN) better get itself a mascot. A new note from Credit Suisse analysts identified the biggest winners in an ensuing toy retailer power vacuum - among them are Amazon, Target Corp. (TGT) , Five Below Inc. (FIVE) , Ollie's Bargain Outlet Holdings Inc. (OLLI) and Walmart Inc. (WMT) .
Though sad for children of the late 20th century, Toys 'R' Us' closing means big bucks are now in limbo in the $24 billion toy and game industry. Credit Suisse said it estimates about $4.8 billion in sales are now up for grabs over the next 12 months, as Toys 'R' Us clocked $2.7 billion in sales in the second half of 2017 and $2.1 billion in sales in the first half of 2018.
Toys 'R' Us' final closings and liquidations could bring the most significant comps to Target, which is poised to gain 70 basis points, or $285 million, worth of comparable sales in the second half of this year as a result, analysts said. They noted that the back half of 2018 could bring an additional 60bps, or $4 million, for Five Below and 50bps, or $3 million, for Ollie's in comp sales.
For physical store locations specifically, Toys 'R' Us has the most overlap with Target, analysts said. About 90% of Toys 'R' Us stores overlapped with Target, 88% with Walmart, 47% with Five Below and 17% with Ollie's.
Walmart is set to be the "biggest beneficiary in dollars" as Toys 'R' Us exits the market, "though the impact on sales growth should be less given its size," Credit Suisse noted.
"We expect a significant portion of sales to go online, which has been taking considerable share in the category," analysts said. Toys 'R' Us generated about $1.1 billion, or 24%, of total sales online in 2017. Unsurprisingly, Amazon will benefit, particularly because it has the highest web traffic overlap with now-defunct Toys 'R' Us.
Smaller players including GameStop Corp. (GME) , which has recently forayed into toys and collectibles, could expect "modest benefits," Credit Suisse said. There could also be a small impact for "nontraditional entrants" Michaels Cos.  (MIK) and Party City Holdco Inc. (PRTY) .
Amazon is a holding in Jim Cramer's Action Alerts PLUS member club. Want to be alerted before Jim Cramer buys or sells AMZN? Learn more now.