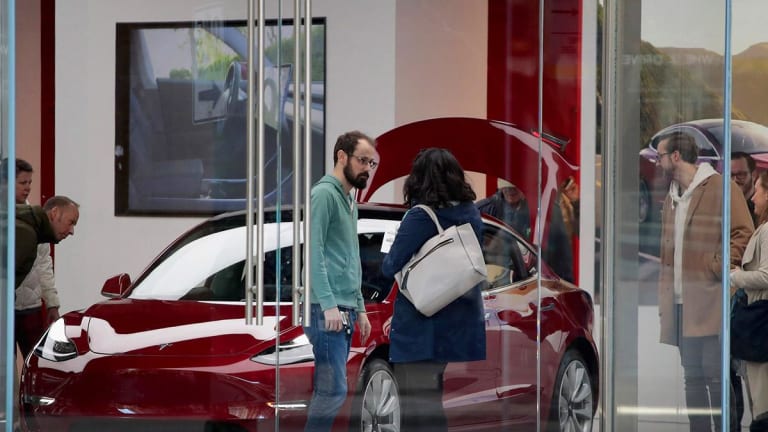 Who Can Take Tesla Private and Why It's Actually Possible
It's clear that there's more than enough money to take Tesla private. The question is, will it happen.
The head games continue with Tesla Inc.  (TSLA) - Get Tesla Inc. Report .
Why Musk's new blog entry Monday couldn't have been posted over the weekend is not clear, although it certainly gave both bulls and bears less time to digest the possible implications. Maybe that was the point, who knows. Initially shares rallied on its contents, but Tesla stock has since given up all of its gains on the day and is now down about 1.5% to $350. 
What exactly did it say?
The piece was clearly written with the aid of Musk and/or Tesla's legal team present. It's intention appears to be meant for clarifying the situation and perhaps cleaning up any legal issues that could be looming with the SEC checking things out.
After all, Musk did make the announcement almost a week ago on Twitter (TWTR) - Get Twitter Inc. Report , with an affirmative "funding secured" statement. He aimed to clarify that in the recent post, saying, "I notified the Tesla board that, in my personal capacity, I wanted to take Tesla private at $420 per share."
Musk further details the plan of action, saying, that he will now reach out to some of Tesla's largest investors in hopes that they will want to be involved in the deal as well. These have been Tesla's longest standing, most supportive investors. And of course, Musk is hoping to structure the deal in a way that will allow regular investors to stay long rather than accept the $420 buyout price, assuming they want to. 
Further, we now know it's the Saudi Wealth Fund that's a large driver in the deal. They have reached out repeatedly over the last few years before finally building a near 5% stake in Tesla, which was reported on last week.
Below is what happened during a recent meeting, in Musk's words (bolded for emphasis):
"That meeting took place on July 31st. During the meeting, the Managing Director of the fund expressed regret that I had not moved forward previously on a going private transaction with them, and he strongly expressed his support for funding a going private transaction for Tesla at this time. I understood from him that no other decision makers were needed and that they were eager to proceed.

I left the July 31st meeting with no question that a deal with the Saudi sovereign fund could be closed, and that it was just a matter of getting the process moving. This is why I referred to "funding secured" in the August 7th announcement."
That's walking an incredibly tight rope right there and I don't know that it justifies saying "funding secured." That said, if the Saudi fund and Musk are ready move, what's going to stop the deal?
Who Could Take Tesla Private?
Musk says that reports calling for a $70 billion buyout are "dramatically" overstating the actual amount. That's no surprise, as we've reported numerous times here on TheStreet.
Musk owns roughly 20% of the company's stock, the Saudi Wealth Fund owns almost 5% of Tesla stock and Tencent owns 5%. That's roughly 30% of the equity between three parties. Don't forget Alphabet (GOOG) - Get Alphabet Inc. Report (GOOGL) - Get Alphabet Inc. Report has a stake in Musk's other company, SpaceX, as does Fidelity. Fidelity also has other positions in Tesla.
That doesn't mean they'd be in on the privatization deal per se, but it's a sign that Musk likely has better funding prospects than many investors suggest. Silicon Valley elite alone could pull this deal off, considering that the two Google founders have more than $100 billion to their names.
Again, that's just speculation. But it shows that between a few parties, it wouldn't be too hard to round up a few billion here and there, with the Saudi Fund picking up the rest of the tab. How much will that tab be?
Musk estimates that two-thirds of all investors in Tesla stock would stick with the company in a privatization deal. Assuming we're talking about just one-third of the stock then, that's about $24 billion at Musk's buyout price.
The question of "if this can happen" should shift to "will this happen" given the financial firepower available globally.
Alphabet is a holding in Jim Cramer's Action Alerts PLUS member club. Want to be alerted before Jim Cramer buys or sells GOOGL? Learn more now.
This article is commentary by an independent contributor. At the time of publication, the author had no positions in the stocks mentioned.