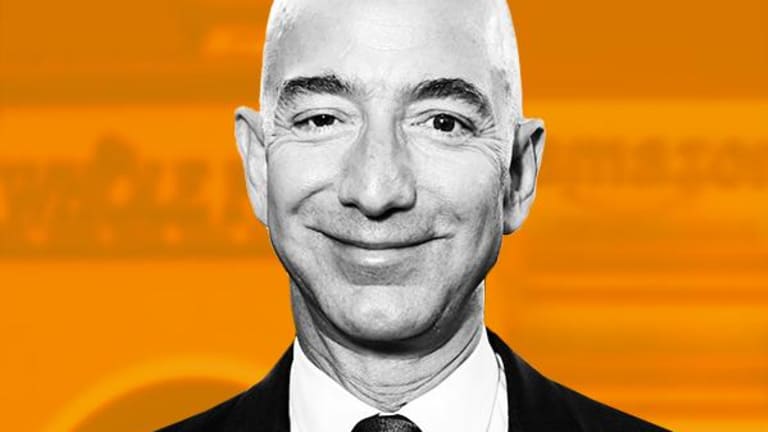 News of Amazon.com Inc.'s (AMZN) - Get Amazon.com, Inc. Report bombshell $13.7 billion deal to buy Whole Foods Market Inc. (WFM) led investors to aggressively sell off shares of bricks-and-mortar retailers, and not just ones selling groceries. Best Buy Co. (BBY) - Get Best Buy Co., Inc. Report , Williams Sonoma Inc. (WSM) - Get Williams-Sonoma, Inc. Report , Staples Inc. (SPLS) and a slew of other retailers quite unlikely to be stocking organic kale or gluten-free baked goods anytime soon also felt the heat.
Moreover, the magnitude of the selloff in mega-retailers such as Walmart Stores Inc. (WMT) - Get Walmart Inc. Report and Target Corp. (TGT) - Get Target Corporation Report suggests investors aren't merely worried about the threat that Amazon poses to these companies' grocery sales as it digests Whole Foods and potentially expands its footprint, or even the potential of Whole Foods' infrastructure to strengthen Amazon's online retail operations. There seems to be a genuine fear that buying Whole Foods is just the first in a series of moves that Amazon plans to make to leverage its fulfillment infrastructure, technology assets and customer base to become a physical retail powerhouse.
Some of those fears might be validated over the long run, but it's worth keeping in mind that the Whole Foods purchase is aimed at a retail vertical that -- even after accounting for success stories such as Instacart and Amazon's Prime Pantry service -- is far from an ideal fit for online sales, due to issues such as grocery shipping costs, the perishability of many grocery items and the preference of many consumers to see certain perishables in person before buying them. Amazon no doubt plans to use Whole Foods to strengthen its AmazonFresh online grocery-ordering service -- at least provided Whole Foods' Instacart contract doesn't get in the way -- but the acquisition also seems to reflect an understanding that a large portion of grocery sales will remain offline for the foreseeable future.
With that in mind, chances are that if Jeff Bezos' company makes another 10 or 11-figure bricks-and-mortar acquisition, it will also be in a field where the online sales/delivery model is hamstrung by issues such as shipping costs/challenges and consumer shopping preferences. Amazon might also be partial to companies whose retail footprints can easily double as Amazon order pickup locations and/or showrooms for the company's products.
Here are some possibilities:
A Dollar-Store Chain
Retailers such as Dollar General (DG) - Get Dollar General Corporation Report , Dollar Tree (DLTR) - Get Dollar Tree, Inc. Report and Five Below (FIVE) - Get Five Below, Inc. Report have been pretty immune to e-commerce pressures to date, thanks largely to their ability to provide rock-bottom prices that an online retailer -- even one as efficient as Amazon -- is hard-pressed to match. And with groceries accounting for a sizable percentage of their sales, there could be opportunities to create a common supply chain infrastructure with Whole Foods.
Demographically, buying a discount retail chain would be an interesting complement to the Whole Foods deal. Whereas Whole Foods extends Amazon's inroads with upscale consumers -- many of whom are already Prime subscribers -- a Dollar General or Dollar Tree purchase would do so with more cost-sensitive consumers. As a string of recent moves show, Amazon has made growing sales to lower-income consumers a priority.
A Home Improvement Retailer
Like groceries (and perhaps even moreso), home improvement retailers sell a lot of items that aren't easy to cost-effectively ship to homes via UPS and FedEx. They're also involved in a business for which consumers often want in-store advice about what they should be buying.
The problem here is that in the U.S. at least, the industry is dominated by two giants -- Home Depot (HD) - Get Home Depot, Inc. (HD) Report and Lowe's  (LOW) - Get Lowe's Companies, Inc. (LOW) Report -- with tremendous scale advantages and brand power. Lowe's, the cheaper of the two, has a $69 billion market cap. Amazon would either have to break the bank to buy one of the giants, or acquire a smaller name and bet it can gradually take share in spite of the advantages possessed by the giants.
A Drugstore Chain
Filling drug prescriptions definitely fits the description of a retail activity that will continue being done offline to a large degree. In addition, drugstores double as convenience stores -- synergies exist here with both Amazon's existing operations and Whole Foods' infrastructure.
Like home improvement, this industry is dominated by two big names (CVS Corp. (CVS) - Get CVS Health Corporation Report and Walgreens Boots Alliance Inc. (WAG)  . But breaking in by acquiring a smaller player could put Amazon at less of a disadvantage here, if it can make good use of its existing strengths. Another option, of course, would be for Amazon to start setting up pharmacies within Whole Foods stores.
A Convenience Store/Gas Station Chain
To a large degree, convenience stores sell grocery items that are bought on impulse and/or which consumers simply can't wait a day or two to have, and often at a decent markup. And it's a safe bet that the gas stations attached to many convenience stores won't be disrupted by e-commerce anytime soon (over the long run, electric cars may be a bigger problem).
Convenience stores, whether attached to drugstores or gas stations, seem to be the kind of business that Amazon is well-positioned to disrupt via aggressive pricing and its ability to drive Prime subscribers to stores via discounts and promotions. In time, the company could also deploy the technology used by its Go convenience store concept to let consumers buy items without having to stand in a checkout line. Mid-sized players such as CST Brands  (CST) and Murphy USA  (MUSA) - Get Murphy USA, Inc. Report have sub-$5 billion market caps.
Amazon's shares rose 0.6% to $994 on Monday, after rising 2.4% on Friday following news of the Whole Foods deal.
Visit here for the latest business headlines.
Don't miss these top stories from TheStreet:
Apple's Stock Rips Higher and These 5 Things Hint the Run May Not Die Anytime Soon
Intel Just Got Smoked By AMD In the Race to Unleash a Super Chip
Alibaba Is a Beast -- Here's Where the Stock Is Headed Next
One Analyst Just Explained What 650 Million People Using iPhones Means to Apple
Amazon Could Pummel Walmart With One Whole Foods Brand