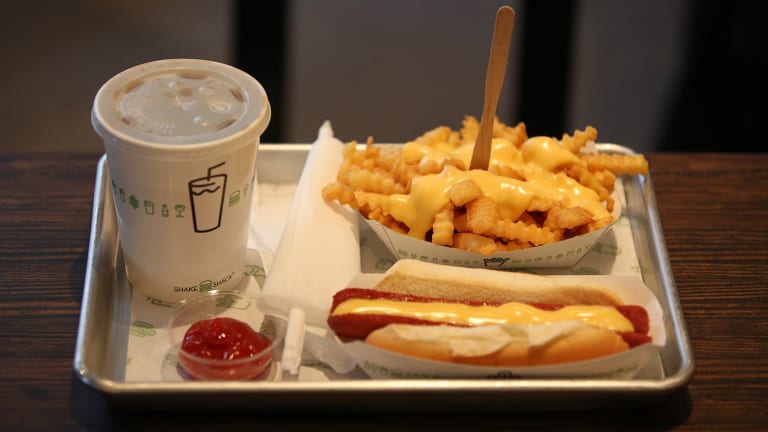 NEW YORK (TheStreet) -- Thursday is National Hot Dog Day and vendors are grilling up discounts and freebies for customers.
Hot dogs are so hot this summer that in June Yum Brand's (YUM) - Get Yum! Brands, Inc. (YUM) Report Pizza Hut even started selling a pie lined with 28 miniature cocktail wieners baked into a pretzel crust with a side of tangy French's mustard.
They've also found their way into the Hardees and Carl's Jr.Most American Thickburger, a beef patty topped with a split hot dog, American cheese and potato chips.
"We have often looked at meat as a condiment," a spokesman for CKE Restaurants, which owns Hardees and Carl's Jr., told TheStreet of the St. Louis, Miss.-based chains.
According to the National Hot Dog and Sausage Council, U.S. consumers spent more than $2.5 billion on hot dogs sold in supermarkets during 2014. Meanwhile, major league ballparks in the U.S. are expected to sell more than 21 million hot dogs this season, according to the same trade group. 
To make the most of National Hot Dog Day, you can head over to Sonic Drive-In (SONC) for $1 All-American Dog or Chili Cheese Dog all day. Select 7-Eleven locations are offering $1 Quarter-Pound Big Bite Hot Dogs and the hot dog-crazed can also nab a coupon from travel center operator Pilot Flying J for a free Kraft (KRFT) Oscar Meyer dog.
For these prices at Sonic or 7-Eleven, recently crowned hot dog eating champion Matt "Megatoad" Stonie would only have had to spend $62 to recreate his winning July 4th performance.
Regional chains are also getting in on the action.
In the south, The Pantry's (PTRY) Kangaroo Express chain headquartered in Cary, N.C. is doling out Ball Park hot dogs for 50 cents each (free with a military ID) at select locations from 4 p.m. to 8 p.m., while supplies last. Atlanta, Ga.-based gas station chain RaceTrac has sent customers on its mailing list a free hot dog coupon.
Krystal, a fast-food chain headquartered in Chattanooga, Tenn. and known for its square-shaped hamburgers, has no special deal on Thursday, but will throw in a hot dog (called "pups" on their menu) for 99 cents with any combo for the months of July and August. For a healthier alternative, Tampa, Fla.-based cafe chain Evos has a weeklong buy-one-get-one free deal.
Regional chain store pickings are slimmer on the east coast, but the first 300 customers at Philly Pretzel Factorycan snag a free pretzel dog, while New Jersey-based vendor Callahan's will be giving away free quarter-pound hot dogs.