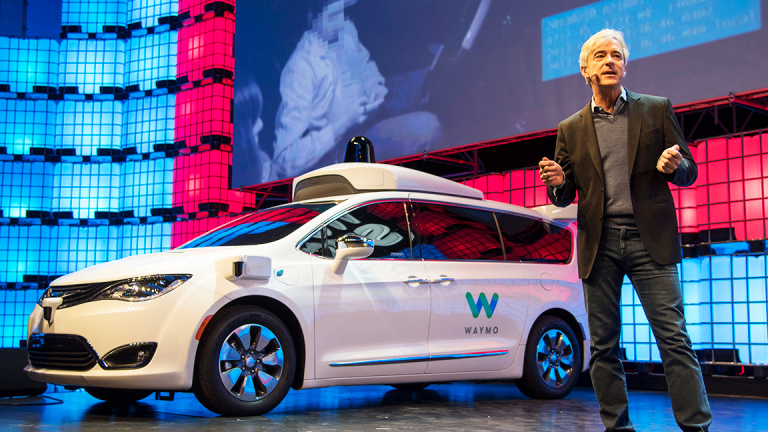 Where Nvidia and Google Stand in the Self-Driving Race Following the Uber Crash
Nvidia has many alliances with top auto industry players, but it is also dependent on them in key ways. Alphabet's Waymo isn't as dependent, but is struggling to make friends.
In many ways, the steep selloff Nvidia (NVDA) - Get NVIDIA Corporation Report shares saw on news it's temporarily suspending its self-driving tests in response to the fatal crash that one of Uber's self-driving test vehicles saw feels unjustified.
Uber is just one of many Nvidia auto industry clients, and it also looks as if Uber's system suffered from company-specific hardware and/or software issues. On the whole, it looks like Nvidia's testing halt is driven by a wish to be cautious in an area where getting things right is a matter of life and death.
But the Uber crash, and the uproar surrounding it, does shine a light on how dependent Nvidia's self-driving efforts remain on the hardware and software work done by clients -- some of whom are likely to make much faster progress towards developing cars that can safely pilot themselves in common driving situations than others.
Alphabet's (GOOGL) - Get Alphabet Inc. Class A Report Waymo, by contrast, seems to be facing the opposite dilemma. The company's do-it-yourself approach to hardware, software and mapping -- with an assist from Intel  (INTC) - Get Intel Corporation Report on the silicon side of things -- makes it the master of its own fate to a far greater degree when it comes to creating viable self-driving systems. The only problem is that after nearly a decade of fruitful work, Waymo is still having trouble convincing top automakers to drop their own self-driving projects and embrace Waymo's vision.
Jim Cramer and the Action Alerts Plus team hold positions in Nvidia and Alphabet for their Action Alerts PLUS Charitable Trust Portfolio. Want to be alerted before Cramer buys or sells NVDA or GOOGL? Learn more now.
On Tuesday, as CEO Jensen Huang was delivering a keynote talk during which he unveiled (among many other things) new and upcoming autonomous driving offerings, Nvidia confirmed a report that it has halted its self-driving road tests in order to learn from a March 18 crash involving an Uber self-driving car that killed a woman pushing a bicycle across a road in Tempe, AZ. Toyota (TM) - Get Toyota Motor Corp. Report has also said it's temporarily halting its autonomous driving tests.
At first, it looked like Uber would escape significant blame for the crash: The victim was crossing the road in a dark area that featured no pedestrian crossing, and initial police remarks about the crash footage gave the impression that it was unavoidable. But opinions quickly changed after the footage became available: Not only did forensic experts argue that an alert human driver could have stopped in time, many autonomous driving execs and engineers argued a self-driving system should have detected the victim and applied the car's brakes in time.
The latter group includes Amnon Shashua, CTO of Intel's Mobileye ADAS vision-processor unit. In a blog post, Shashua claimed a Mobileye system running the crash footage was able to detect the victim a second before impact in spite of poor video quality. Likewise, Waymo CEO John Krafcik expressed confidence his firm's technology would have been able to avoid a crash.
To make matters worse for Uber, a Reuters article raised questions about whether hardware changes contributed to the crash: Whereas the Ford Fusion test cars used by Uber contain seven LIDAR sensors to help detect people and objects, its Volvo XC90 test cars, such as the one involved in the accident, only have one LIDAR sensor. Arizona Governor Doug Ducey has suspended Uber's local self-driving test work, and the company has said it won't re-apply for a California self-driving permit that expires at month's end.
Separately, electric car maker Tesla (TSLA) - Get Tesla Inc Report  is facing an NHTSA probe over a fatal California crash involving a Model X SUV. It hasn't been learned yet whether the Model X's Autopilot system was engaged at the time of the crash. Tesla's second-gen Autopilot system relies on Nvidia's Drive PX 2 computing board; however, Tesla is working on a next-gen system relying on a home-grown processor.
The developments come less than three months after Nvidia confirmed at its press event at CES that Uber is using its GPUs in its self-driving test cars -- the companies are believed to have been partnering since 2015. At the event, Nvidia also played a video showing one of its own test cars driving itself over an eight-mile stretch in Holmdel, NJ featuring many turns and intersections.
Nvidia, it should be noted, has amassed a long list of clients promising to use Drive for their self-driving R&D, if not bring Drive-powered cars or systems to market. In addition to Tesla, Drive clients include Audi, Mercedes-Benz, Toyota, Volvo and Baidu, as well as auto parts giants Bosch, ZF and Continental.
Helping Nvidia's cause: The efficiency with which GPUs can run AI/deep learning algorithms, Nvidia's big R&D investments in creating Drive boards featuring powerful system-on-chips (SoCs) and in some cases discrete GPUs, and the rapid pace at which the company has rolled out developer tools and libraries for its platform. On Tuesday, Nvidia added the Drive Constellation System, a powerful dual-server system for simulating autonomous driving environments, to its arsenal.
But for all its strengths, it's still left to Nvidia's clients to use its hardware and tools/libraries to develop and flesh out the software that will control their autonomous systems. They also have to build or otherwise obtain the detailed maps needed by self-driving cars, as well as design sensor arrays (they tend to involve some mixture of LIDAR, radar and cameras) for their systems. Some firms will be more successful than others, and those with leads probably won't be keen on sharing their technology with rivals -- Nvidia clients or otherwise.
An automaker that adopted Waymo's self-driving systems could avoid having to do a lot of this legwork. Since 2009, Waymo's test cars have driven over five million miles on public roads, which together with extensive simulation work has helped it develop some of the most advanced -- if not the most advanced -- self-driving software in existence. Waymo has also invested heavily in mapping, and has developed a proprietary LIDAR sensor that it claims is far cheaper than rival offerings. It has also built custom vision and radar modules for its cars.
Waymo's systems rely on Intel CPUs and programmable chips (FPGAs) for processing power, and also contain Intel Ethernet chips and 4G modems. But unlike other Intel autonomous driving partners such as BMW and Aptiv (formerly Delphi), the company doesn't use Mobileye's vision processors and related software.
There might be no better evidence of how much progress Waymo has made than the fact that it's ready to start a program through which regular consumers can obtain rides in fully driverless Waymo minivans along designated roads in the Phoenix area (a good test area, given its weather and road quality). For now, other players in this space can only promise to offer something similar in time.
But for all its progress, Waymo still hasn't inked a deal with a major automaker for the development of Waymo-powered cars that will be sold to consumers, or even to a third-party robotaxi service. The company's much-discussed deal with Fiat Chrysler involves the purchase of Chrysler Pacifica minivans that Waymo is retrofitting and adding to its fleet. Likewise, a just-announced deal with Jaguar involves buying 20,000 electric Jaguar SUVs for Waymo's fleet.
In spite of its sales to Waymo, Fiat is teaming with Intel, BMW and Aptiv on autonomous driving R&D. Jaguar is also doing self-driving R&D independent of Waymo.
Why have automakers been so reluctant to partner with a self-driving firm that has clearly made a ton of progress? It might have something to do with fears of handing over control of the user experience to Waymo. Big-league automakers have long been responsible for developing much of the software used by their cars, and this could be making them reluctant to become dependent on a third party for software used to drive cars that they'll build. This might see this as becoming, in effect, the Dell or HP to Waymo's Microsoft.
Of course, autonomous driving software is far more complex than, say, infotainment or transmission system software, and automakers struggling to keep pace with Waymo and/or others in this field might eventually rethink their strategies. So might Uber, given its recent issues. Indeed, The Information reported earlier this month that Uber has discussed a potential alliance with Waymo now that their bitter trade secret lawsuit has been settled.
But the industry consensus is that we're still two to three years away from seeing cars supporting Level 4 autonomy (able to take over from humans in most, though not all, situations) going on sale. And even then, Level 4 is only expected to be supported in certain well-tested areas at first. Thus automakers feel as if they have some time to push ahead with their self-driving projects and see how things pan out.
And for many of the automakers, that means partnering with Nvidia, which can offer powerful hardware and continues to make good progress in building a software stack that eases the process of developing viable self-driving software. And for some others, that means partnering with Intel, which can offer a slew of processing solutions and whose Mobileye unit has decades of experience developing vision-processing algorithms for ADAS systems.
Still, this is unlikely to be a winner-takes-all game. And considering how far it has gotten to date, and how challenging of a problem autonomy remains, it would hardly be shocking if some big automakers eventually swallow their pride and learn to love Waymo.
This article has been corrected to note Uber is using Nvidia's GPUs, rather than its Drive computing board.
Watch all of Jim Cramer's full NYSE live shows right here: