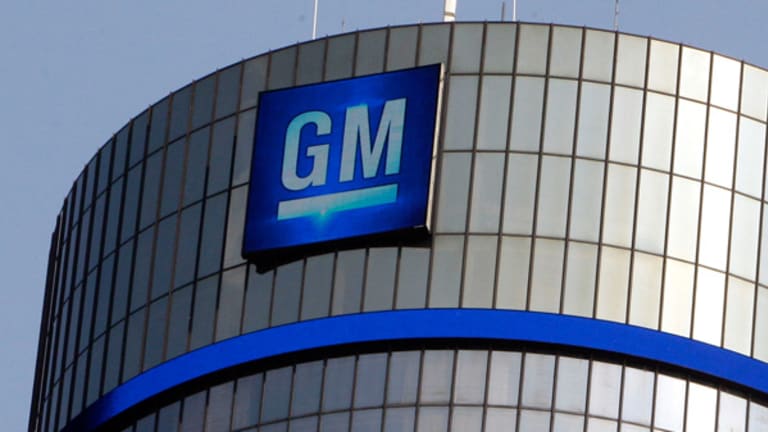 When Will the Good Outweigh the Bad at GM?
GM shares don't reflect the looming arrival of the K2XX pickup truck and analysts say investors just have to be patient.
DETROIT (
) -- A languishing share price and some high automobile inventory levels may not be the most positive indicators, but analysts remain enthusiastic about
GM
(GM) - Get Free Report
and its coming product rollouts.
Next week, for example, the new Cadillac CTS sedan is likely to be among the top cars at the New York Auto Show, another sign that GM has a full stable of new vehicles to roll out and that Cadillac seems to have found itself.
Looking further ahead, the planned summer introduction of the new Silverado K2XX pickup truck will likely bring GM credit for perfect timing, given the surge in the housing market and the consequent rising demand for pickup trucks, even if S&P Capital IQ analyst Efraim Levy maintains that the new Silverado doesn't look a whole lot different than the old Silverado.
So far, GM's share price isn't reflecting the expected lift from its new U.S. models, as Europe remains a drag on its shares, which are down 4% this year, and on
Ford
(F) - Get Free Report
shares, which are flat for the year.
"Wall Street is still not comfortable with the industry," said auto analyst Rebecca Lindland of Rebel Three Media. "There is still a lot of concern about exposure to Europe, and I don't think Wall Street is giving them enough credit for the cost-cutting that's gone on."
Some analysts say investors should look further into the future. Last week, Deutsche Bank analyst Rod Lache raised his full-year 2014 estimate by 10 cents to $4.15, saying in a note that "given the company's strong new product cadence, we believe that GM will still experience positive pricing through 2014." Lache has a buy on GM and a $39 price target.
A potential near-term problem is that GM inventory levels are rising, said Credit Suisse analyst Chris Ceraso in a recent note. "While GM's trucks (namely full-size pickups) have been the main focus so far this year, we think investors need to pay close attention to GM car inventories, which have ballooned since Sept. 2012," Ceraso said. He estimated passenger car stocks at an 86-day supply level, about 33% above his estimated normal level of 65 days. In particular, he said, Cruze inventories are above 90 days and inventory for Malibu, which has been reporting disappointing sales, is at 95 days.
It's nothing to worry about, said GM spokesman James Cain. "We try to run our plants at high capacity utilization levels and to operate some on three shifts," Cain said. "It's more efficient to do that to then to make occasional adjustments through downtime.
"We've been pretty good about making production adjustments to manage stock levels," he continued. "We're not planning to do anything different. We use a lot of levers to make sure we don't overproduce. What we won't do is to lose discipline on pricing and incentives. We've gotten our incentives more in line with the industry, and it's critical that we don't go back."
Meanwhile, Citibank analyst Itay Michaeli, reporting on a recent meeting with Chief Financial Officer Dan Ammann, wrote in a note that management "sounded cautiously optimistic around the pricing environment (in Europe), which appears to be showing some signs of stabilization," and was also upbeat about China. Regarding the falling yen, GM seemed to reflect the view that Ford executives
with Jefferies analyst Peter Nesvold: They have seen no evidence of higher incentives from Japanese manufacturers. Michaeli has a buy on GM with a target price of $35.
-- Written by Ted Reed in Charlotte, N.C.
>To contact the writer of this article, click here:
Ted Reed