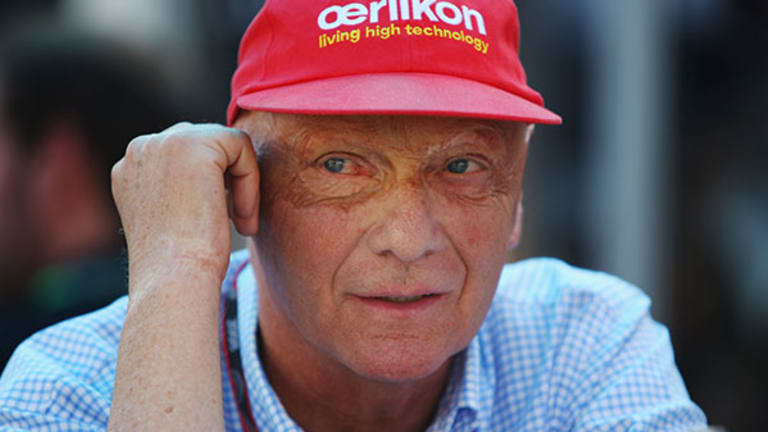 When Niki Lauda Ran an Airline
Niki Lauda, who is portrayed in the new movie "Rush," has run two airiines including Lauda Air.
MIAMI (
) - For Niki Lauda, I imagine, running an airline made race car driving look easy.
Lauda, a world-famous, retired Formula One race car driver is about to become even more famous with the nationwide release of the movie
Rush
, which examines the rivalry between him and another driver, James Hunt.
On an October evening in 1995, Lauda came into
The Miami Herald
newsroom for an interview. We were in the
building then, and Lauda wanted to drop by, rather than to meet somewhere else. I always had the impression that curious people liked to come to our newsroom, with its dramatic views and storied history.
I realized how famous Lauda was when, as we walked to a conference room, an editor asked for an autograph. It was the only time in my career I ever saw that happen.
Lauda visited because Miami was the only U.S. destination for Lauda Air. The day he came in, he complained about two problems the airline was experiencing. First, his flight had been loaded too slowly in Munich, almost causing it to miss its slotted takeoff time. He told me that crews from
Lufthansa
, Lauda Air's partner, were responsible for loading. "We had to kick their butts," he said, according to my story in The Herald.
Another problem occurred regularly at cramped Miami International Airport, where Lauda Air shared a gate with Lufthansa. Sometimes, Lauda said, the Lauda Air plane could not get into its gate in the afternoon because the Lufthansa plane hadn't left yet. "We need another gate," Lauda said. "This is unacceptable." But complaining to the airport made little difference. "They tell us we are Lufthansa's partner and we must share a gate," a Lauda Air spokesperson told The Herald.
Put these two stories together and you can see why the airline business, which on the one hand is sufficiently inspiring to attract the Laudas of the world, is also immensely frustrating. A thunderstorm in Chicago can tear up an entire day's schedule for
United
(UAL)
, the world's largest airline. Last week, a gunman's attack on the Washington Navy Yard temporarily halted departures from Washington Reagan National Airport, resulting in six cancellations and various delays for hub carrier
US Airways
(LCC)
. All too often, such exogenous events shape a carrier's fate.
Nevertheless, at Lauda Air, Lauda could also fully experience the joy of flying because he sometimes piloted the planes himself. "At Lufthansa, you don't see the chairman," he said in our interview. "But with me, being a person who is known -- you can strangle me."
Aviation consultant Bob Mann is a race fan who once worked as a volunteer race official and observed Lauda, from a distance, at half a dozen races. "The guy had a steely cold focus, which was remarkable," Mann said. "His gaze never strayed from the car or the engineers. He didn't do the autograph thing. He was single purpose, completely focused on driving as well as he could.
"It was interesting to see him start an airline," Mann said. "He was a technician, one of the foremost technicians among Formula One drivers, and he appreciated some of the engineering aspects of running an airline."
Lauda started Lauda Air in 1979. Seeking to offer better service than traditional European airlines did, he required that flight attendants check the bathrooms every 20 minutes to make sure they were clean, He hired Vienna's best restaurants as caterers and he sought to assure that flight attendants were "young and friendly" by setting an age limit of 36. When they passed 36, flight attendants were offered other jobs at the airline. "After 10 years in that job, you are burned out," he said in the interview. "If you stay longer, you don't get more friendly or more motivated."
Lauda always faced competition with the larger, government-controlled Austrian Airlines. The Austrian government initially kept him at bay by not granting him route authorities, and Mann said he developed a distinct dislike for "Austrian bureaucrats." Finally, in 1984, Lauda Air was awarded Vienna-Bangkok-Sydney. The airline "was designed to be a longhaul holiday airline, taking Germans and Austrians to exotic places like Thailand, Austria and Miami so they could lie in the sun," Mann said. Despite government resistance, Lauda Air began to grow.
A major problem occurred in 1991, when a Lauda Air Boeing 767 crashed on the way from Bangkok to Vienna, killing all 223 passengers and crew members. An investigation determined that a design error caused the thrust reverser of the left engine to deploy during take-off.
In a 2006 interview with
The Guardian
, Lauda declared "People always think that the worst time of my life must have been after the German Grand Prix crash in 1976, which put me in a coma and left me with severe burns. But it wasn't." The airplane crash, he said, was worse. "When I was motor racing, I had taken the decision to risk my life. But when you run an airline and more than 200 people want to go from A to B and they don't arrive - that's a different responsibility. My first reaction was to say that, if my company is responsible for this, then we have to stop running the airline immediately."
In 1992, Lauda Air signed a partnership agreement with Lufthansa that fueled its growth. By 1995, the carrier operated 16 airplanes, employed 1,100 people and flew from Vienna and Salzburg to 10 European destinations as well as Miami, four cities in Asia and two in Australia. It regularly reported profits. In 1999, Lauda was ousted in a boardroom coup, and he sold his shares to Austrian. The carrier shut down in July 2013.
Lauda, meanwhile, started another airline, low-cost carrier Niki, in 2003: he sold his share to partner Air Berlin in 2011.
The movie features Lauda's 1976 crash, which resulted in severe burns and permanent scarring to his head and face. The crash exposed him to 800 degree temperatures for 55 seconds. He told The Herald that the event taught him some lessons, including: Don't do stupid things that could threaten your life and don't drive while drunk or neglect to wear a seat belt.
When he woke up in a German hospital, Lauda was asked whether he wanted his last rites. He said yes but the priest, thinking he was already dead, made the sign of the cross on his shoulder and walked away. "I got so mad," Lauda said, in the interview. "I was lying there waiting, and nothing happened. I thought, 'This is unbelievable.' I knew I was going to die."
"It changed me a lot," he said. "When you are used to living, you never think about what stupid things you do to yourself. I knew racing was dangerous, but after that crash I told myself I would never make a stupid mistake again (and) to be more responsible for my life."
-- Written by Ted Reed in Charlotte, N.C.
>To contact the writer of this article, click here: