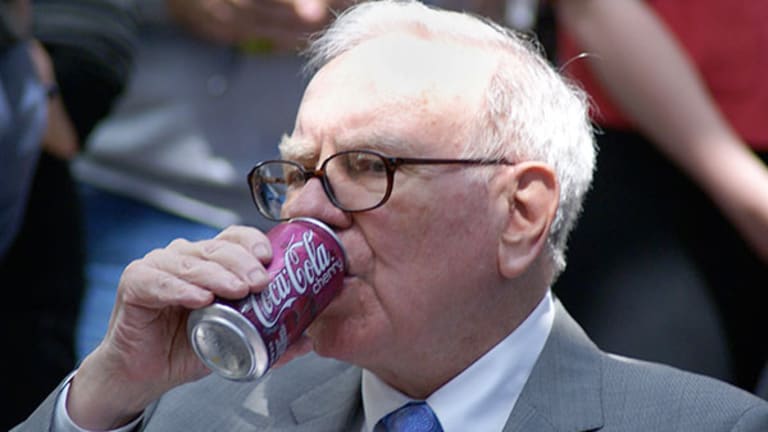 The Best Way to Beat a Frothy Stock Market Is None Other Than Coca-Cola
Coke is teetering on the verge of a technical breakout to new all-time highs.
Summer is heating up, and the best way to beat the rising mercury might just be with an ice-cold Coke.
No, I'm not just talking about the temperature outside. U.S. stocks have been having a heat-wave of their own, up more than 10% on a total returns basis so far in 2017, and the big S&P 500 index is hovering right at all-time highs as I write.
What's the best way to beat that frothy market action as investors get increasingly nervous about a possible correction this summer? It's shares of The Coca-Cola Co. (KO) - Get Report.
Jim Cramer talks about oversold retail stocks on Real Money. Get his insights or analysis with a free trial subscription to Real Money.
Coke has been a strong performer in recent months. Shares are up more than 14% on a total returns basis since bottoming back in mid-February. Simply put, this big blue-chip beverage stock is meaningfully beating the rest of the market right now -- and one chart is signaling that the rally in Coke could be about to accelerate again as we head toward July.
Before we get to that, a bit of background on Coca-Cola.
Coca-Cola is the biggest beverage company on the planet, serving up more than 1.9 billion drinks per day. Coke also boasts one of the most impressive distribution infrastructures in the business, with an operational reach that spans more than 200 countries.
It's that infrastructure that's been driving big change in Coke recently. After consolidating its North American bottlers back in 2010, the firm is reversing course, with plans already underway to refranchise the majority of its company-owned bottling operations. While that may seem like a bizarre about-face, it actually makes considerable sense.
For starters, Coca-Cola management believes that it can expand its returns by shedding a big chunk of its most capital-intense units. Likewise, Coke made some major efficiency improvements during the stretch it's owned those bottlers, centralizing shared services and better lining up bottlers' incentives with KO corporate.
Simply put, shedding those businesses makes sense for Coke in this environment.
And the higher returns the firm sees in 2017 could be a major catalyst for this blue-chip beverage stock. Investors will get their next glimpse inside the machine next month, when Coke reports its second-quarter earnings numbers.
Meanwhile, the price action is signaling a potentially substantial upside move in Coca-Cola before then.
After a strong rally to start the year, Coke's momentum has slowed since late May. But that sideways price action in KO is actually what's setting the stage for an up-move in shares. The price setup in Coca-Cola is an ascending triangle pattern, a bullish continuation pattern that signals more upside ahead. The pattern is formed by horizontal resistance up above shares at $45.50, with uptrending support to the downside.
Basically, as shares of Coke pinball in between those two technically meaningful price levels, they've been getting squeezed closer and closer to this stock's $45.50 price ceiling. A material breakout through that price line is the signal that it's time to buy shares.
What makes that $45.50 price level so important for Coke's shares? It all comes down to buyers and sellers.
Price patterns, like this ascending triangle setup, are a good quick way to identify what's going on in the price action, but they're not the ultimate reason shares look attractive here. Instead, the "why" is driven by basic supply and demand for Coke's shares themselves.
The $45.50 resistance level is a price where there has been an excess of supply of shares; in other words, it's a spot where sellers have previously been more eager to step in and take gains than buyers have been to buy. That's what makes a breakout above $45.50 so significant. The move means that buyers are finally strong enough to absorb all of the excess supply above that price level.
Relative strength, the indicator down at the bottom of Coke's chart, adds some extra upside confidence to this trade right now. That's because our relative strength line has been in an uptrend since shares bottomed back in February, signaling that Coca-Cola is still outperforming the rest of the market right now. As long as that relative strength uptrend stays intact, Coke remains statistically more likely than not to keep on outperforming.
Once shares materially push through $45.50, we've got a brand new affirmation that buyers are still in control of shares. Keep a close eye on Coke as it flirts with breakout territory this week.
More of What's Trending on TheStreet:
Meet The Women Redefining Business in TheStreet's New Series, Alpha Rising
Visit here for the latest business headlines.
This article is commentary by an independent contributor. At the time of publication, the author held no positions in the stocks mentioned..