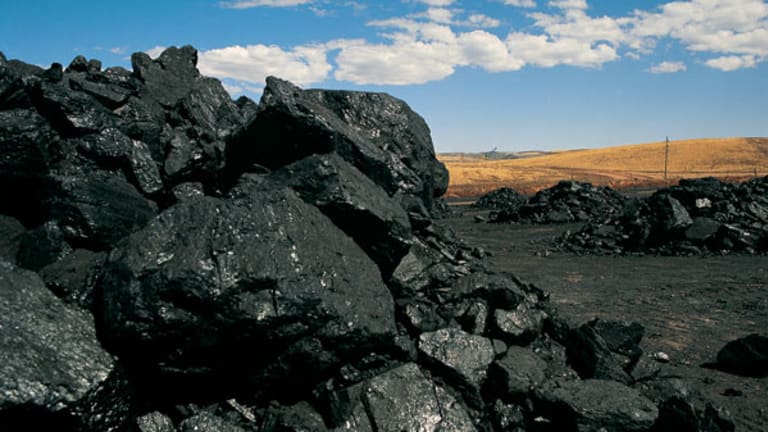 What's Up With Walter Energy?
Analysts who cover Walter Energy have price targets scattered far and wide. The stock may simply be a high-leveraged bet on a rebound of coal prices.
NEW YORK (TheStreet) -- Walter Energy (WLT)  has been getting beat up lately, but all is not lost for the Birmingham, Alabama-based coal producer.
On Wednesday, Walter Energy was downgraded by UBSAG (UBS)  to "neutral" from "buy" which also lowered the company's price target to $8 from $25. Last week, Bank of America analyst Timba Tanners hit the shares with yet another downgrade. Walter Energy was losing 5.4% on Wednesday to $7.35, extending the stock's decline this year to 56%.
Tanners lowered her price target from $8 to $2. However, on Friday, Morgan Stanley analyst Evan Kurtz maintained his overweight rating on Walter Energy though he did lower his price target from $33 to $27.
The other 12 analysts who cover Walter Energy have price targets scattered in between these two opposite ends of the spectrum, but the median target is nearly double the current share price.
WLT data by YCharts
TimbaTanners has a far too negative sentiment on Walter Energy.
With metallurgical coal prices already sitting at multiyear lows and well below production cost, her prediction calls for continued weakness. She speculates that this will pressure pricing as low as $130 per ton for the next several years. Current first-quartile pricing sits at $143 per ton. Kurtz is more optimistic. He sees prices stabilizing at $180 per ton, which presents a unique trade opportunity as Walter Energy is a low-cost producer and can significantly benefit from even a small uptick in pricing.
To analyze this conundrum, we need a little history.
Fact is, commodities never trade below production cost for extended periods of time. Recently, coffee traded at multiyear lows, below the cost of production, only to recently rebound sharply and double within a matter of a few months. Natural gas sold for below $2 in early 2012 and has since more than tripled in a powerful counter rally. In 2001, gold was selling below production cost at $350 an ounce, only to make a record high 10 years later, nearly hitting $2,000 before pulling back.
Historically, nearly every example of a commodity selling below production cost has quickly and sharply rebounded off the lows. What causes this is the most basic yet fundamental principle of economics: supply and demand.
If coal producers are losing money producing coal, they will stop producing coal until it is profitable to do so again. Because Walter Energy's fortunes clearly hinge on the price of metallurgical coal, any investment decision should be heavily based on the future expectation of this commodity. That is what makes this trade opportunity so appealing.
Tanners is far too bearish with her metallurgical coal pricing scenario. She is ignoring the fact that China is still growing at 7.7%. Clearly, China has not turned off the lights just yet. However, metallurgical coal prices have reached an extreme level well below production cost. Any slight uptick in optimism stands a good chance of triggering a massive snap-back rally.
Kurtz notes that Walter Energy's first-quartile metallurgical coal assets allow the company to outlast higher cost competitors through the bottom of the commodity pricing cycle. As such, Walter Energy makes for a compelling highly leveraged bet on the rebound of the commodity price. 
VisitCharlesMoscoe.com for live trading updates.
At the time of publication, the author held positions in Walter Energy.
This article is commentary by an independent contributor, separate from TheStreet's regular news coverage.
Charles Moscoe is an Internet marketer, financial writer and lifelong contrarian. His research focuses on small-cap consumer goods and technology companies that are not normally followed by the conventional Wall Street analysts. With a background in business (attended York University's Schulich School of Business), he uses a unique combination of financial and marketing analysis to seek out investments that generally run contrary to public opinion.