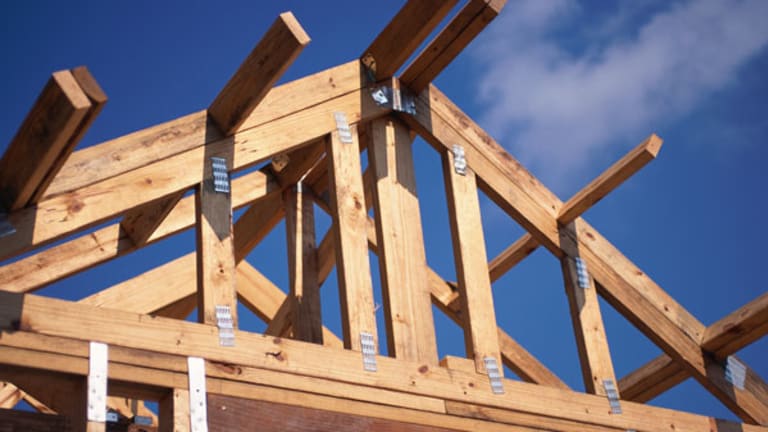 What's Behind Vulcan's Climb
This heavily shorted construction materials stock is climbing. Is this a positive sign for the economy or merely inelastic demand at work?
Even the slightest piece of positive economic news can send a cyclical stock rallying. Take, for instance,
Vulcan Materials
(VMC) - Get Free Report
, a heavily shorted construction materials company that is surging today on the latest economic data from the Conference Board.
Vulcan shares rose 8.4% to $84 in recent afternoon trading Monday. The stock has fallen from a 52-week high of $122.47 last summer, but has been a strong performer of late.
It helps that Vulcan is a cyclical stock -- meaning it is in the camp that rallies about six to nine months ahead of a rebound in the economy. So if you believe the news that the economy is really going to improve by the end of the year, this latest rally in Vulcan's stock makes sense.
Tough Construction Market
On Monday, the Conference Board said its index of leading economic indicators rose by 0.1% in April, similar to the rise in March. Investors cheered the news as a sign the economy wasn't as bad as many feared.
Nonetheless, the current outlook for Vulcan's business lines look iffy. The bulk of Vulcan's revenue comes from the sale of construction aggregates -- which include crushed stone, sand and gravel, rock asphalt and recycled concrete -- used in construction of homes, buildings and infrastructure projects.
"There is a tough construction economy, the housing market is searching for a bottom, and commercial
construction is slowing somewhat," says Jack Kasprzak, an analyst at BB&T, who rates the stock neutral.
"It makes you wonder what people are seeing out there in the construction environment," he says.
The bearish thesis on Vulcan is that the downturn in government-funded construction -- due to slowing property tax and sales tax revenues -- has only yet begun, which will hurt future earnings. I highlighted Vulcan -- along with
HNI
(HNI) - Get Free Report
and
Perini
( PCR) --
back in January as a bearish stock pick
, when Vulcan shares traded around $69.
About 17% of the stock is being sold short -- meaning investors are betting on a decline.
The bearish thesis on Vulcan is still in place today, since historically 40% of the firm's business is tied to publicly funded construction projects, as the firm itself cites in its annual report. The company's heaviest exposure is to Florida and California, which are both facing brutal housing markets and state budget deficits not set to ease anytime soon.
Inelastic-Demand Boost
The bull case on the stock is that Vulcan's main products are experiencing sharp pricing even in the face of declining demand. The numbers are truly impressive, but if the economy really is heading into the toilet, the positive results may not last.
For example, in the first quarter, Vulcan's aggregates revenue rose 5% on the heels of a 9% year-over-year increase in price, with a 4% decline in volumes.
In economics, an important concept is the elasticity of demand, which measures the ratio of the percentage change in quantity demanded vs. the percentage change in price. If the absolute value of the ratio is less than 1, then demand is considered to be inelastic.
Inelastic demand means suppliers can raise prices at a rate that is faster than the decline in demand. This is exactly what Vulcan has been doing.
Except for the fourth quarter, Vulcan has experienced inelastic demand going back at least seven quarters. Thus revenue continues to rise on an annual basis.
The question, of course, is whether this trend can continue. Vulcan went up against a tough comp in the first quarter (prices were up 16% in the prior year's quarter) and still reported impressive 9% growth.
In the second quarter last year, prices were up 15%, which makes for another difficult comparable looming ahead.
At roughly $84, Vulcan's stock is now trading at 23 times estimated 2008 earnings per share. Typically, Vulcan and other aggregates suppliers carry price-to-earnings ratios in the range of mid-teens to low-20s, says Kasprzak, the analyst at BB&T.
The multiple looks a bit high but can probably hold if the economy is really going to improve by the end of 2008.
Then again, the recent run in the stock may just be part of a overly optimistic cyclical rally that may not last.