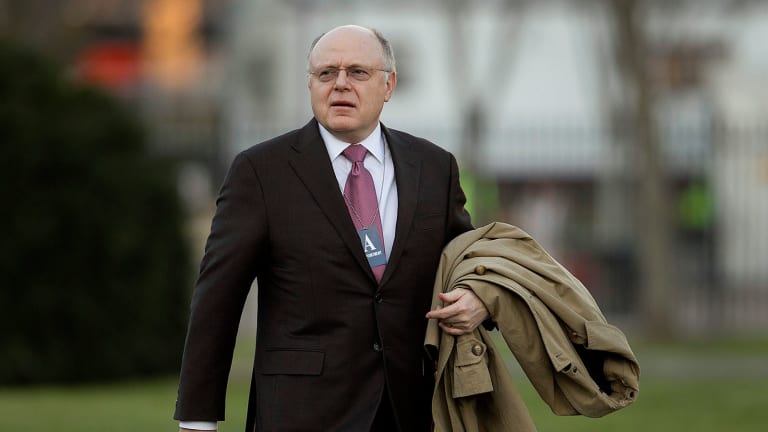 All Eyes on Growth Plans as Pfizer Gears Up for Fourth Quarter Earnings
Investors will be listening for details around competition facing key products and plans for capital deployment.
What's likely to be at the top of investors' minds during Pfizer's (PFE) - Get Free Report fourth-quarter conference call Tuesday morning? How about Pfizer's plans to overcome oncoming competition involving several important products while navigating what remains a difficult pricing environment? 
Clues from CEO Ian Read and the management team about the company's capital deployment plans ought to be of high interest, too. In the wake of continued speculation around the sale of its consumer business, which operates as part of its Innovative Health segment and is home to the Chapstick and Advil brands, potential strategic M&A and divestitures could make up for slowing revenue growth seen across existing therapies. 
"This is a company that continues to have losses of exclusivities and low R&D productivity and they're not keeping pace with replenishing the revenue that they're losing," John Boris of SunTrust said Monday in an interview. 
In a research note ahead of fourth-quarter results, his firm cited Prevnar, Lyrica, Enbrel, Inlyta/Sutent, Xeljanz and Ibrance as franchises facing competitive headwinds at Pfizer. "You can see them plugging in the holes but they still have $10 billion of [level of efforts] on the horizon" over the next five years, Boris added. 
Damien Conover of Morningstar said he's keeping tabs on recently launched products including Ibrance, Pfizer's breast cancer therapy facing increased competition from Novartis, and Prevnar, a vaccine for infants and toddlers that helps prevent infections caused pneumococcal bacteria. 
"They're under some dynamic trends right now and we want to make sure they've tracked well," Conover said. "We'll also be interested if they've expedited anything in the pipeline."
Prevnar is among the largest contributors to revenue and is anticipated to bring in about $1.66 billion during the fourth quarter, according to the average analyst estimate. Meanwhile, uncertainty around its pipeline grew last year following the unexpected discontinuation of development of bococizumab, its PCSK9 inhibitor. 
In an effort refill its pipeline, last year Pfizer picked up Medivation, the cancer drug developer it bought for $14 billion following a hotly contested sales process, and Anacor Pharmaceuticals, the atopic dermatitis drug developer it bought for $5.2 billion. 
Still, SunTrust's Boris believes that it will take large-scale, transformative M&A to reignite growth at Pfizer. While Boris believes it's unlikely the company will revisit its failed $118 million bid for AstraZeneca (AZN) - Get Free Report , it could very well tilt its attention to Bristol-Myers Squibb (BMY) - Get Free Report . 
While Bristol-Myers is a very good strategic asset that would help to reposition Pfizer, a potential sale process for the company would surely command interest from multiple parties, Boris noted.
Pfizer's Read, meanwhile, has been vocal about intentions to continue to fuel growth through M&A. The executive described the company's strategy earlier this month at the J.P. Morgan Healthcare Conference in San Francisco as one centered around revenue-generating targets in a "now or soon" timeframe. 
Its cash pile for M&A could become even larger as the possibility of repatriation grows increasingly likely under the new administration. Pfizer could potentially boost its U.S. cash to up to $60 billion to $70 billion, from $10 billion, through the repatriation of about $14 billion in cash overseas and by raising additional debt of about $40 billion, Evercore analyst Mark Schoenebaum wrote in a note Monday. 
Other actions to raise more cash include the potential sale of its consumer unit. 
While such a move would likely be well received in the near term, helping improve its margins among other things, the company would be losing a relatively stable and durable unit that generates significant cash flow, BMO Capital analyst Alex Arfaei wrote in a Monday research report. At the same time, Arfaei said his firms sees increased risk of more expensive acquisitions. 
Other topics that may be of interest on Tuesday include the significant price hikes that took effect at the start of the year. 
Of all the companies covered by Suntrust, Boris said the magnitude of price increases seen at Pfizer are greater than its U.S. counterparts. On average, Pfizer hiked prices by just under 10% across most of its product line over the last 12 months, making it an outlier among its peer group. 
Pricing is particularly important for Pfizer because its pipeline products have underperformed, Boris noted.