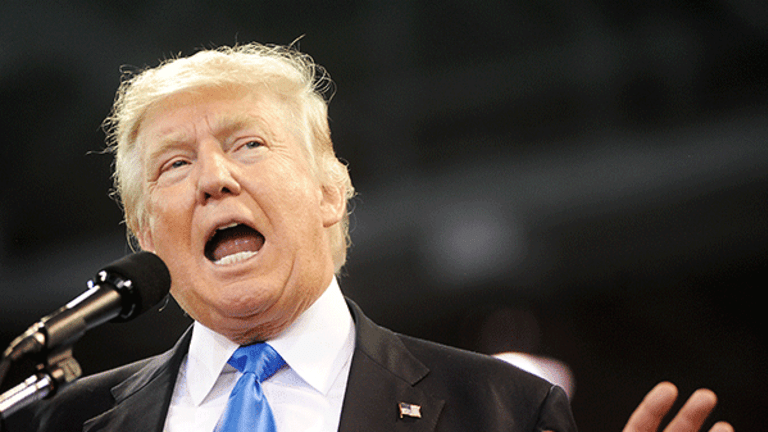 What Will Twitter Do Without Trump?
The president-elect's frequent and unvarnished use of Twitter has been a boon to both the social media network and his campaign. But what happens when he takes office?
Editors' pick: Originally published Nov. 11.
On Thursday night, President-elect Donald Trump took to Twitter (TWTR) - Get Report to complain about the protests materializing across the U.S. in response to Tuesday's election results.
His first tweet called out "professional protesters" as being "incited by the media."
Several hours later, however, Trump changed his tune, praising the protesters as "small groups" who have "passion for our great country."
The two tweets illustrated what some critics have started to refer to as Trump's identity crisis: the unfiltered, uncensored Trump vs. the presidential, conciliatory Trump. 
The unfiltered Trump is, in part, what helped him get almost double the amount of "free" airtime when compared to Hillary Clinton, according to a Wednesday report from Barclays.
"All the other candidates spent more, while Trump didn't bother to spend money advertising," said Barclays analyst Kannan Venkateshwar. "When a message gets posted on Facebook or Twitter, the effectiveness of posting that message is much higher. It's the most powerful form of advertising."
The election generated real results for Twitter, too: There were 75 million plus election-related tweets this year on Election Day, compared to just 31 million in 2012, according to data provided by the social media site.  
As a result, there's a chance that both Twitter and Facebook's (FB) - Get Report  ad sales could "take a hit" from the election's end, according to TheStreet's technology columnist Eric Jhonsa. The stock market already appears nervous about Twitter's fourth-quarter sales in part because of a lack of sales guidance and the recent departure of COO Adam Bain.
Twitter's stock is up about 1% since the election but down about 20% for the year.
Jhonsa argued that Trump's win is probably better for Twitter than a Clinton win would have been.
"I think Twitter overall benefits from a Trump win relative to a Hillary win, since Trump is such a polarizing figure and bound to spark plenty more rants and arguments," Jhonsa said. 
Facebook is a holding in Jim Cramer'sAction Alerts PLUS Charitable Trust Portfolio. Want to be alerted before Cramer buys or sells Facebook? Learn more now.
It's not news that social media has revolutionized the presidency as an institution. In an October blog post on the White House website, Deputy Chief Digital Officer Kori Schulman detailed plans for how all of the numerous social media accounts related to the 44th presidential administration will be preserved, and later wiped clean, during the transition of power. 
Most notably, the @POTUS handle will start with no tweets on its timeline beginning on Jan. 20. Donald Trump will then be given access to the account once he enters the oval office, which has prompted questions about what will happen to his personal Twitter handle, @realDonaldTrump. 
Trump may not tweet from his personal account as much, in part, due to security risks, said Jan Dawson, chief analyst at Jackdaw Research, in an email.
"We know that the campaign has had access to that account...but I would think they would want to prevail upon Trump to yield the account entirely to them going forward," Dawson said. "There's just too much risk entailed now that he's receiving daily security briefings and so on."
The White House staff is also likely to own the @POTUS account, Dawson added.
What's unknown is how Trump's habits on Twitter will change when he takes office. As of October 5, The New York Times noted that Trump had sent 28,000 tweets -- the equivalent of about 12 per day since he joined the site in March 2009. In the four days since Nov. 8, however, he's only tweeted seven times.
Trump's Twitter feed functioned as something like a continuous press conference, the Barclays report noted. 
"A candidate with almost no organizational structure had the ability to communicate his chosen message globally through platforms like Twitter, respond through social media instead of press conferences, and define issues that impacted the election," the firm wrote.
Venkateshwar said it's activity like this that is leading to legacy media being eclipsed by social media. Legacy media has become more about message reach, while social media values a message's effectiveness, he added. 
"The way I see the platform is that it's a broadcast platform," Venkateshwar said. "So in that sense, it's not that different from TV but it's different in that it's more targeted."
Twitter is also less censored than TV, Venkateshwar noted. 
Whether that side of Trump will continue once he's in the White House is unclear, but it's evident that Trump had a impressive handle on how effective Twitter could be in communicating with his supporters.