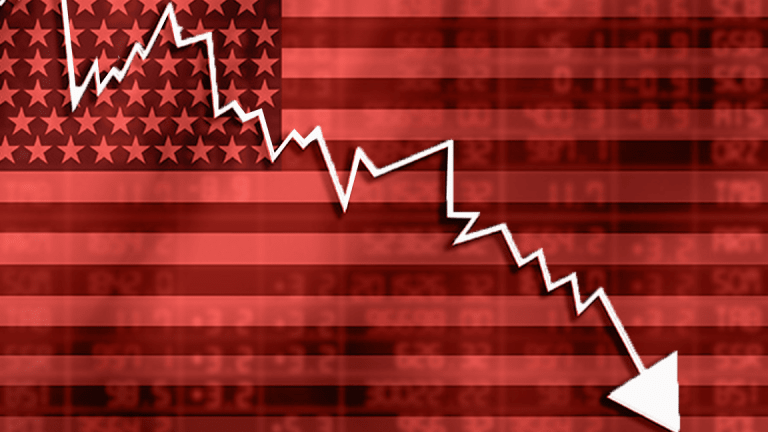 What Will Cause the Next Bruising Recession?
Feeling down about the impact to businesses thanks to global trade wars? Fear not, TheStreet shares several factors that may trigger the next U.S. recession.
A global trade war could prove the least of the market's worries looking out over the next few years. 
How about the downside risk to stocks from a nasty U.S. recession, only in part fueled by global trade wars? That's the thinking put forth in a new note by the always vocal David Ader, Chief Macro Strategist for Informa Financial Intelligence.
Here's what Ader believes will trigger the next U.S. recession. 
Tariffs Take Their Collective Toll
Tariff wars come with real economic risks attached. Some of those risks are likely not appreciated by investors or economic forecasters.
Stresses Ader, "In short, tariffs will lead to some self-imposed inflation, a more aggressive Fed, and job losses, which seems like a reasonable set of recessionary pre-conditions."
Valuations Become Too High
With companies earning less than Wall Street estimates (thank you aforementioned tariffs), investors may view stock valuations as too excessive. Hence, they opt to take profits and rotate into other asset classes that stand to earn less. That less of a wealth effect may hit consumer confidence and spending plans. 
"To the extent the stock market is a proxy of economic sentiment any allocation shifts in favor of, say, the bond market will take its toll," Ader says. "I too think that at these sorts of levels selling begets selling as investors 'strategically' rebalance."
Investors Reassess the Globe
Ader thinks political situations around the world are shaky at best. 
"It's about uncertainty, nationalism, changing political agendas and disruptions to norms which enhance the uncertainty which inhibits risk taking. I don't know how this all transpires, but we have Brexit yet to confront, murmurs from Italy, mid-term elections, and, well, watch this space," Ader thinks. 
Riskier to hold Apple's (AAPL) - Get Apple Inc. (AAPL) Report stock in such a backdrop? You bet.
The Fed Is Not a Friend
The U.S. Federal Reserve has helped fuel the bull market in stocks since the Great Recession. Now, the Jerome Powell led Fed's push to lift rates to prevent inflation risks sowing the seeds of an economic slowdown.
"It would be disingenuous for us to negate their impact on holding rates low since the great financial crisis; helping to boost, at least, risk markets and so the unwind should extract from that. Newton's third law says that for every action there is an equal and opposite reaction," Ader believes. 
Tax Benefits End
Benefits from the Trump tax plan overhaul begin to die out by 2020, leaving an economy riddled with debt and less stimulus. That's fertile ground for a sharp slowdown in growth. 
Says Ader, "If we're in the best point of the cycle for those tax cuts to be working, why isn't the stock market doing better? It seems all of the above are the balancing offsets even as we eye a 4.2% Q2 GDP according to the Atlanta Fed."
Register for the "Morning Jolt" newsletter to get your investing day started right.