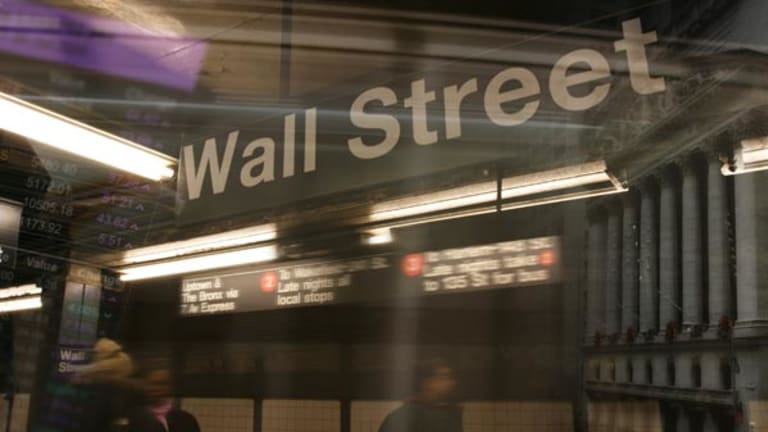 What We Saw the Day Time Stood Still
The staff here at TheStreet.com recalls Sept. 11 and how it changed our lives.
Much of this week will be spent on reflection -- what things were like before Sept. 11, and where we are now. The events of that day are one story: lived, remembered and retold by millions of people. In keeping with that theme, I asked employees of
TheStreet.com
to submit first-person accounts of what they experienced that day, and its effects on them since.
Their instructions were simple, but their contributions were anything but. In presenting this story, we interspersed our voices to construct a narrative collage of that day.
We work on Wall Street, two blocks from where the Twin Towers stood, and were eyewitnesses to the event. Part of our job as journalists is to chronicle history.
This is their story.
Dave Morrow
Editor in Chief
George Mannes, 39, senior writer
"When my subway train stopped at Chambers Street, a woman came on board and said that the World Trade Center was on fire. She didn't immediately appear to be insane, but when any stranger on the subway makes a dramatic assertion, it's a good practice to seek verification. Then a second woman got on and said the same thing."
Mary Levai, 54, copy editor for RealMoney columnist Bill Fleckenstein
"I left the PATH Station in the World Trade Center at 8:30 that morning and took my usual route down Greenwich Street to
have breakfast at Champs Deli, on the corner of Trinity and Rector. About 8:45, their TVs went blank and an electrical smell arose. The owners were around in 1993, so when the first boom went off, sending papers floating into the Trinity Church graveyard, they recognized that an explosion had occurred.
I thought a large truck had backfired, and maybe the
American Stock Exchange was staging some promotional ticker tape-type event. A bunch of us went outside and saw some grayish clouds above one of the towers, but it still did not register."
Gretchen Lembach, 30, editor for RealMoney columnist Jim Cramer
"The first thing out of the ordinary we noticed was paper floating past our 15th-floor office windows. I thought I'd forgotten about some parade, or that maybe someone who'd gotten fired was dumping his files out the windows."
Margo Hill, 33, copy editor
"When I got to my daughter's day care near World Trade, it was still business as usual. The first plane had hit the tower but nobody was worried. The lead teacher was giving my 10-month-old her breakfast cereal, and a couple of other babies were playing on the floor. I had seen the burning tower on the newsroom TV and told my boss I would be right back; I just wanted to check on my baby. Everything seemed fine."
Helaine Tishberg, 39, graphics editor
"It's 8:45 a.m. ... My phone rings, it's my friend who is in hysterics, 'A plane just crashed into the World Trade Center,'
she screamed. 'I just ran for my life.'"
Charlotte-Anne Lucas, 47 managing editor, RealMoney, RealMoney Pro
At 8:26 a.m. I sent an Instant Message to our market columnist, Bill Meehan, asking if he'd be sending me his column at midday. His reply was a simple, "yup." A few minutes later, television started carrying live images of the inferno coming out of the top of one of the World Trade Center towers. Then another columnist for the site pinged me with a frantic question: Isn't that the building Meehan is in?"
I looked at the television again, then pulled up Meehan's Instant Message window to ping him and see if he was OK. But I was too late. The IM window said it all:
Wmeehan100 signed off at 8:49:35 AM
.
There I was in my office in San Antonio, Texas, watching television images of a tower burning half a country away. And yet the message on my computer screen made it personal. Horrifying. And close enough to touch.
Rebecca Byrne, 27, staff reporter
"
After the planes hit, I left my apartment and crossed Wall Street and stopped two girls to find out what was going on, but I didn't fully believe them. I thought they were exaggerating. Still, I decided that I should probably go home. I went back to my apartment to find my phone ringing; it was my friend from Japan. Later there would be more calls, from family, friends, co-workers."
Our Sept. 11 Home Page
Editor's Note: TheStreet.com Revisits Sept. 11
The Making of a Hawk
by James J. Cramer
What We Saw the Day Time Stood Still
Investors Will Lose at
Patriot Games
Amid the Smoke, Repacking Wall Street's Data Pipe
Document Chaos Isn't
Sorted Out
Battle Against Terrorism Boosts Defense Sector
Faint Glow Alights on a
Once-Ashen Wall Street
Disaster Recovery Needs Didn't Stop Storage's Slide
Security Software Gets Mind Share, but Not Sales
Lodging Woes Linger in Troubled Times
Market's Terror Trend Plays Out Predictably
Bankrupt Ricochet Rises Like a Phoenix After Sept. 11
Airline Woes Preceded
Sept. 11 and Will Remain
Wall Street Shocked
Into Exodus
Mary Levai
"Standing at the intersection of Broadway and Wall, I heard an awful roar and looked around and up to see a fireball engulfing the side of the second tower;
at that point reality sank in. The roar had a sizzle to it -- an oversized crackle that would not quit. I remember just staring at the fireball, and not feeling any sense of danger, not feeling much of anything. But I saw grown men fleeing down Wall Street (an abandoned shoe lay in the middle), and figured I'd better run, too. Across from Federal Hall, I heard the sound of someone screaming, before I realized that it was coming from me."
Margo Hill
"
At the day care center, I was standing by the door to the infant room holding my daughter when the building shook and the lights flickered. A father came running in and said another plane had hit. The director of the day care center, a seasoned professional, came up from downstairs screaming, 'I don't want anyone out there. There are body parts on the street.' Her voice was shaking and she was crying."
Gretchen Lembach
"I was on the phone telling my boyfriend
about the first plane hitting the building when we heard a huge explosion -- and that's the first moment I was sure I was going to die. Everything seemed to happen all at once:
CNBC
was showing pictures of the other World Trade Center tower on fire, with instant replay of a big jetliner crashing into it. The commentators were shouting in disbelief, as shocked as we were, guessing that the nation's aviation systems had gone down. But one voice stopped us all cold, saying "No, this is terrorism."
Helaine Tishberg
"Boom. The office shakes. The images on TV confirm the unimaginable. A second plane. I put on my socks and sneakers and know that walking will be my only way home to the Upper West Side. On my way out, I run into my friend. She wants to get away from this carnage as fast as possible. I am glued to the pavement, watching the roar of the flames. People gasp. I'm lucky to have looked away as a body flew out of the building. The towers look like two matches with the tips aflame."
Chris Nagi, 35, managing editor
"The scariest part of my day, and life, was going down the back stairs of
our office building shortly after the first tower collapsed. ... It was dark and crowded and as I recall, a little thick with advancing dust. ... About halfway down, one of the reporters tapped me on the shoulder and said, 'Yama?' He was referring to this sushi place on Carmine Street, where it's
difficult to get a reservation, the implication being would we probably get one now. Seems dumb but that really kept me from having an outright
panic attack on those stairs."
Ariel Jolicoeur, 31, copy editor, who was living in San Francisco at that time
"My alarm clock radio turns on
at 6:45 a.m. West Coast time and a voice over the radio says 'the Twin Towers are hit and the Pentagon is on fire.' I marshall myself to get ready quickly for work and think to myself that I can't stand radio shock jocks and that this -- likely a prank -- is in poor taste. Some lame rip-off of Orson Welles' 'War of the Worlds,' but irresponsible. The DJ repeats the announcement with a voice that is grave."
Mary Levai
"The worst sound of all was of the first tower coming down. In my office, the windows went pitch-black. I remember crouching on the floor, clasping the hands of someone who previously was just a congenial colleague. Of course, that nightmare was repeated with the collapse of the second tower. It was too much to take in, and so numbness muffled the terror."
Ariel Jolicoeur
"I shower quickly because I don't want to miss anything. As I dress, I move around with the phone, to call only two people: My sister, a grad student at NYU, and my best friend Tabby, who had just gotten married and moved to D.C. to work for the U.S. Department of Health and Sciences. Tab is a librarian, destined to be out of danger, but we had joked about her office not being too far from the Pentagon, about the possibility that she really worked for the CIA but couldn't tell me. On the phone, there's no answer at either my sister's dorm or my friend's office. Soon after I would get an all-circuits-are-busy message to both numbers. I call my parents in Florida and their line is busy too."
Helaine Tishberg
"We're walking away, slowly. The ground starts to rumble. I thought that the subways were being bombed. I look over my right shoulder and see a cloud of smoke and dust. It never occurred to me that the buildings would collapse into themselves. The crowd yells run. I do. I cannot outrun the cloud. I cover my mouth with a tissue. We are covered in a thin coating of soot. I am fine. My friend is fine.
I wonder how many people will be gone by day's end?"
Michelle Zangara, 31, deputy managing editor, who worked in Virginia at the time
"It was 10:20. I can't reach anyone in New York ... colleagues, former neighbors, friends. Nor can I reach my friends in D.C. -- one who works near the Pentagon and one who works at the Justice Department. As I learn days later, I will never reach two of those New Yorkers again."
Margo Hill
"I'll never know if it was a calculated decision or dumb luck, but security evacuated us smack in the middle of the two tower collapses. My husband held our daughter in front of him, and I held on to the back on his shirt. When we got outside, we barely recognized the neighborhood. A policeman screamed to walk to the water, walk south. Get as far away as you can."
Amabelle Cardenas, 24, human resources associate
"I was sprinting, but the thick, heavy brown cloud of debris overtook me anyway. Instantly, a grainy bitterness was in and on every part of my body. I opened my eyes and saw blackness. I reached my arms out and felt nothing."
Margo Hill
"A Parks Service truck drove past us as we neared Battery Park. The driver, an EMT, saw we had an infant and shouted to us to get in. Inside the truck were two pregnant women, a man with a large gash in his head, and a Port Authority cop covered head to toe in debris. He was having trouble breathing. As the truck sped through the park, someone shouted, "The other tower!" An enormous mushroom cloud of dust was making its way down Broadway. The driver of the truck tuned into a news station and we finally learned what was happening ... passenger jets hijacked; the Pentagon hit, planes still missing."
Amabelle Cardenas
"Finally, with my left hand, I found it ... a wall, smooth and solid to the touch. Then another wall, which materialized from the darkness. Is this the corner of a building? I crept closer to the wall and felt something there ... a pole. A handle? A handle. This wasn't a wall, but a door ... a revolving door! I knelt outside the door, inching toward safety, crouching down, shaking, staring into nothingness, wondering what could possibly happen next."
Eric Gillin, 25, staff writer
"I heard an unholy noise, like someone shredding a bus inside my ear canal, and I ran like hell as the street wiggled beneath my feet. The wall of black debris caught me before I found shelter and somehow, in utter, putrid darkness, I raced up the street and staggered into the Chase Manhattan Bank lobby, where I promptly vomited onto the still-shiny floor.
"We were corralled into the cafeteria, where I wiped some of the crud from my eyes and determined I didn't have a single scratch on me. As I wandered through the room trying to find an empty seat, leaving a trail of soot in my wake, I became acutely aware that my hands would not stop trembling. And people were staring, mouths agape, eyes filled with compassion."
Sean Driscoll, 35, senior design editor
"I stopped every block to stare at the burning buildings. I couldn't keep my eyes off of them. The office paper that I had seen in the air earlier was littering the ground. Many pieces were half-burned: a magazine, someone's family picture, a page from a report. I picked them up and put them in my bag."
Ariel Jolicoeur
"At the office
in San Francisco, the radio DJ doesn't know about the crash in the Pennsylvania field. Those of us in are all standing at the door around the radio at the receptionist's desk. I still have my bag on my shoulder. I try to call Tab and my sister again and the call won't go through. I finally reach my parents and they say calmly that my sister called to say she's fine. Everybody in the office calls everyone who is not yet in at home and on cell phones. One guy receiving the call is having breakfast with his infant daughter and thinks I'm joking. He hasn't turned on the TV or radio."
George Mannes
"I found shelter in the basement of a Portuguese bank at the intersection of Wall Street and Broadway. While we were all sitting around, I interviewed a few people about their experiences. One of them was a guy who worked in the World Trade Center. At the end of my interview, I asked him the usual reporter questions about how to spell his name correctly and what company he worked for. He wouldn't tell me, because he thought he might get in trouble at the office for bringing his company's name into the story without permission.
That's a common attitude on Wall Street: Don't give information to the press. But in the context of the day's events, I thought it was weird. Terrorists had crashed a plane into this guy's building. His office didn't exist anymore. People had died in his building. What worse trouble could he get into? Later on, though, I began to respect his choice. If you believe in behaving a certain way, you behave that certain way. Even after terrorists destroy your workplace."
Mary Levai
"When the subways and PATH trains were running once more, I started the trip home. My pals on this somewhat picaresque journey were a doctor from New Jersey who'd been in town for an interview, and an Israeli girl who said she left her homeland to avoid all this. We all took the Newark-bound PATH at 33rd Street and Sixth Avenue. Before going our separate ways, there were hugs all around. It was all we had, and it was everything."
Gretchen Lembach
"At the Fulton Fish Market
several blocks north of our office, some workmen gathered around a car radio told me the Pentagon had been hit. The jumble of forklifts abandoned on the street made the news even more eerie. I lost sight of the remaining tower as I followed the FDR
Drive back to my Lower East Side apartment, but I didn't want to look anymore. Fighter jets zoomed overhead and made us all duck like scared rabbits, and that was pretty much what I felt like the rest of that long day: an animal."
George Mannes
"When I finally got uptown, there were huge lines outside a Red Cross donation center on the East Side. Hundreds of people were waiting to give blood. Nobody knew then, including me, that there were few survivors for whom blood donations might have helped."
Ariel Jolicoeur
"By 8:30 a.m.
West Coast time, we've made sure we've reached everyone and we ourselves leave the office. There's a stream of people doing a reversal of the usual commute. On the train home -- I take another route home on a train above ground just in case -- everyone is silent. Not a word, not a cell phone. We're all looking at each other in disbelief. San Francisco is a city of multiplicity. We are never all on the same page on the same day. We could say nothing to each other and it was striking in a city of opinions where the coming week's protests are listed in the newspaper's calendar of events."
Mary Levai
"Two days later found me in Kmart, buying work boots to bring to a dock in Jersey City, opposite the site. I joined some bucket brigade of people moving supplies from a staging area to the boats that were crisscrossing the Hudson. There was a focused urgency to the process, but time for banter, also. In the following weeks, when a ferry ride replaced the PATH ride, I discovered Engine 4, Ladder 15 on South Street, opposite the terminal. It was my proud ritual, more like a mission, to ring their bell every Monday morning, with whatever I'd baked for them the day before."
Pareena Shah, 28, director of information architecture
"How has this affected my life? I can't say that there have been drastic changes in my lifestyle or attitude, but reflecting on the past year, there are certainly a few differences. I talk to my mom and dad more often. I've learned to take my career less seriously. I notice the skyline every time I cross over from Jersey."
Mike Anderson, 40, co-executive editor
"I never made it to work that day. I missed the evacuation of the World Financial Center and the spectacle in the sky and the street that scars my co-workers forever. I see only a small TV screen hanging over an exercise bike. The Tower is recognizable, but what's that small hole? Wait, it's a big hole. No more TV. In the chaos north of the Towers, some men have commandeered a building site. They're making gurneys out of two-by-fours and plywood. Their heroics will be in vain. An Asian tourist poses next to an abandoned, ash-covered car. On the dashboard, he's written, "New York City, 9-11-2001," and later "God Bless America." Overused words no longer ring hollow. The next day, I still can't get to work. I'm diverted to the train station in Princeton Junction, N.J., where I see a couple's morning embrace in the parking lot. She's clutching a rumpled man who she imagined she'd never see again. I come close to tears."
Mike Saucier, 31, copy editor
"Since the massacre of last September, I see the world differently. I don't mean differently in a philosophical sense (though that's true, too), but literally. Sometimes when I ride the subway, I envision horrific terror scenarios. Poison gas. Suicide bombers. Terrorists opening fire on a platform. ... These are things that have crossed my mind in the last year at one time or another. I do not obsess over these thoughts. ... But before Sept. 11, I saw the world for what it was, not what terrorists could do to it."
Herb Greenberg, 50, senior columnist
"How has it changed my life? Hasn't, directly. I do nothing differently. Maybe that's the difference of being 3,000 miles from Ground Zero. Or maybe it's just denial. I do not know. Life, for us, is going on."
Helaine Tishberg
"It's the little things I have noticed that changed in my life since Sept. 11. I always sat on the left corner of my couch when I watched TV. I have not sat in that seat since Sept. 11; I can't. It reminds me of life as it was. I have not been in a plane since. I used to take several trips each year. Now, I stay close to home. I need to know I can reach my family and my home at all times."
Merdith Derby, 24, editorial assistant
"After Sept. 11, I realized how important it is to be gracious. Let someone go ahead of you in line at the market. Let another driver pull out in front of you, and don't selfishly push someone because you might miss your subway train. Sadly, people in my Boston community were gracious for about a week."
Ariel Jolicoeur
"Watching the footage and thinking about all the people who had died, I vowed that I wouldn't live my life half-heartedly or safely, that I had a chance to live and would do everything I can."
Celeste Smith Webbe, 32, editorial production associate
"
One thing that is clearly in focus is that one needs to tell and show loved ones how truly loved they are; do what you think is important; don't get caught up in crap that will keep you down or back, and treat everyone you meet like they are human beings."
Dagen McDowell, 33, senior writer
"
After the attack, friends and acquaintances kept asking me if I was afraid to move back to New York. My answer was always no. Sure, I still flinch when I hear a loud noise -- a garbage truck hitting a particularly large pothole. But after seeing so much kindness and strength from New Yorkers after Sept. 11, I knew I was home."
Odette Galli, 42, columnist
"
Since the attack, I've taken more advantage of all the benefits living in the country has to offer ... a healthier lifestyle for one. Because I'm lucky. I'm really f----king lucky, and I'll never take that for granted again.
Steve Schurr, 31, personal finance editor
"In the past year, I have done things I always dreamed of but never could fit into a five-year plan. I took four months off to try and write the great American screenplay. Two weeks ago, I made a pilgrimage with my wife to tiny Bunol, Spain, to take part in La Tomatina, the wonderfully insane tomato fight. I was at ground zero of being alive.