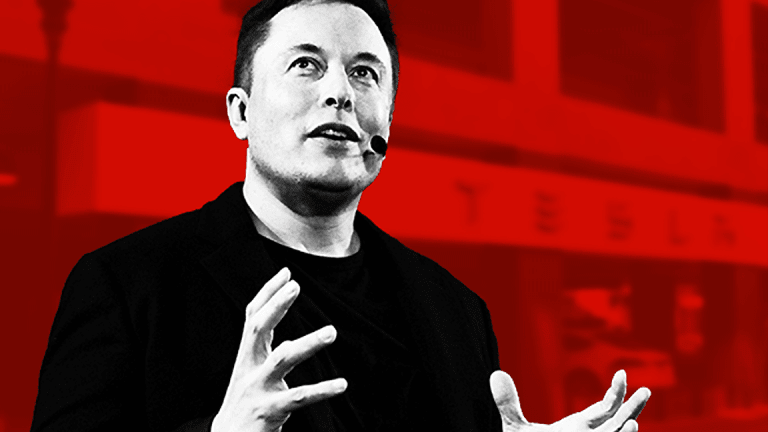 Publish date:
What We Know About Tesla's New Semi Truck Ahead of Its Thursday Unveiling
Tesla CEO Elon Musk promises it will 'blow your mind clear out of your skull.'
Tesla CEO Elon Musk promises it will 'blow your mind clear out of your skull.'
Tesla Inc. (TSLA) - Get Report chief executive Elon Musk is making another bold promise.
He says the electric automaker's upcoming semi truck will "blow your mind clear out of your skull" when it is unveiled Thursday, Nov. 16 in Hawthorne, California.
Musk is known for his lofty promises, but will Tesla follow through with the truck? Here's what we know about it so far looking ahead to its Thursday debut.
It's been a long time coming.
Tesla is expected to unveil the prototype of the highly anticipated Tesla Truck this week. It had previously been scheduled first for September then for late-October, but the company pushed back the truck's release to focus on Model 3 production bottlenecks and producing batteries for hurricane-battered Puerto Rico, according to Musk.
Tesla invited to the unveiling model owners who had referred a number of new Tesla customers through the company's referral program. The automaker offered to cover costs for those who had booked travel to the event initially scheduled for Oct. 26 and could not change reservations or accommodations to reflect the delay.
Range could be of concern.
Reports surfaced last month that the Tesla Truck will have about 200 to 300 miles in range on a full battery. Many diesel trucks can go as far as 1,000 miles without refueling, meaning the Tesla Truck will have some stiff competition for timing of long haul trips.
Wired's Eric Adams also estimated earlier this summer that if the Tesla Truck had a 900-mile battery, it could weigh as much as 22 tons. Federal law prohibits semi trucks from carrying more than 40 tons in total weight, so the truck's payload size could be restricted because of the massive weight of a battery. For Tesla, it could come down to choosing between range and payload - a smaller battery wouldn't last as long, but it could carry more cargo.
Scale production is on the calendar.
Musk said this summer that the Tesla Truck will reach scale production in 18 to 24 months. Tesla will be scaling to make as many as they can, Musk said at a June shareholders meeting. Potential customers were involved in the design process, Musk said, so the target audience is expected to react positively.
But production has long been an albatross around Tesla's neck. The recent Model 3 production bottlenecks have weighed on Tesla's performance, as only 220 models made it to new owners in the third quarter after Musk promised 1,500 in just September. Many analysts see production issues sticking around for some time, which could delay production of the Tesla Truck.
Tesla stock fell 2.1% to $308.84 Tuesday afternoon. 
More of What's Trending on TheStreet: