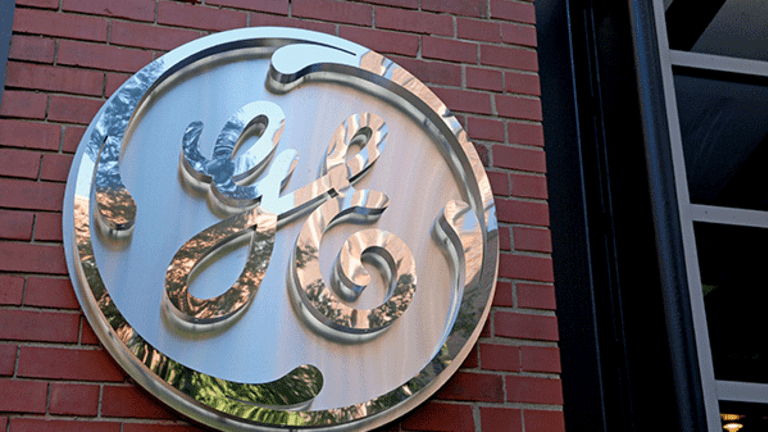 What Wall Street's Saying about General Electric's (GE) Outlook Meeting
Analysts are cautiously optimistic that the industrial titan can achieve its earnings goal after Wednesday's outlook meeting.
Shares of General Electric (GE) - Get Report were flat in Thursday afternoon trading even after CEO Jeff Immelt reiterated the conglomerate's goal of achieving its $2 earnings per share target in 2018 at an outlook meeting.
GE said at the presentation to investors that it expects to post full-year earnings in a range of $1.48 to $1.52 per share for 2016.
The aggressive earnings per share walkup could be achieved through a combination of operations, share buybacks and capital allocations, Immelt outlined.
GE has been looking to streamline its business in recent years - selling off NBCUniversal and shrinking GE Capital, among other transactions -- and announced Wednesday that it is looking to sell its industrial solutions business, which manufactures electrical equipment, and its water business. The company said it expected to realize $4 billion in net proceeds from the transactions.
GE expects to have $10 billion in unallocated capital after the two sales, which could go a long way in its 2018 push.
"We recognize the bold nature of this goal, but we are incrementally (yet cautiously) more optimistic following yesterday's meeting," TheStreet's Jim Cramer and Jack Mohr said in a research note circulated to investors Thursday. "In addition, management believes prospects for the U.S. economy are the best in recent years and the company has ample balance sheet capacity that can be used opportunistically to create value for shareholders."
GE is a holding in Jim Cramer's Action Alerts PLUS charitable portfolio.
Read on for a roundup on what analysts across Wall Street took away from GE's presentation.
Deane Dray, RBC Capital Markets (Outperform, raised price target to $37 from $36)
"The initial 2017 EPS guidance of $1.60-$1.70 was in line with our expectations, though the forecast for 3%-5% organic growth seems a bit ambitious given the current slow-growth macro outside the U.S. We liked hearing that GE still has about $10 billion of "unallocated" leverage capacity... While GE shares will likely lag in a risk-on market environment, we continue to like this transformation re-rating story here."
Joe Ritchie, Goldman Sachs (Neutral, price target of $31)
"Post the event we are more positive on GE's margin trajectory and the progress on reorienting the company (digital, divesting non-core assets) is also encouraging. However, we remain neutral rated as we see downside to GE's 2018 EPS target of $2 and view current valuation (about 17x 2018 EPS) as reasonable for a stock with below average EBIT growth over 2016-18."
John Inch, Deutsche Bank (Hold, price target of $28)
"Despite headwinds, GE's prospects for increasing industrial leverage, relatively high dividend yield and large and diversified portfolio, including a heavy portion of profits derived from contractual services and parts, provides for a greater defensive positioning compared with most multi-industry names, reinforcing our hold rating."
Scott Davis, Barclays (Overweight, raised price target to $36 from $32)
"GE is easy to dislike - it's complicated, numbers this year have just been okay, cash generation light, and the ramp to 2018 numbers is steep. We get the pushback every day; literally every single day. Conspiracy theories on GE earnings and cash flow abound. It's up to GE though to put up the numbers and disprove skeptics... If GE can't hit its guidance and ramp, we think a change in management might be in order. It's as simple as that. It's not a long putt."
data by