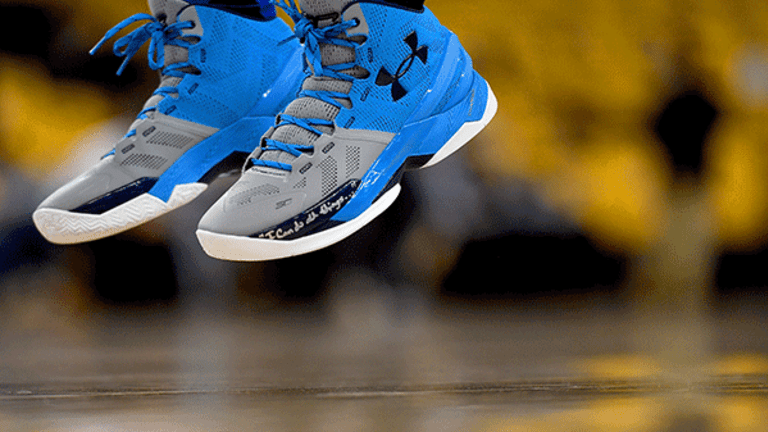 Publish date:
What Under Armour's Bizarre New Sneakers Say About Its Billion-Dollar Footwear Ambitions
Under Armour won't just be relying on Steph Curry to reach its ambitious footwear sales goal.
Under Armour won't just be relying on Steph Curry to reach its ambitious footwear sales goal.
Under Armour's (UA) - Get Report  "Speedier" sneakers due out early next year are definitely weird to look at, but telling as to how the athletic wear maker plans to grow its footwear business in the years ahead.
The Speedtire (pictured below), which TheStreet came across at an event previewing Under Armour's spring 2017 collection, is a shoe meant for weekend trail enthusiasts or those ripping up Tough Mudder-like obstacle course events. Developed in concert with tire maker Michelin, the shoes go on sale Feb. 1 for $125. 
TheStreet also learned that Under Armour has plans to launch at least three smart shoes next year under a line called "Europa." The introductions follow the UA SpeedForm Gemini 2 Record Equipped, a smart shoe Under Armour launched earlier in the year.
Additionally, Under Armour will soon enter the lifestyle sneaker market. The UA Primo line, which is constructed from premium leather and waxed canvas, will debut on Nov. 1 at select boutiques nationwide for about $150 a pair. As of right now, Under Armour doesn't intend to drop its next pair of 3D printed sneakers by the spring season, according to a spokesperson on hand at the event.     
The raft of new footwear offerings bring Under Armour into fresh categories beyond its traditional running and basketball businesses. That expansion into new footwear categories -- along with gaining acceptance by consumers -- is critical if Under Armour is to achieve its lofty footwear ambitions. It is, of course, continuing to have success with Stephen Curry basketball sneakers. 
Under Armour sees growing its footwear business to $1.7 billion in annual sales by 2018 from $678 million in 2015. As a result, the footwear business is getting its fair share of resources. "We'll continue to invest meaningfully in our footwear business with a focus on talent as well as infrastructure that will help improve the profitability in our business as we scale. We believe we are at a moment in time where we can gain share in footwear and we are prepared to make investments that will drive long-term profitable growth," Under Armour CEO Kevin Plank told analysts on a call recently.
Planked acknowledged that Under Armour still only has a small team of people (six) out in its new Portland offices working on women's footwear. Nike, on the other other hand, has a much larger team (possibly hundreds of employees) at its Portland-based headquarters working solely on women's footwear, Plank said.
Strong growth in Under Armour's footwear is vital in the grand scheme of things. Under Armour reiterated last week that it sees revenue rising 20% in 2017 and 2018, while operating income rises by a mid-teens rate. Overall, Under Armour continues to see sales reaching $7.5 billion by 2018, with operating profits around $800 million.
Speedtire
No socks needed. 
Bright orange works great at night on the dusty trails.
Michelin developed some crazy treads for the sneakers.
These bottoms may work great on a pair of golf shoes.
Lifestyle Sneakers
Very dress jean friendly, Under Armour. 
Oh, that supple leather.
Basketball Sneakers
No, Under Armour didn't forget about Stephen Curry for spring next year. It plans to drop 10 new colors (aka "colorways" to sneaker heads out there).
The world of Stephen Curry.